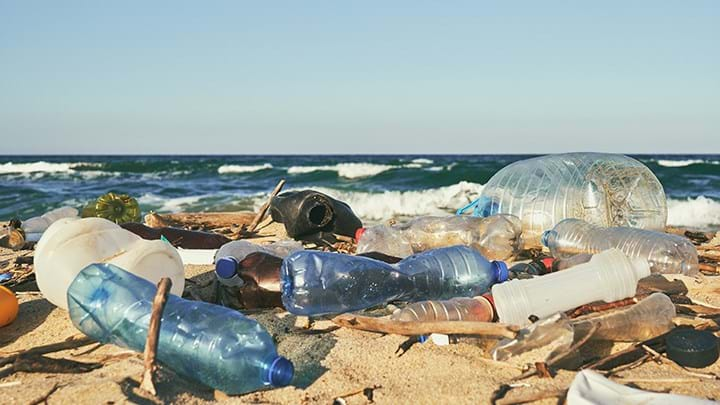 EUROPE has proposed a law banning or restricting single-use plastics, the UN has released a policy roadmap on how to restrict the use of plastic, and there have been a wave of pledges from people and companies worldwide to phase out the plastic that is causing extreme damage to the environment.
Plastic is undeniably a useful and convenient commodity, however of the 6.3bn t of plastic waste that has been produced since the 1950s, only 9% has been recycled. Around 12% has been incinerated, and the remaining 79% is either dumped in landfills or in the environment. If humanity continues this trend, there will be 12bn t of plastic in landfills in the environment by 2050.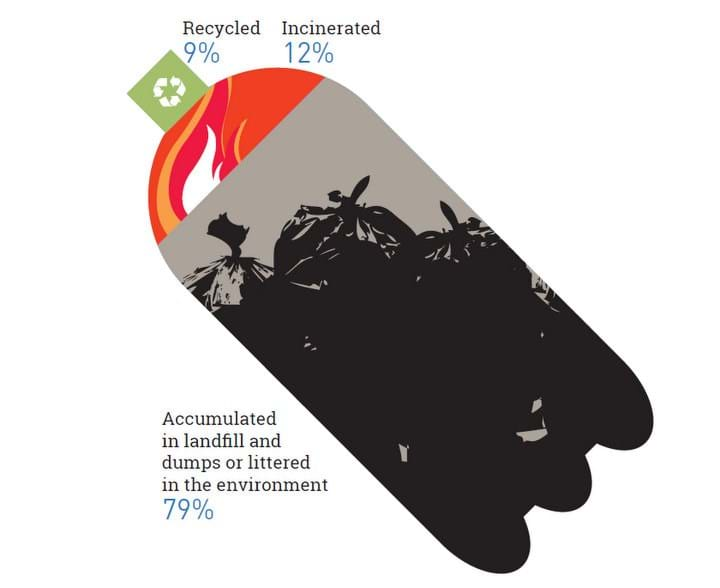 Most plastics don't biodegrade, and they can take hundreds or even thousands of years to decompose. A significant amount of plastic ends up in the oceans where it creates severe problems for marine wildlife through entanglement, ingestion, pollution through the release of toxic chemicals, or by acting as a raft to transport invasive species.
This ultimately causes plastic to enter the food chain, and the human health implications of ingesting microplastic is still unknown. Marine litter can create navigation hazards, cause problems for fisheries, impact tourism, and represents a loss of valuable resources. Plastic bags can also block drains and sewerage systems, leading to flooding and disease outbreaks. The total cost of economic damage to the world's marine ecosystem is an estimated US$13bn/y.
The worst offenders
The number of policies regulating single-use plastics has been rapidly increasing in recent years, prompted partially by increased public awareness of the problem due to documentaries such as Sir David Attenborough's Blue Planet II.
A new law has been proposed by the European Commission to ban or restrict the use of certain plastic items in EU member states. The European Commission report identifies the ten single-use plastic products most commonly found on Europe's beaches and surrounding seas. The top ten, along with lost and abandoned fishing gear, constitute around 70% of marine litter in Europe.
The worst offenders on the list are balloon sticks, cotton swab sticks, plastic straws, and plastic cutlery, all of which will be banned under the new law. Single-use drinks bottles will only be allowed if their caps remain attached. Use of drink cups and food containers must be reduced either through using alternative products or through adding a cost. Certain products, such as wet wipes, will have strict labelling requirements detailing how the waste can be disposed of without a negative environmental impact, and awareness and clean-up efforts will also be implemented for cigarette butts, plastic bags, and snack wrappers.
The proposed law will make plastic producers responsible for paying for the cost of waste management, as well as financing litter awareness campaigns and industries will also be given incentives to develop less polluting alternatives to plastic.
"Europeans need to act together to tackle this problem, because plastic waste ends up in our air, our soil, our oceans, and in our food," said Frans Timmermans, first vice president of the European Commission.
The new rules will encourage companies to produce sustainable products that will make them more competitive on a global scale. "Single use plastics are not a smart economic or environmental choice. This is an opportunity for Europe to lead the way, creating products that the world will demand for decades to come, and extracting more economic value from our precious and limited resources," said vice president Jyrki Katainen.
Other benefits of the proposed law will include avoiding emissions of 3.4m t of CO2, avoiding further environmental damage which would cost €22bn (US$26bn) by 2030, and saving consumers around €6.5bn.
The European Commission are pushing for the law to be approved before European elections in May 2019, and as the law would not come into effect until after Brexit, Timmermans challenged the UK's secretary of state for environment Michael Gove to a "race to the top" to eliminate plastic waste.
Effective policies
A UN report Single-use plastics: a roadmap for sustainability was released on 5 June to mark World Environment Day. The report tracks progress that has been made around the world for phasing out unnecessary plastic, revealing that more than 60 countries are now taking action to reduce plastic pollution, with plastic bags and polystyrene food packaging being the main focus of bans and levies. The report details the types of policies implemented in each country and region, including what worked and what did not.
The environmental impact of these bans is not yet clear for 50% of countries as there is no information available yet, but 30% of countries noticed reduced consumption or less pollution and 20% noticed little or no impact. Of the latter, the main issues identified by the report are lack of enforcement and the lack of affordable alternatives, leading in extreme cases to the development of a black market for plastic bags.
The report outlines a ten-step roadmap of specific actions that policy makers can take to implement successful bans or levies on single-use plastic. This includes improved waste management, targeting the most problematic plastics, promoting eco-friendly alternatives, raising public awareness, providing incentives to industries to use alternative materials, and to properly enforce laws. The report highlights strong government legislation as the quickest way to drive change and that consumers need to put more pressure on businesses to cut plastic use.
Bags of problems
The UN report also notes that policymakers should consider some of the issues of replacing plastic bags with alternatives before introducing new rules. Certain plastic packaging on food is essential to keep it fresh, and if an alternative does not provide the same quality barrier, then a ban on plastic could lead to food wastage.            
Paper bags are a common alternative to plastic bags as they degrade much faster, however paper bag production requires more energy and water and also generates more solid waste.
Biodegradable bags are not necessarily the right answer, as some will only degrade if exposed to temperatures above 50oC for a prolonged period of time and these conditions are rarely met in nature. Bioplastics derived from renewable sources also do not easily break down in the environment.
The stronger, reusable plastic bags that can replace conventional plastic bags require different recycling processes that are costly and complicated, often leading to reusable bags ending up in landfills at the end of their useful life.
Gaining momentum
World Environment Day also saw a number of pledges to reduce plastic. Indian prime minister Narendra Modi announced that India would abolish all single-use plastics by 2022 and has also pledged to introduce a campaign on marine litter.
"The choices that we make today will define our collective future," said Modi. "The choices may not be easy. But through awareness, technology, and a genuine global partnership, I am sure we can make the right choices. Let us all join together to beat plastic pollution and make this planet a better place to live."
Campaign group A Plastic Planet organised a "one plastic free day" movement aiming to convince 250m people worldwide to avoid single-use plastic for 24 hours and to use the hashtag #passonplastic on Twitter to showcase their attempts. People shared tips for alternatives to plastic, photographs of supermarket produce wrapped in plastic, and their attempts at having a plastic free day.
Many companies have vowed to reduce the amount of plastic waste that they produce, such as Ikea, who plan to phase out all single-use plastics by 2022, and National Rail, who are banning the sale of plastic cups and cutlery from shops at stations from 2020.
Cardiff, which is one of the host cities on the Volvo Ocean Race circuit, hosted the Ocean Summit on 5 June which gathered politicians, scientists, and company representatives to discuss the marine plastic pollution problem. Participants included Sky Ocean Rescue, a campaign to raise awareness and find solutions to the problem of ocean plastic, and Welsh environment minister Hannah Blythyn, who announced that a water refill scheme would be put in place along the 1400 km Welsh coastline to cut down on single-use plastic bottles. Blythyn said it is "the first step in our ambition to become the world's first 'refill nation'".
To mark World Oceans Day on 8 June, Sky News interviewed Sir David Attenborough on his thoughts on plastic pollution. He said that "there are certainly many areas where we use plastic without a thought" and that we, as the public, should be striving to cut down on plastic use before any deadlines imposed by governments.
"I'm optimistic," said Attenborough. "I think there's a stronger movement in this country – and indeed worldwide – of stronger recognition of how important the natural world is, than there has ever been in my lifetime."
The UN report can be read here: https://bit.ly/2LtehRN and the full European Commission report and impact assessment can be found here: https://bit.ly/2GWLLp8
---
Correction
This article was edited on 28 September 2020 to change "of the 9bn t of it that has been produced since the 1950s" to instead read "of the 6.3bn t of plastic waste that has been produced since the 1950s".