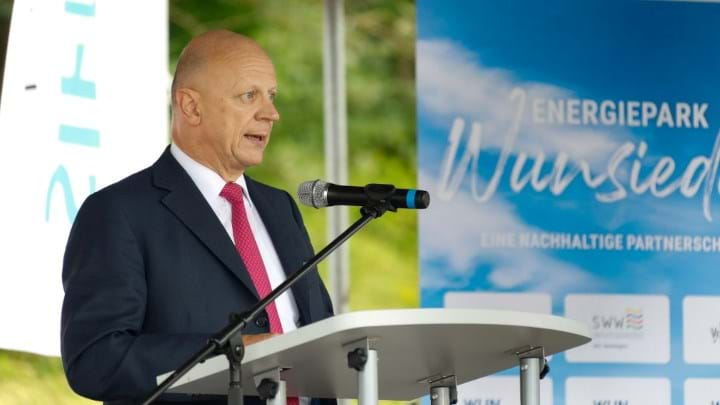 Siemens
SIEMENS has started construction of an 8.75 MW "green" hydrogen plant in Germany, that is expected to serve as a model for the nation.
The planned facility will produce 1,350 t/y of carbon-free or green hydrogen, generated via electrolysis using renewable energy sources such as solar or wind power. Water electrolysis is a process used to split water into hydrogen and oxygen using electricity. The plant will use a Siemens Energy advanced electrolyser for this process.
The generated hydrogen will be used in transport and by industry, allowing for carbon dioxide savings of up to 13,500 t/y.
The plant will be constructed at the Wunsiedel Energy Park in Wunsiedel, Bavaria, Germany and connected to an existing Siemens battery storage facility and adjacent industrial enterprises. These could use waste heat, or the oxygen split off during electrolysis. The connected infrastructure will serve as a model for Germany.
Hydrogen will be delivered via truck trailers to local and regional end customers.
The plant is expected to help alleviate grid bottlenecks and provide flexibility for the power grid.
According to Siemens, there is the opportunity to build a public hydrogen filling station for trucks and buses at the same locations allowing for carbon-free heavy goods transportation, as well as regional public transportation. 
Known as the WUN H2 project, the plant will be operated by the company WUN H2. Siemens is acting as the general contractor, and is an investor in the operating company, alongside Riessner Gase and SWW Wunsiedel. Siemens owns 45% of WUN H2.
Operations are scheduled to begin in Q3 of 2022.
Philipp Matthes, Managing Director of the project, said: "WUN H2 is a pilot project for Germany that will demonstrate innovative technology in practice and ultimately prove the feasibility of industrial production of green hydrogen. Our concept is scalable and can easily be transferred to other locations. If every city had its own H2 plant, the energy transition would already be much further along."
Ralf Thomas, CFO of Siemens said: "Converting our energy supply to new, climate-neutral energy sources is one of the main objectives of the energy transition. Hydrogen plays a key role in this."
"In this respect, Wunsiedel, with its existing distributed energy system and the use of digital technology, is a lighthouse project for a sustainable energy future."
Hydrogen is receiving widescale attention as an alternative energy carrier.