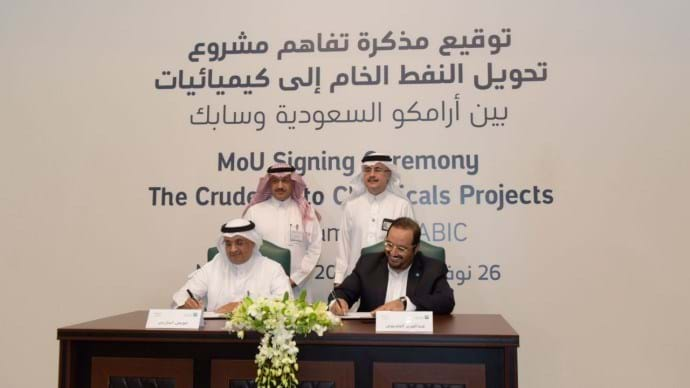 SAUDI ARAMCO and SABIC have agreed to develop plans for the world's largest crude oil-to-chemicals complex, as part of Saudi Arabia's efforts to diversify its economy.
The project partners estimate the complex will be valued at around US$20bn and will begin operations in 2025. Having conducted a feasibility study, the pair have now agreed to carry out a FEED study for a complex that would process 400,000 bbl/d of crude to produce 9m t/y of chemicals and base oils.
The companies said in a statement that the complex will use an innovative configuration that achieves unprecedented conversion of crude oil to chemicals. SABIC CEO Yousef Abdullah Al-Benyan told reporters at the signing ceremony that the project could involve using two or three crackers that would enable the complex to break down a range of feeds, including oil, gas or naphtha, Reuters reports.
The CEOs said the industrial centre of Yanbu is one possible location for the complex, which is expected to create 30,000 direct and indirect jobs and add 1.5% to the country's GDP.
SABIC CEO Yousef Abdullah Al-Benyan said: "Today is a historic day, marking the complementary nature of the relationship between SABIC and Saudi Aramco because it is the first time the two largest economic entities in Saudi Arabia jointly enter into a strategic partnership to achieve a pioneering and innovative new technology.
"Once completed, this project will not only be the largest crude oil to chemicals complex in the world, it will also set a new competitive threshold, thanks to the project's mass scale and the benefits derived from our joint collaboration. The project will, therefore, help achieve the respective growth ambitions of SABIC and Saudi Aramco and further establishes the Kingdom as one of the pioneers in the petrochemicals industry."
The project builds on the Saudi Vision 2030 plan to diversify the economy away from oil exports, which includes creating a world-leading downstream sector.