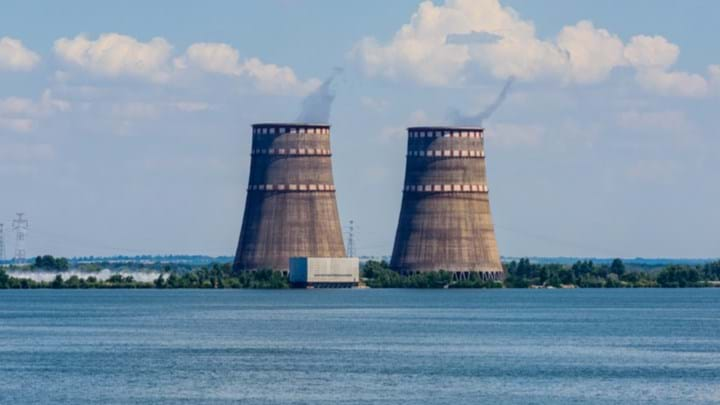 RUSSIAN forces have shelled the site of Ukraine's largest nuclear power plant. A fire broke out at a training building on site but was extinguished, and no radioactive material has been released. Russian forces have since taken control of the facility.
Russia began shelling the site of Zaporizhzhia nuclear power plant around 01:00 local time today, said the State Nuclear Regulatory Inspectorate of Ukraine (SNRIU). The plant, which has six reactors with a combined output of 5,700 MW, is the largest nuclear facility in Europe. The shelling caused a fire to break out which the SNRIU said was extinguished at around 06:20 local time. Two people are reported injured. The International Atomic Energy Agency (IAEA) has said that there has been no release of radioactive material and radiation monitoring systems on site are fully functional.
Rafael Mario Grossi, Director General of the IAEA, said he was gravely concerned by the situation. "Firing shells in the area of a nuclear power plant violates the fundamental principle that the physical integrity of nuclear facilities must be maintained and kept safe at all time."
Of the plant's six reactors, unit 1 is shut down for maintenance, units 2 and 3 have undergone a controlled shut down, unit 4 is operating at 60% power, and units 5 and 6 are being held in reserve in low power mode, the IAEA said.
Since the shelling, Russian forces have seized control of the plant. SNRIU said that plant personnel continue to operate and monitor the plant and inspections are being conducted to identify any damage to the plant.  
The SNRIU released a statement noting that damage to the reactors or spent fuel storage facilities on site could lead to a significant radioactive release to the environment. "As a result, such an event may exceed all previous accidents at nuclear power plants, including the Chernobyl accident and the accident at the Fukushima Daiichi nuclear power plant," the inspectorate said.
Russia launched a large-scale invasion of Ukraine on 24 February, taking control of the Chernobyl facility the same day. A reactor melted down in Chernobyl in 1986 releasing large amounts of radiation. SNRIU said the condition of the facilities have been unaffected by the invasion though a spike in radiation was detected at the plant but was put down to radioactive dust being kicked up by military vehicles moving through the extensive exclusion zone that surrounds the facility.
Security camera footage published by the BBC appears to show a fire at the facility.