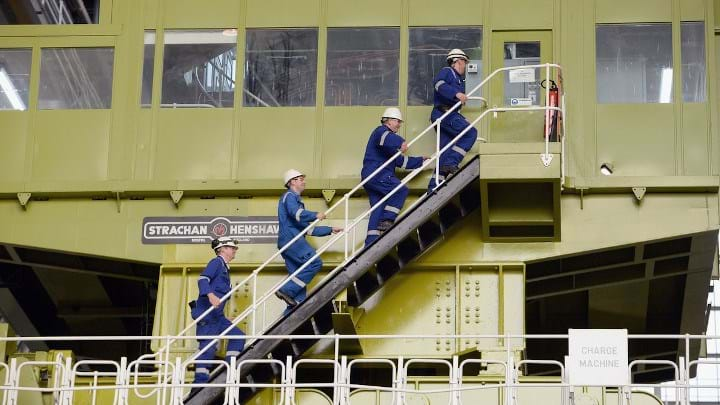 EDF
EDF has brought back online reactor 3 of its nuclear power station Hunterston B after receiving approval to start generating low-carbon power at the site following a two-year shutdown. The power company also announced that that station will move into the decommissioning phase by January 2022, a year earlier than previously expected.
The two-year shutdown of reactor 3 came as a result of planned inspections in March 2018, which revealed cracking in the reactor core at a higher rate than was expected. The reactor was kept offline for an additional two years to allow EDF to carry out additional inspections, modelling and analysis, and to present a safety case to the regulator.
Following an extensive and detailed assessment of EDF's safety case the Office for Nuclear Regulation (ONR), responsible for regulating nuclear safety and security across the UK, said it was satisfied that reactor 3 can operate over the next period and safely shut down if required. This includes in the case of an earthquake larger than the UK has ever experienced.
ONR granted EDF permission to return to service for a limited period of operation. EDF is permitted to operate for a total of 16.425 TWd (Terawatt days), equivalent to about six months of operation.
Reactor 3 was brought back online and resynchronised to the grid on 31 August.
EDF intends to operate the reactor for six months before carrying out further inspections and, subject to regulatory approval, operating for a final six months.
Reactor 4, the second of Hunterston B's reactors, has been shut down since December 2019 for inspection. The company intends to return reactor 4 to service on 29 September, and to operate the facility for two final six month runs.
Once Hunterston stops generating power, EDF will take on the next task of defuelling, the first stage of decommissioning. Hunterston expects to move into the defuelling no later than 7 January 2022. Previously, EDF estimated that it would begin decommissioning Hunterston B in 2023 after its generating life was extended in 2012.
On 27 August, EDF's UK CEO Simone Rossi said: "Today's announcement underlines the urgent need for investment in new, low carbon nuclear power to help Britain achieve net zero and secure the future for its nuclear industry, supply chain and workers."
Hunterston B, located in North Ayrshire, Scotland, UK, is capable of generating electricity to power almost 2m homes a year and saving 1.3m t/y in carbon emissions. Additionally, operation of the plant will mean that it can continue to play a significant role in the local and national economy. The facility employs about 700 people, including 250 full-time contractors, and contributes about £54m (US$70m) per year to the North Ayrshire local economy.
Hunterston B comprises two advanced gas-cooled reactors (AGRs) with graphite cores. In AGR stations, a controlled chain reaction generates heat which turns water into steam, which powers turbines that drive electrical generators. During the two-year shutdown, EDF carried out the largest graphite inspection ever conducted on a reactor of this type, examining around 30% of the fuel channels.
Statutory outage work, which would have involved maintenance and repairs across the plant, cost £20m. This was part of a wider £200m fleet-wide investment programme working on all seven of the UK's advanced gas-cooled reactors, operated by EDF. The company is working to understand how the graphite in the reactor cores will change over time and to help provide assurance of its safety in both normal and extreme circumstances.  
Graphite core and safety
Hunterston B uses graphite bricks in the core to act as moderator, helping to keep the nuclear reaction going. Additionally, the bricks perform a safety function by providing a structure for CO2 to flow through to remove heat from nuclear fuel and for the control rods (used to shut down the reactor) to be inserted.
Over time, cracking and weight loss can occur in the bricks. Weight loss can affect graphite's ability to act as a moderator. Cracking alone does not make reactors unsafe but operators have to show that they do not alter the shape of channels where fuel sits in a way that prevents shutdown in the case of an earthquake. They also need to show that any fragments that come loose after cracking do not affect fuel temperature or prevent fuel removal from the reactor.