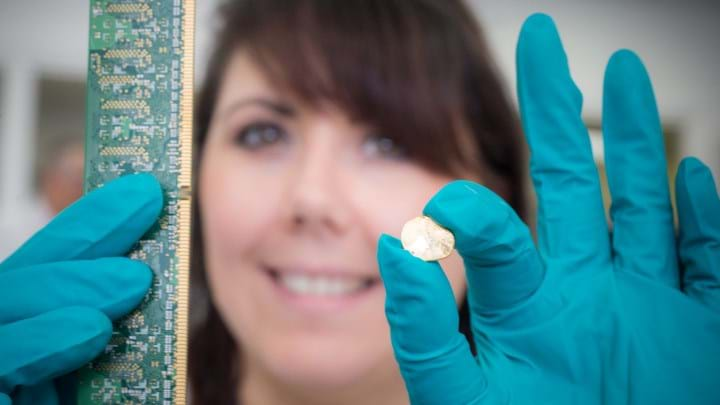 Royal Mint
THE UK's Royal Mint is building a chemical plant that uses a room temperature process to recover gold from electronics waste.
More than 53m t of electronics waste is produced each year, with less than 18% currently recycled, according to figures from the Global E-waste Statistics Partnership. And the environmental burden is expected to keep climbing, with production of e-waste expected to rise higher than 74m t/y by 2030.
Sean Millard, Chief Growth Officer at The Royal Mint, said: "We estimate that 99% of the UK's circuit boards are currently shipped overseas to be processed at high temperatures in smelters. As the volume of electronic waste increases each year, this problem is only set to become bigger."
The Royal Mint has begun construction of its plant in South Wales that will use a process developed by Canadian firm Excir. Once fully operational in 2023, the plant will process up to 90 t per week of UK-sourced circuit boards from the likes of laptops and mobile phones, producing hundreds of kilograms of gold per year.
The firm and the Royal Mint have released little detail on the technical aspects of the process. Patents filed by Excir reveal that the process leaches gold from printed circuit boards without crushing. The system uses acetic acid as the solvent and contains very low concentrations of additional acids and oxidants. The patent describes a highly efficient leachate system that recovers more than 99% of gold from scrap electronics waste at room temperature in 10–20 seconds. The process would avoid harsh leaching solutions, including cyanides commonly used in existing hydrometallurgical recovery processes. It would also avoid the limitations of pyrometallurgical recovery including smelting, where plastics cannot be recovered for reuse and hazardous emissions of dioxins are produced.
In 2018, the inventors of the process demonstrated their technology on Canada's Dragon's Den, securing a C$1m (US$800,000) investment.
The Royal Mint, which produces currency and collectible coins, says the new venture will support around 40 jobs, helping existing employees to reskill as well as recruiting new chemists and engineers.