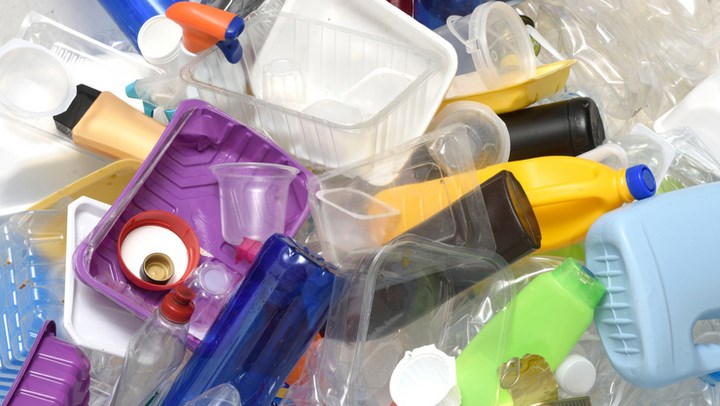 RESEARCHERS in the UK have undertaken a project which aims to develop new technologies for dealing with mixed plastic waste. The project involves scientists and engineers from the University of Bath's Centre for Sustainable Chemical Technologies (CSCT) and the University of Manchester.
During recycling, plastics are sorted into types such as high-density polyethylene (HDPE) and polypropylene (PP). This can be carried out at facilities (manually, or using technology that recognises different plastics), or at households. Sorting is essential, as plastic types are often incompatible and cannot be recycled together. Recycling mixed plastics can result in weak material and contamination of a batch by another type of plastic can render it unsuitable for processing.
The researchers are investigating ways of chemically breaking down mixtures of plastics into their constituent molecules. The molecules could then be used to manufacture new plastics, or to make other high-value products. The research is building on work carried out at Manchester.
This research might help to increase the amount of plastics that gets recycled. Matthew Davidson, director of the CSCT, said: "Currently only about one third of plastic food packaging in the UK is recycled. The UK government aims to increase that to 75% by 2035. Part of this problem is that plastics have to be separated into different types as each type has different properties and they can't be recycled together."
He added that developing new technology for mixed plastic waste would allow people to throw all their plastics into the same recycling bin without having to separate them. "This could make a big difference to recycling rates and help us solve the urgent problem of plastic waste," Davidson concluded.
The recycling project is led by Arthur Garforth, director of teaching and learning in the school of chemical engineering and analytical science at Manchester University. The project is one of seven being carried out by a consortium of UK universities and industrial partners led by Bath. The projects are aiming to develop catalysts that will enable more sustainable manufacturing and promote circular economy.
A circular economy aims to keep resources in use for as long as possible. This helps to improve resource efficiency, reduce waste, and reduce the environmental impacts of production and consumption.
The Bath-led consortium is one of three partnerships which received funding from the EPSRC. It received £4.8m (US$6.2m) from a total of £14m that was funded into the UK Catalysis Hub.
Previous Work
There are a number of methods that can be used for feedstock recycling such as hydrocracking. In hydrocracking, catalysts and hydrogenation are employed to enable the cracking of plastics.  
Researchers from Manchester University carried out the work which Bath and Manchester are now building upon. The Manchester researchers developed process and catalyst based around hydrocracking technology and heterogenous catalysts. The process and catalyst were developed with funding from the NW Environment Agency.
Arthur Garforth said that current feedstock recycling methods are typically unselective and give an oil containing a large range of hydrocarbons. "We demonstrated the ability to take mixtures of post-consumer polymer waste and generate highly branched saturated hydrocarbon liquid product rapidly at reduced temperature and pressure of hydrogen."
The work by the Manchester team bettered on work in literature based on batch studies. These studies used temperatures of 375–435°C and the pressure of hydrogen added to the reactor was 30–100 bar, or 3–10 MPa, and reaction times were typically 30–90 minutes."  
"We demonstrated we could reduce temperature by 50–100°C and pressure of hydrogen was at the low end around 30 bar, but the reaction was complete in around 3–5 mins."
Garforth added that the polymer packaging blend used in the study included polyvinyl chloride (PVC). PVC "presents a challenge to many of the competing technologies and, although PVC is being steadily removed from UK and European packaging use, it is likely to persist in packaging on goods imported from the Far East," he said. "Finally, the rapid reaction and ability to deal with unsorted waste opened up the possibility of continuous processing. A number of companies are interested in our current catalytic approach to produce a narrow carbon range of chemicals."
Currently, "our aim is to exploit heterogeneous catalysts, including sulfated zirconia, clays, waste FCC catalysts and zeolites to tailor the product stream," said Garforth. The researchers are also aiming to expand the feedstock to include "complex laminated films and nylon (eg from carpets and fishing gear)." And as the work progresses the researchers will turn their attention to thermosets. Thermosets are synthetic plastics that get stronger as they are heated. They cannot be successfully remoulded or reheated after their initial heat-forming.
The UK Catalysis Hub
The UK Catalysis Hub is a consortium of universities involved in catalysis research. The research is led by University College London, the University of Cardiff, the University of Bath, Queens University Belfast and the University of Manchester. The physical centre of the Hub is in the Research Complex at the Harwell campus in Oxfordshire.
The Hub was first launched in April 2013 with funding from the EPSRC. Overall, the Hub endeavours to coordinate, promote, and advance the UK's catalysis research portfolio and to become a leading institution in the field. It is focussed on building the UK economy through designing new catalysts and processes for clean water, sustainable energy and low carbon, resource efficient manufacturing fuels, and plastics and chemicals.
Since its initial launch it has succeeded in all its aims. It has facilitated the development of a UK catalysis community. It has produced a large volume of high-quality, published science. And, it has gained growing international recognition and established relationships with industry.
Recently, the Hub received a further £14m of funding from EPSRC to support a nationwide research programme. Bath, Cardiff and Manchester will lead the Hub's themes. 25 universities will be directly involved in projects, and over 45 will be involved in a wider network across the catalysis community. 
Lynn Gladden, executive chair of EPSRC, said: "Catalysis is important for UK and global industry, generating £50bn a year for the UK economy, as well as intellectual property for big and small UK companies and universities. This further funding for catalysis research will help our research communities and industries develop new products and processes that will bring economic and social benefit to the UK. We have to maintain our research capability to keep our nation productive and resilient."