THE oil and gas community has been urged to "maintain a chronic sense of unease" at a conference marking the 30th anniversary of the Piper Alpha disaster.
Earlier today, opening the Safety30 Piper Alpha Legacy conference in Aberdeen, the hub for the UK's oil and gas industry, Deirdre Michie CEO of Oil & Gas UK said: "The tragedy of Piper Alpha must be a constant reminder to us all."
167 men died in the Piper Alpha incident on 6 July 1988. Lord Cullen, who led the official enquiry into the tragedy, gave the plenary speech at the conference. He described how the root cause of the explosion followed the placement of a blind flange that had not been fully tightened. A series of events involving a shift handover and confusion over work permits led to a condensate pump being restarted in error. The blind flange failed, leading to a release of hydrocarbons and a series of fatal explosions and fires.
Failures to learn
Cullen noted that lessons had not been learned from investigations into previous incidents on the platform, including the death of a rigger nine months earlier.
"Some actions were taken but they had no lasting effect on practice," Cullen said. "Management failed to recognise the shortcomings in the permit system and the handover practice. Whether by direction or inaction they failed to use the circumstances of particular incidents to drive home the lessons of incidents to those who were immediately responsible for safety on a day to day basis. There were no laid-down procedures for handovers and little if any monitoring of them. As for permit to work system, it was in my words 'being operated routinely in a causal and unsafe manner'."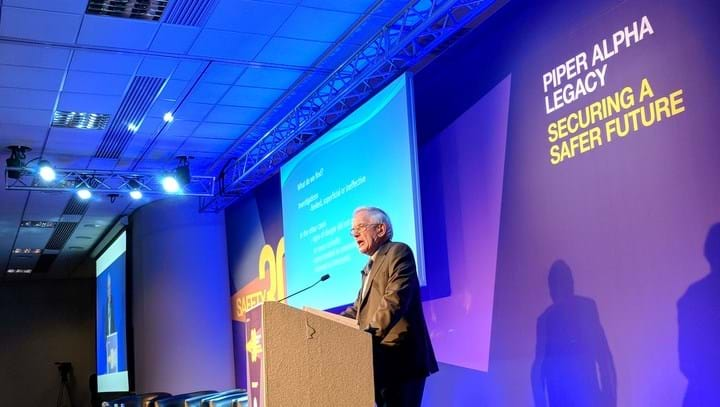 Cullen said a wider examination showed a pattern of companies failing to spot signs of danger ahead of major disasters, including the Deepwater Horizon oil spill and Buncefield oil depot blast.
"What we find is in some cases there was an investigation, but it was limited in scope or it was superficial, or its results were not driven home to forestall further trouble. In other cases, there was no investigation, the signs [of danger] did not give rise to concerns or even curiosity. Some signs were treated as commonplace or misread as innocuous so there was no corrective or preventative action."
Poor safety awareness
There are three factors underlying these attitudes to safety, he added. One, poor safety awareness; two, a failure to give priority to safety; and three a failure to show or instil in others responsibilities for identifying and resolving safety issues.
"Lest you think that in any of these cases, they are simply no more than human error, I must say that the attitudes, practices and values of a workforce are often shaped by the tone set by management."
Safety culture has been a regular theme of discussion on day one of the conference. Following the oil price drop, operators in the North Sea remain under pressure to cut costs and keep producing oil. A panel discussion involving regulator, industry and union representatives underlined the need for managers to be inquisitive about safety concerns and empower staff to raise them.
Suggestions made throughout the discussion to improve safety included operators implementing standardised permit to work systems and competence measures to aid an inherently transient workforce.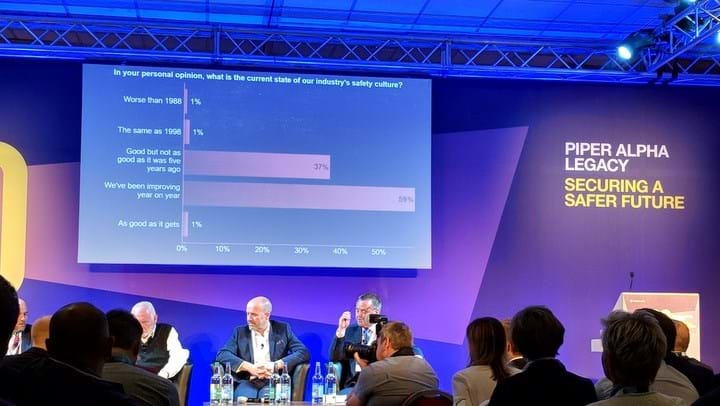 An audience poll, asking 'what is the current state of our industry's safety culture' found that 37% thought it was worse than before the oil price crash.
On notice
This was a point picked up by Michie who said in the face of job security concerns everyone should be able "to effectively raise safety concerns".
Michie said that the total number of process safety incidents had fallen to the lowest level on record but noted that industry was "rightly on notice" from the HSE which warned in April that offshore industry has come perilously close to disaster and ordered operators to report how they have improved safety management performances in the areas of process safety leadership, and audit, assurance and review.
"Our sector is leaner, it is more efficient, it more productive and more optimistic than it has been for quite some time," Michie said. "Indeed, average unit operating costs have halved since 2014 and new investment is expected this year to be more than the last three years combined. But, against this positive and productive backdrop…there has still been 23 major incidents either in the UK or around the world since Piper Alpha."
"We're a great industry…but a small and close community that is profoundly impacted by whenever a colleague is hurt or worse just for doing their job. So, to continue to drive further improvement we have to think the unthinkable and maintain a chronic sense of unease as an industry and as individuals."