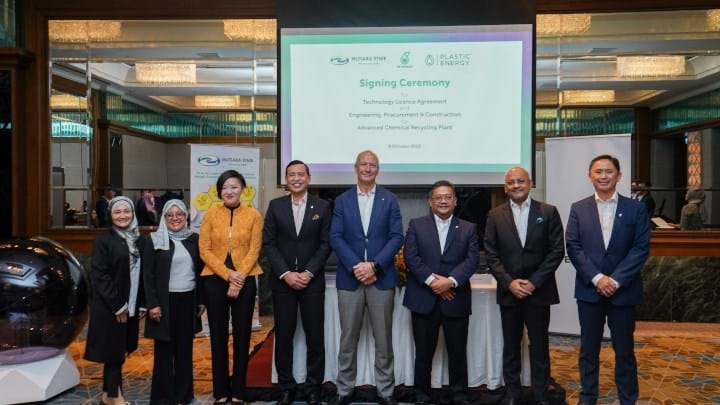 Petronas Chemicals Group
PETRONAS CHEMICALS GROUP (PCG) has unveiled plans to build what it claims to be Asia's largest advanced chemical recycling plant. The plant, which will be constructed in Pengerang, located in Malaysia's southern state of Johor, is slated to be operational by the first half of 2026. 
PCG is a subsidiary of Malaysian state-run energy giant Petronas. It has signed up UK firm Plastic Energy to provide the chemical recycling technology for the plant. Plastic Energy uses a patented chemical recycling technology which heats mixed post-consumer plastic waste in the absence of oxygen. This process then produces hydrocarbon vapours that are condensed into pyrolysis oil or TACOIL, a chemical feedstock used to replace fossil oils in the manufacturing of food-grade recycled plastics.  
The engineering, procurement, and construction contract for the project has been awarded to Mutiara Etnik Sdn Bhd. Once up and running, the firm expects a planned production capacity of 33,000 t/y. 
The plant is part of PCG's New Plastics Economy agenda which aims to support the shift toward a circular economy and aligns with Malaysia's goal of eliminating single-use plastics by 2030. The country has a huge problem with plastic waste and was ranked eighth among the top ten countries with the most mismanaged plastic waste in the world. According to the same study, Malaysia is also the fifth-worst global plastic polluter of the oceans. 
CEO of PCG, Mohd Yusri Mohamed Yusof, said: "Through the advanced chemical recycling plant, we envision driving innovation across the plastics value chain while creating opportunities for all parties, from waste collectors to manufacturers, to jointly contribute to the circular plastics economy. This enables us to propel the nation's aspiration in phasing out single-use plastics, in line with Malaysia's Plastic Sustainability Roadmap 2021-2030, while fulfilling the growing demand from major brands for sustainable packaging."