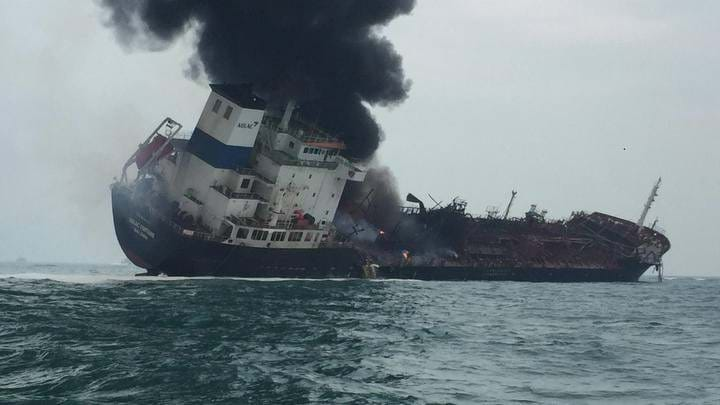 Hong Kong Police
A FIRE that broke out on an oil tanker off the coast of Hong Kong has killed one, injured seven, and two people are still missing.
The Vietnamese-registered oil tanker, Aulac Fortune, was being refuelled by an oil barge off the coast of Lamma Island in Hong Kong when a fire broke out at around 11:30 local time on 8 January. Three explosions were also reported. Fire boats were deployed and the blaze was extinguished by 16:30.
There were 25 crew members on the Aulac Fortune and four on the oil barge. One crew member of the oil tanker died in the fire, and there are still two missing. The remaining crew fell or jumped into the sea and were rescued, although seven were injured.
The oil tanker was on its way to Thailand after unloading its cargo of kerosene in Dongguan, China, so there was no oil cargo on board at the time of the fire. The tanker is now tilted at 30 degrees, but Yiu Men-yeung, the Division Commander of Marine and Diving at the Fire Services Department told the South China Morning Post that there does not appear to be a risk of the boat sinking or of an oil spill. Cleaning vessels have been deployed to the site and are on standby, but there is no sign of oil on the surface of the water.
Men-yeung said that the fire department was unsure if there were any flammable or dangerous materials stored on board. The temperature of the vessel is still too high for firefighters to board and it will still be several days before the vessel can be boarded or towed.