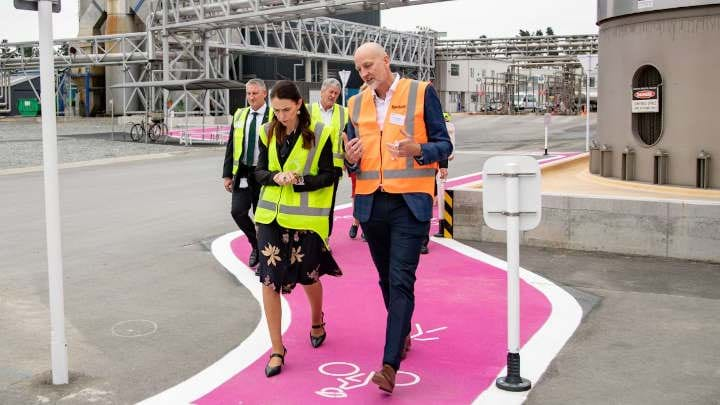 NEW ZEALAND Prime Minister Jacinda Ardern has visited milk processing company Synlait for a tour of the country's first large-scale electrode boiler and to help launch the company's new tree planting initiative.
On 12 December, Ardern visited Synlait's Dunsandel facility which has the capacity to process more than 4.2m l/d of milk from which it can produce up to 440 t of milk powder. This included a tour of the company's novel electrode boiler which provides renewable process heat for the company's dairy liquid packing facility. The company chose not to build another coal boiler in line with its goal of reducing off-farm greenhouse gas emissions by 50% by 2028.
 The 6 MW electrode boiler uses 11,000 V electricity to power electrodes submerged in water. Electricity flows from the electrodes through ultra-pure water inside an earthed neutral basket inside the boiler shell. The flow of current creates a high flux rate that generates steam at 180 °C at 10 bar. Synlait says the boiler has a conversion efficiency of electrical energy to heat energy of around 97% and because it only a small amount of water is heated compared to a traditional tube boiler, it can go from cold start to steaming at 8 t/h in less than an hour. The process steam is used to pasteurise and sterilise milk, clean equipment, and assist in forming product packaging.
Ardern also helped launch a new tree planting initiative the company has established called Whakapuāwai. The company is creating a 15-ha nursery for native plants. The site will grow 1m native trees and shrubs per year, with the goal of replanting them on farms and community land. Staff will be given one paid day per year to plant native trees as a way of supporting farmers and communities to jointly restore land in Canterbury.
Synlait's CEO Leon Clement said: "We can't solve environmental challenges on our own, but through Whakapuāwai we can lead by example and help connect our milk suppliers and community groups to make a real difference."