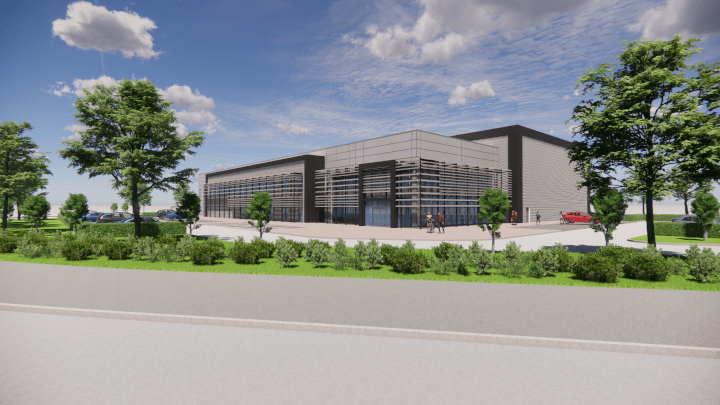 SGP Architects
CONSTRUCTION of a new £15m (US$18.9m) nuclear research facility is underway at Infinity Park Derby to bolster UK development of small modular reactors, and fusion power.
The new 4,300 m2 research centre will facilitate dedicated research and development to support productivity growth and sustainable practices within the manufacturing sectors. In the first five years, the centre is expected to support 100 business through the Fit for Nuclear (F4N) supply chain programme and 35 collaborative research and development projects in high-value sectors such as nuclear and other low-carbon energy technologies, as well as aerospace, automotive, and rail. F4N is a service to help manufacturing companies assess and develop their readiness to bid for work in the nuclear supply chain.
The centre will work with companies of all sizes to help win work in carbon-neutral supply chains for technologies such as small modular reactors, fusion power, and clean hydrogen generation, contributing to the global drive for net zero.
Locally, it will also help small and medium-sized enterprises to improve productivity by providing access to high quality research opportunities, tailored business support, and opportunities to upskill their workforce. This is expected to create a broader and more resilient economic base.
Nuclear AMRC Midlands will be the first High Value Manufacturing Catapult (HVMC) facility in the East Midlands. HVMC is an alliance of leading manufacturing research centres backed by Innovate UK.
It is expected to position Derby as a key advanced manufacturing and innovation hub for UK nuclear and beyond, and is projected to add £71m to the local economy over five years. Completion is expected by early 2023.
Andrew Storer, CEO of Nuclear AMRC, said: "The coming years will see increasing investment into clean energy and low-carbon technologies, and the region is well placed to capitalise on the opportunity thanks to its wealth of experience, innovation, and engineering expertise. We have already helped dozens of Midlands-based manufacturers to develop their capabilities for the nuclear sector and want to work with even more to support their ambitions across other growing low-carbon sectors."
The new centre is a government-backed collaboration that includes the University of Derby, Derby City Council, Wilson Bowden, Peveril Securities, Harpur Crewe Estate and Rolls-Royce, with over £9 million from D2N2. It follows a successful pilot project at Connect Derby's iHub.