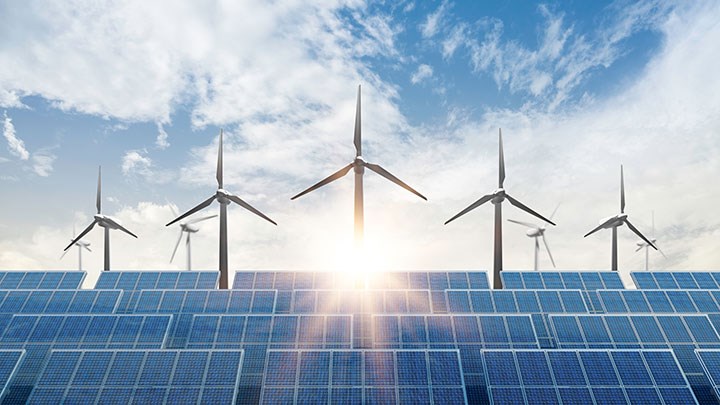 SWITCHING from fossil fuel to low-carbon energy in less than 30 years in order to achieve net zero is arguably the biggest engineering project ever undertaken by mankind, says the Institution of Mechanical Engineers (IMechE) in a new report. 
Setting out the Institution's strategy to achieving net zero from an engineering standpoint, the report details eight issues that IMechE believes are critical to the success of the "Net Zero" enterprise, an approach it says will lay the foundation for a series of more detailed policy outputs from IMechE and its partners. 
"This paper is less concerned with the science or politics of climate change than it is with the practical development of engineering solutions to the objective of achieving net zero," the report says. "This strategy, if implemented by 2050, would achieve the objective of the 2015 Paris Agreement: limiting global warming to 1.5°C above preindustrial levels." 
At present, it is estimated that the total output of greenhouse gases on a global scale amounts to around 50bn t/y – the worst offender being coal, natural gas, and oil in the generation of electricity. Although CO2 makes up the bulk of this figure it also includes methane, nitrous oxide and fluorinated gases, which also have a radiative forcing ("greenhouse") effect. 
To help curb these emissions, IMechE suggests areas where its expertise could help in promoting understanding of this broad subject.  These include: overcoming the variability or seasonality of energy sources in an energy environment very dependent on wind and solar energy; intelligent energy grid management, automation, and stability; the future role of hydrogen; supplies, availability, and geopolitics of critical materials; CCUS scaleup and widespread adoption; retrofitting existing housing and buildings to radically improve their energy performance; replicating quickly the empirical and practical engineering knowledge gathered over 150–200 years of running current fossil-fuel-based energy systems; and the role of governments in market interventions, guarantees, subsidies, carbon pricing/credits and their effect on the flow of funds into scaleup processes. 
Along with providing a framework for understanding, and drawing attention to problem areas (and areas of success) to promote discussion, the report also discusses the economic and cost factors to implement the necessary net zero solutions, including their operational costs and the investment required to bring them to market. 
"History has shown that consumers will adopt new technologies and create new markets when products cross an affordability threshold, for example, cars, air travel, mobile phones and washing machines," the report notes. "Net sero solutions will only be adopted widely if their operating costs are broadly on par with existing solutions using energy derived from fossil fuels." 
IMechE has pledged to develop the skills needed to underpin net zero and to work with relevant agencies in the energy and innovation sectors to encourage pilot projects of new technologies. 
"New skills are needed to support technologies that achieve the net zero goal and the UK's professional engineering institutions will play a key role in embedding net zero principles and skills into degree courses, accreditation programmes and training courses," said Peter Flinn, former IMechE President and author of the report.