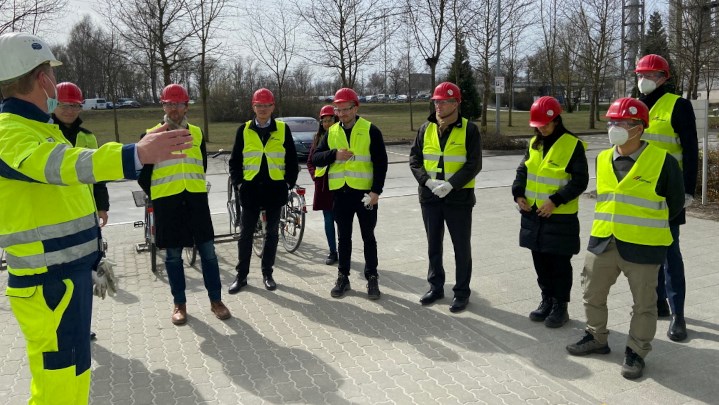 ENERTRAG
CEMEX, Sasol, and ENERTRAG have set up the Concrete Chemicals consortium to produce sustainable aviation fuels (SAFs) from CO2 captured from a cement facility and hydrogen produced with renewable energy.
The green hydrogen will be produced using wind and solar energy from ENERTRAG and the CO2 will be captured from CEMEX's Rüdersdorf cement plant in Germany.  Sasol ecoFT – a part of the Sasol Group focusing on sustainable fuels and chemicals – will use produce syngas from the hydrogen and CO2, which is then converted into longer-chain hydrocarbons such as e-kerosene via the Fischer-Tropsch (FT) process. The e-kerosene can be blended with conventional aviation fuel at up to 50% once certified.
For the initial stages of the project, 12 t/d of hydrogen will be produced on site and 100 t/d of CO2 will be captured to produce 15,000 t/y of e-kerosene. For the second stage, hydrogen will be received via a pipeline. This green hydrogen production is part of ENERTRAG's Electrolysis Corridor East Germany project, which will have a 210 MW electrolysis capacity. The CO2 capture will be increased to 300 t/d and 35,000 t/y of e-kerosene will be produced.
Helge Sachs, Senior Vice President at Sasol ecoFT, said: "Sasol is proud to be an active member of this consortium that paves the way for climate-neutral cement production and sustainable aviation fuels."
Fernando Gonzalez, CEO of CEMEX, said: "We are excited to be part of this groundbreaking project that will contribute to the decarbonisation of two of the world's key industries. The path to carbon neutrality will be built with innovation, and we remain committed to being at the forefront in developing new circular technologies and processes."