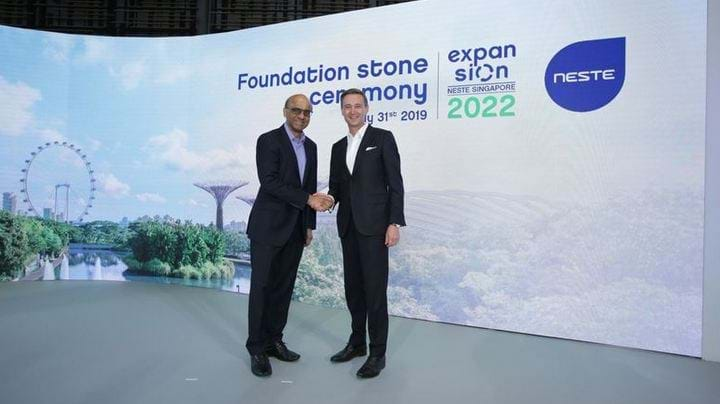 Neste
NESTE is investing US$1.4bn in an expansion to its Singapore renewable fuels refinery.
The plant is located in Tuas, in the western part of the city-state. Neste produces raw materials for various polymers and chemicals materials, as well as renewable diesel and jet fuel. It uses waste streams as feedstocks, for example used cooking oil, animal fat waste, and residues from vegetable oil processing. However, Neste's fuel also uses palm oil, which is no longer considered a green fuel by the EU. "The amount of sustainably-sourced palm oil is extremely small in our feedstock portfolio," Peter Vanacker, President and CEO of Neste, told Reuters.
The investment will include additional logistics capabilities and enhanced raw material pre-treatment, which will allow lower quality waste to be used at the refinery.
"The Singapore expansion marks an important step in the execution of our growth strategy for renewables globally and the beginning for the world's most unique and advanced refinery for renewables. The new production line will be the best in class worldwide, thanks to our continuous process and technology development," said Vanacker at the foundation stone ceremony.
"Besides collaborating in innovation, one of the ways we are developing these win-win partnerships is by developing a trusted, digitised and resilient supply chain network. This is critical for refinery operations. We are also developing new capabilities in managing and greening our supply chains, to meet the demands of firms like Neste," said Tharman Shanmugaratnam, Singapore's Senior Minister and Coordinating Minister for Social Policies.
The new production line is expected to start up during the first half of 2022. The expansion will increase the renewable product output by 1.3m t/y, bringing the total capacity up to 4.5m t/y in 2022.