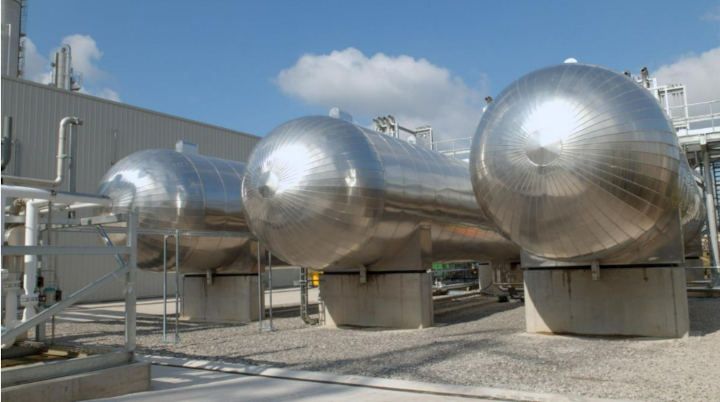 Tata
AN INDUSTRIAL scale carbon capture and usage plant has been opened by Tata Chemicals Europe in Northwich, Cheshire, UK, with an aim to capture CO2 and turn it into sodium bicarbonate. 
Backed by a £4.2m (US$5.1m) grant through the UK Government's Energy Innovation Programme, and a £20m investment from Tata, the plant aims to capture 40,000 t of CO2 each year – the equivalent to taking over 20,000 cars off the roads. 
Then, in what Tata hails as a world's first, the CO2 will be purified to food and pharmaceutical grade and used as a raw material in the manufacture Ecokarb, a sodium bicarbonate product that will be primarily used in haemodialysis to treat people living with kidney disease. 
As much as 130,000 t of high purity sodium bicarbonate can be manufactured from the captured carbon, and along with Ecokarb, which will be exported to over 60 countries around the world, it can also be used in products ranging from glass and washing detergents to animal feed, water purification, pharmaceuticals and food. 
Tata has developed the CO2 purification process along with Pentair, which also helped design and deliver the CCU plant.  
To purify the CO2, it is first washed to remove any traces of the amine solution used in the capture process. After being compressed and cooled, any remaining moisture in the gas is removed via a series of dehydrators.  
Before the gas is condensed into liquid CO2, it is passed through a bed of activated carbon to remove any remaining trace impurities. Finally, a distillation process is used to extract traces of air and other inert gases from the liquid. 
The resulting product is a CO2 liquid at 17 barg and -24 °C, with a purity of more than 99.99% that will meet EIG (European Industrial Gases) standard for food manufacture, Tata says. 
Around 10% of emissions are expected to be captured at the Winnington combined heat and power facility with the CCU, a step towards the 80% reduction of CO2 that Tata hopes to achieve by 2035.  
Martin Ashcroft, Managing Director of Tata Chemicals Europe, said: "The innovation to create this unique process is a major step forwards in the green industrial revolution and has been recognised by the award of a UK patent and patents pending in key territories across the world for the process."