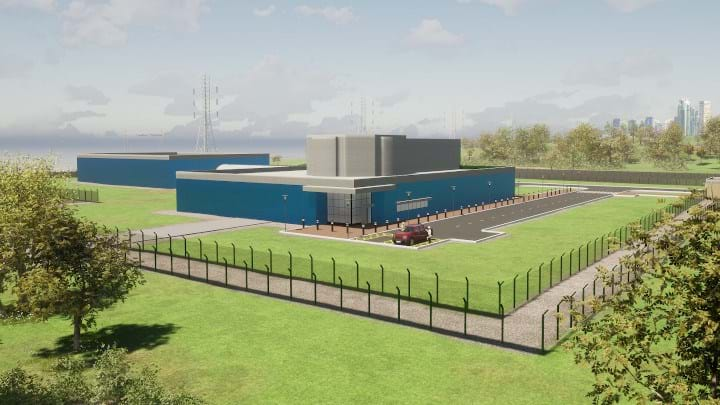 Moltex Energy
MOLTEX Energy, a nuclear energy company, has selected Jacobs to build a bespoke experimental facility for thermal transfer testing at its Birchwood Park research and development site in the UK. The facility will support development of stable salt reactors (SSRs), a type of nuclear plant offering safer, cheaper, and cleaner power.
Moltex's SSR is designed to generate low-cost electricity by burning processed spent-fuel pellets that would otherwise have to be stored as radioactive waste. SSR technology is a variant of molten salt reactor (MSR) technology, and was identified in a 2015 study by consultancy Energy Process Development to be the "most suitable" MSR technology for immediate pilot scale development in the UK. MSRs are a class of fission reactor which use molten fluoride salts as the primary coolant, at low pressure. Coolants are used in nuclear reactors to remove or transfer heat. The fuel can be solid or dissolved into the molten salt coolant.
In comparison to conventional nuclear designs, such as light water reactors, SSR designs incorporate safety intrinsically. Moltex's SSR uses a molten salt fuel and coolant, the system operates at atmospheric pressure, and the byproducts are inert salts, ensuring that the explosive release of radioactive gas into the atmosphere is not a possibility. Additionally, core reactivity slows as temperature increases so meltdowns are also avoided. Moltex says the intrinsic safety of SSR simplifies the engineering and reduces build and operational costs substantially.
Jacobs will additionally assist with validation of thermal transfer modelling. Chemistry, materials, engineering, instrumentation, and modelling teams at the company will collaborate to create a technically complex simulation to replicate the heat output of a fuel channel and to validate computational fluid dynamics modelling of thermal transfer across the fuel assemblies into the coolant.
Moltex already uses Jacobs' ANSWERS software for radiation transport modelling and simulation of reactor performance.
Moltex has been awarded more than US$6m by the US Department of Energy's Advanced Research Projects Agency-Energy, to develop the reactor.