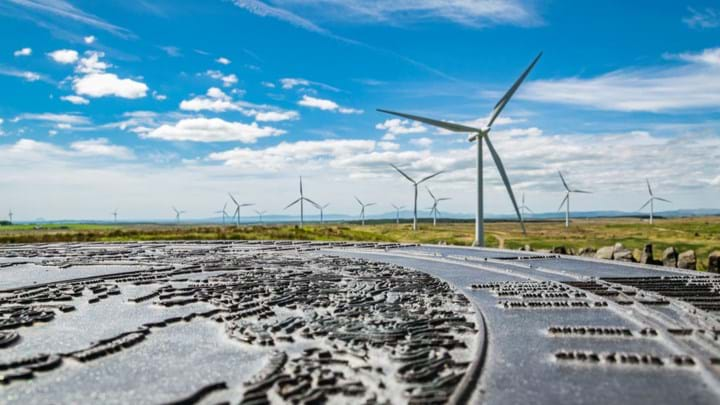 Maritxu / Shutterstock.com
THE UK Government has backed the construction of an electrolyser in Scotland that will be integrated with the UK's largest onshore wind farm to produce and store hydrogen from renewable power.
 ITM Power and BOC have received £9.4m to build a 10 MW proton exchange membrane electrolyser and four tonnes of hydrogen storage in the first phase of 20 MW development at the Whitelee wind farm near Glasgow. ITM will manufacture the electrolyser in Sheffield and BOC will manage the project's engineering and operations. They will work with ScottishPower to integrate the electrolyser with its 215 turbine, 539 MW wind farm. The Government said the project will use renewable power to produce and store up to 4 t/d of hydrogen, which is enough to fuel up to 225 buses traveling to and from Glasgow and Edinburgh each day.
Jim Mercer, Business President, BOC UK & Ireland said: "The Green Hydrogen for Glasgow project is both innovative and exciting. It will help to shape the future of energy storage and demonstrate the value of hydrogen to Scotland's growing low-carbon economy. This project will accelerate development across multiple disciplines – from production and storage, to transportation and end use."
Energy and Climate Change Minister Greg Hands said: "Projects like these will be vital as we shift to a green electricity grid, helping us get the full benefit from our world-class renewables, supporting the UK as we work to eliminate the UK's contribution to climate change."   
Alongside this, the Government said it is investing £2.25m in hydrogen skills and standards. British Standards Institution (BSI) will use the funding to develop technical standards for hydrogen products, and Energy and Utility Skills and the Institution of Gas Engineers and Managers will work together to establish new standards and training specifications for training hydrogen gas installers.