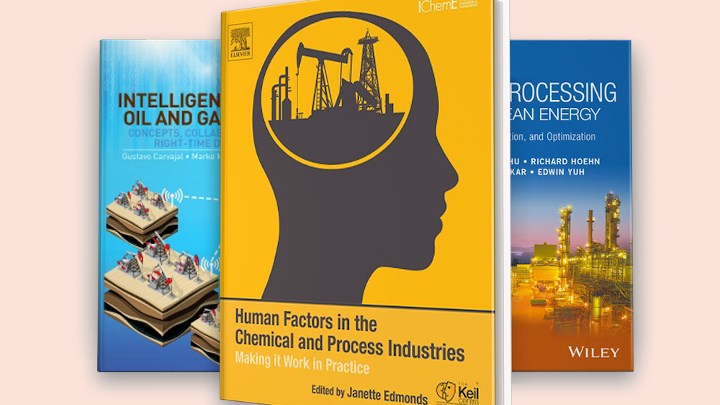 ICHEME members can now access 25 additional technical textbooks through Knovel, with titles added in 2021 including new publications on digitalisation, major hazard management, and clean energy.
Members can freely access more than 300 leading references and databases through the online resource. The titles available to members are reviewed and updated each year to ensure they have access to the latest releases, and to respond to user demand.
Those looking to enhance their work in digitalisation will benefit from titles such as Intelligent Digital Oil and Gas Fields: Concepts, Collaboration, and Right-time Decisions. The book introduces the new age of digital oil and gas technology, and features examples of lessons learned from a variety of production situations from reservoirs around the world.
It is a valuable reference for managers, engineers, operators, and IT experts to understand specifics on how to filter data to create useful information, address analytics, and link workflows across the production chain. This enables better decision-making with a higher degree of certainty and reduced risk.
Human Factors in the Chemical and Process Industries: Making it Work in Practice (First Edition) is a new book that was inspired by the international human factors training course run by professional services provider The Keil Centre, and IChemE. Written for safety professionals, engineers, and operational disciplines within the major hazards industry, it is a key title for those who deal with human factors issues in their core role.
To support process engineers in clean energy development, IChemE has added Hydroprocessing for Clean Energy: Design, Operation and Optimization. It provides a holistic approach to changing process conditions, process design changes, and process technology upgrades for improving operations at hydroprocessing units.
Responding to member demand, IChemE has also added Applications in Design and Simulation of Sustainable Chemical Processes, and Guide to Quantitative Risk Assessment for Offshore Installations.
Other added titles include:
SolarHydrogen Production: Processes, Systems and Technologies;
Cybersecurity of Industrial Systems; Chemical Engineering Design (6thEdition); and
What went wrong? Case Histories of Process Plant Disasters and How They Could Have Been Avoided (6th Edition), reviewed in The Chemical Engineer last year.
Claudia Flavell-While, IChemE Director Learned Society, said: "IChemE is keen to ensure its members are equipped with the best and relevant books to help them in their day-to-day work in advancing research, practices and processes sustainably, and utilising digital technologies, as well as enhancing safety in the major hazards industry.
"Members searched Knovel more than 68,600 times last year – up 3,100 compared to the same period from the previous year – meaning it's an incredibly valuable resource for chemical, biochemical and process engineers. Added to that, Knovel provides access to hundreds of interactive equations relevant to chemical engineers – a fantastic resource for members at all stages of their career. We will continue to work closely with leading publishers to provide members access to the best publications, as well as the popular titles they have searched for."
Members can view the full range of books and resources on Knovel via the IChemE website or the Knovel ToGo app.