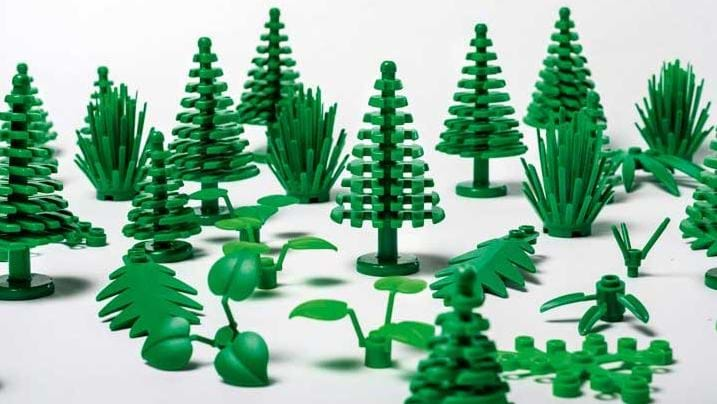 LEGO
LEGO has announced that plant-based plastic sourced from sugarcane will be used in pieces such as leaves, bushes, and trees.
Polyethylene comprises 1–2% of the total plastic used in LEGO products and is typically produced from petrochemical feedstocks. LEGO has now begun producing its botanical pieces – such as leaves and trees – from polyethylene made from plant feedstocks. The plant-based polyethylene is made from ethanol produced from sugarcane and has the same chemical and physical properties as petrochemical polyethylene. The new green pieces are as durable and flexible as conventional plastic, and meet LEGO's quality and safety standards.
LEGO has partnered with WWF as part of efforts to reduce CO2 emissions and has joined the WWF initiative Bioplastic Feedstock Alliance (BFA) to ensure that the sugarcane is sustainably sourced.
"It is essential that companies in each industry find ways to responsibly source their product materials and help ensure a future where people, nature, and the economy thrive," said Alix Grabowski, a senior programme officer at WWF. "The LEGO Group's decision to pursue sustainably sourced bio-based plastics represents an incredible opportunity to reduce dependence on finite resources."
The greener botanical pieces will be available in sets later this year. This move to plant-based polyethylene is part of LEGO's commitment for all products and packaging to use sustainable materials by 2030. LEGO already uses 100% renewable energy after investing in two offshore wind farms, and celebrated that achievement by building a 7.5 m wind turbine out of 146,000 bricks.