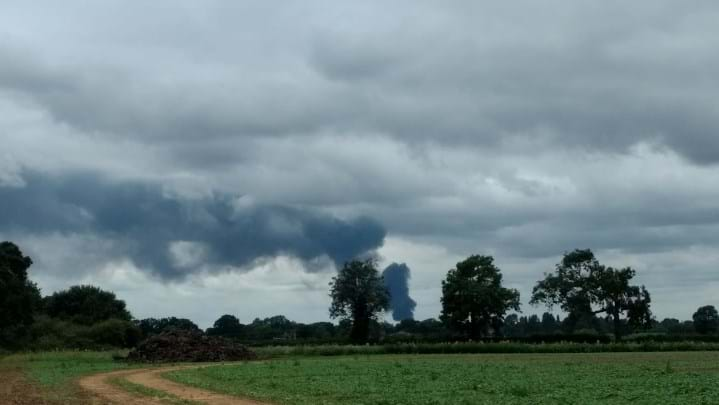 Dwane Doyle
A FIRE and subsequent explosions occurred at a plastics facility in Leamington Spa, Warwickshire, UK on 27 August. One worker is still unaccounted for.
The fire started at around 10:30 local time at Leeson Polyurethanes facility in Tachbrook Park in Leamington Spa. The business park is surrounded by residential areas. Several explosions occurred as a result of the fire. No injuries were reported but one employee remains missing.
Local residents reported on social media groups that there was a strong chemical smell in the area and that some people were vomiting in the streets. A huge plume of black plume could be seen from at least 20 km away. A video from The Guardian shows the extent of the fire.
Police evacuated everyone within 100 m of the site, and those living within 500 m were advised to keep doors and windows closed.
The facility manufactures polyurethane adhesives and coatings with a production capacity of 10,000 t/y. Commenting on the toxicity of the smoke, Tony Ennis, Director of Haztech Consultants, said: "Polyurethane fires can generate cyanide gas as a byproduct of combustion plus carbon monoxide (also toxic) and a number of other potentially toxic substances including acetonitrile, acrylonitrile, pyridine, and benzonitrile and carbon soot due to incomplete combustion. The combination of materials produced will be dependent on both the type of polyurethane and the temperature. In addition to combustion byproducts, the heat will cause thermal decomposition into various other materials including ammonia, benzene, toluene and other aromatic ring molecules.
"The combination of toxins in the smoke plume may cause distress, particularly to anyone who has existing lung or breathing complaints.
"Decomposition produces a dense yellow smoke, and combustion a dense black smoke containing sooty particles as well as various organic materials. Many of the decomposition products are heavier than air and will fall to ground when the plume cools."
Warwickshire Police reported that the fire was brought under control within 24 hours, and Leeson Polyurethanes confirmed that the fire was extinguished on 30 August. The company said in a statement: "We do not yet know the cause of the incident but are working closely with emergency responders, local officials, and our teams at the plant to determine what led to this incident. We would like to thank our employees, local partners and the emergency personnel who responded to the incident as they continue to extinguish the fire."
The BBC reported that Barnaby Briggs, Chief Fire Officer from Warwickshire Fire and Rescue Service, said that vats of chemicals caught in the fire were likely responsible for the explosions.
There are currently no updates on the missing worker, with Warwickshire Police saying on 29 August that it was not yet safe to enter the site. It said in a statement: "A specialist search operation will commence as soon as it is safe to do so. However, this will be a very thorough and complex operation which may take a number of days to complete."
Debris from the fire fell within a large area and a cleanup is being organised by Warwick District Council. Public Health England issued advice to residents that the soot and material that has fallen widely in the area is not considered hazardous to health, but that anyone removing debris should still take precautions and wear rubber gloves while handling the material.