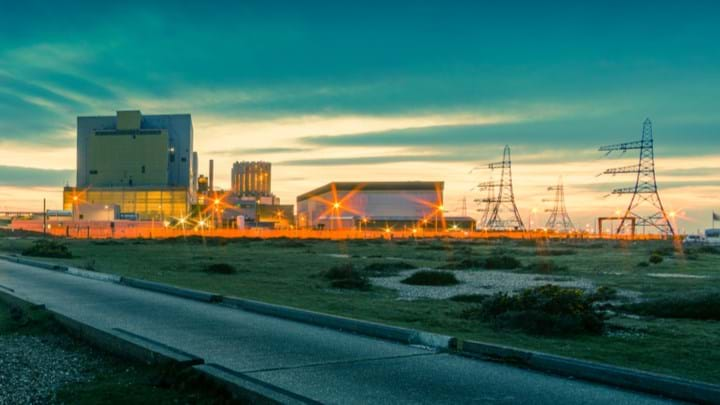 SJMPhotos / Shutterstock.com
THE UK's Dungeness B nuclear power station will begin decommissioning activities some seven years earlier than expected after investigations discovered problems with components that cannot be replaced.
The station, which uses two advanced gas cooled reactors, was shutdown in 2018 for maintenance, inspection, and refuelling. But the operator, EDF, says that problems were discovered with the material conditions of the boilers which are contained within the reactors. It says the investigation found that components which cannot be replaced have changed faster than anticipated, so has called an end to generation activities and will immediately move ahead with efforts to defuel the plant.
John Benn, Station Director at Dungeness B said: "This marks the beginning of the next chapter in this station's story. We will now plan the defuelling operations, a job we expect will take several years, and one that provides ongoing opportunities for our staff and their specialist skills."
Dungeness B started producing power in 1983 and its original design life ran to 2008. This was extended following investments and in 2015 the end of generation was extended to 2028, with a proviso that it could end three years earlier or later.
Gary Carter of the union GMB said: "What is needed now is certainty and security for the workforce. These are dedicated workers who've built up years of knowledge and their skills need to be utilised if we're going to hit net-zero by 2050."
Dungeness B has around 500 staff and 250 contractors working on site.
Carter called on the government to accelerate its investment in nuclear as part of its plans to achieve net-zero emissions. This point was also made by Tom Greatrex, CEO of the Nuclear Industry Association, who said: "Its retirement underscores the urgency of investing in new nuclear capacity to hit net zero: in less than three years, more than half of our nuclear fleet will be gone."
The UK Government published an Energy White paper in December committing to investment in nuclear, including £215m (US$304m) towards the development of small modular reactors (SMRs) and £170m for the development of advance modular reactors.