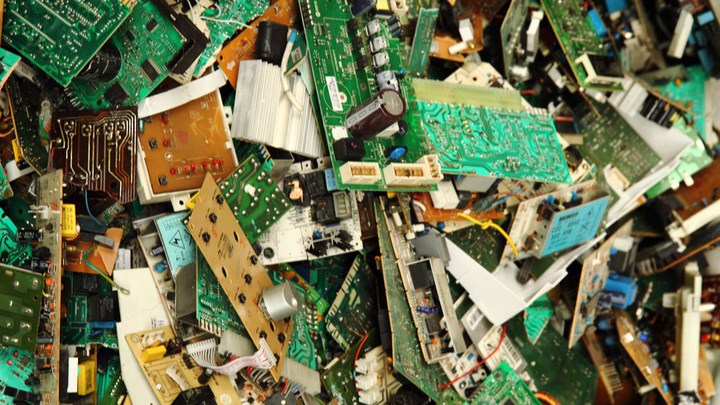 COMPUTER technology giant Dell has partnered with Texas recycling company Wistron GreenTech and actress Nikki Reed to use gold from e-waste in a jewellery collection and new motherboards.
At present, only 12.5% of e-waste is recycled and it is thought that in the US, US$60m/y of gold and silver is thrown away in unwanted mobile phones alone. Dell's project with Wistron GreenTech will be the first industry pilot scheme to reuse gold from e-waste into new motherboards, which will be used in Dell computers such as its combined laptop and tablet, the Latitude 5285 2-in-1. Dell and Wistron GreenTech previously carried out a pilot project to reuse e-waste gold in server motherboards.
The Circular Collection of gold jewellery has been designed by actress Reed and made by jeweller Bayou with Love. The collection, made from gold from Dell's recycling programmes, includes 14- and 18-carat gold rings, earrings and cufflinks. It will be launched at the 2018 Consumer Electronics Show.
Wistron GreenTech's proprietary process uses a green chemical technology to separate the metals from the plastic in circuitboards. Both the metal and the resin can be recycled to make new circuitboards or other products. Producing gold from the process has a 99% lower environmental impact than mining gold traditionally. Dell's closed-loop recycling partnership with Wistron GreenTech began in 2012, but previously focussed on plastics.
Since 2012, Dell says that it has recycled around 23m kg of post-consumer recycled waste in new products, and has pledged to double that by 2020.
"Materials innovation – where and how we source things like plastic, carbon fibre and now gold for our products – is increasingly important for us. When you think about the fact that there is up to 800x more gold in a ton of motherboards than a ton of ore from the earth, you start to realise the enormous opportunity we have to put valuable materials to work," said Dell vice chairman Jeff Clarke.