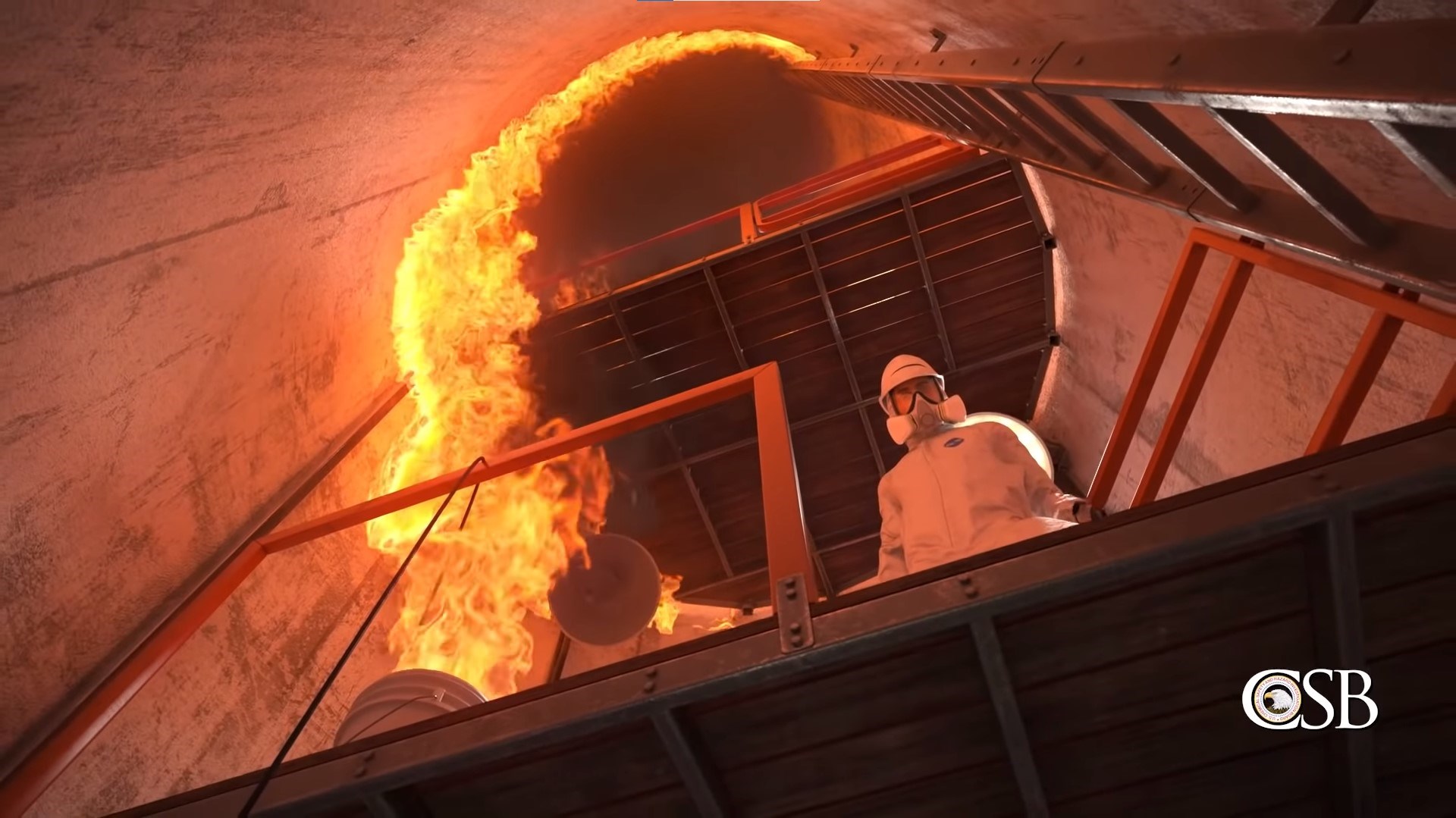 THE US Chemical Safety Board (CSB) has released a new safety video about the 2020 fatal incident at the Evergreen Packaging paper mill in Canton, North Carolina, US.
On 21 September 2020, a fire erupted in a confined space when a heat gun fell into a bucket of flammable epoxy vinyl ester resin, killing two contract workers. Evergreen Packaging is a packaging and containers company, making paper and paperboard products. The incident occurred during a planned shutdown of its Canton paper mill, while maintenance and repair activities were ongoing throughout the facility.
CSB's new safety video includes an animation of the events leading up to the incident. While completing repairs in an upflow tower, Universal Blastco contractors began using a heat gun in the confined space. A fire erupted when the gun fell into a bucket of flammable resin and though the Blastco contractors were able to evacuate, two Rimcor contractors in the connected downflow tower were unable to escape.
The video explains that in its investigation, CSB identified four safety issues that led to the incident, including hot work and confined space safety. CSB Chair Katherine Lemos said that these factors are common safety issues in many major incidents investigated by CSB. The video included commentary from both Lemos and Lead Investigator Drew Sahli.
CSB discovered that because the heat gun did not produce a spark or a flame, Blastco workers did not recognise it as a hot work hazard. Had they done so, Blastco's procedures would not have allowed its use in a confined space, in the presence of flammable resin. Sahli said the company should update its policies and training to include use of non-flame and non-spark producing tools that could serve as ignition sources, as hot work.
Another finding was that all three companies treated the upflow and downflow towers as separate and independent confined spaces despite the connecting crossover pipe. CSB said they constituted a single confined space and as Blastco and Rimcor were working simultaneously, the maintenance tasks should have been considered simultaneous operations, or SIMOPs. These are defined as operations occurring close together in space and time, which might interfere or clash with one another, increasing the risks of activities or introducing new risks.
CSB recommended to Evergreen that it develop and implement a SIMOPS programme, which it did not have at the time. The programme could have facilitated coordination between the contractors and helped to foresee and mitigate hazards. It also recommended that Occupational Safety and Health Administration (OSHA) require owner/operators to ensure coordination of SIMOPs involving multiple work groups, including contractors.
The Blastco workers used the heat gun to warm the resin, to speed up the drying process after application. Due to a lack of pre-job planning, another issue, the contractors were not prepared to use the resin in cold weather. With better planning they could have identified a safer heating option or delayed the work until ambient temperatures were warmer.
Finally, CSB identified the use of combustible materials in the construction of the upflow tower and crossover line, which contributed to the quick spread of smoke and flames to the downflow tower. Sahli said that when performing hazardous work in confined spaces, it is critical for companies to adequately understand and control hazards, especially when the spaces are constructed of combustible material that can increase the severity of a hazardous event.
The investigation's findings and recommendations are explained in more detail in CSB's final report, released in September 2021. Recommendations were made to Evergreen, Blastco, Rimcor, and OSHA.
Lemos said: "The incident at Evergreen Packaging was entirely preventable. Worker safety, employees' and contactors', is a critical responsibility of the facility owners and operators, whether the facility is operating normally or in maintenance and upgrades. We hope our report and recommendations will further inform industry about the risks inherent to hot work and confined space activities, and how those risks can be successfully mitigated."