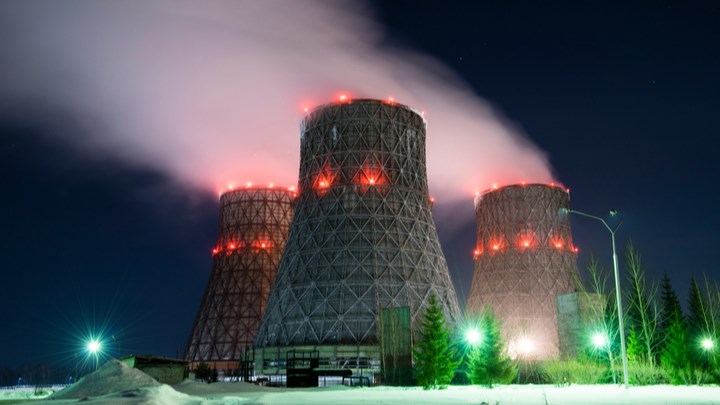 TWO projects by UK and US consortiums will investigate using nuclear-generated heat and electricity to produce hydrogen.
The UK consortium, led by energy company EDF, will conduct a feasibility study that will use novel technology that uses nuclear-generated heat and electricity to create hydrogen for asphalt and cement sites, with the aim of demonstrating at MW scale through 2023–25. The UK's Department for Business, Energy & Industrial Strategy backed the study with almost £400,000 (US$488,432) in funding.
The Bay Hydrogen Hub's Hydrogen4Hanson project will demonstrate solid oxide electrolysis integrated with nuclear heat and electricity to provide low-carbon, low-cost hydrogen via novel, next-generation composite storage tankers. These will be supplied to dispersed asphalt and cement sites in the area around Heysham nuclear power station in Lancashire, UK.
Solid oxide electrolysis cells (SOECs) are a technology for producing green hydrogen via high temperature electrolysis. The consortium partners say the technology could improve hydrogen production efficiency by 20% compared to conventional electrolysis, and it has yet to be demonstrated anywhere in the world. They add that using hydrogen as a fuel for asphalt production has also not been demonstrated.
The partners expect their approach could potentially achieve significant carbon emissions reductions and support the UK's net zero mission, and ensure that the nation continues leading the way in the cement and asphalt industries.  
The project is intended to help take a key step towards decarbonising both the asphalt and cement industries. It could be scaled up to more than 250 sites in the UK alone, and earnings could be dispersed across the mineral products industry.
Additionally, Bay Hydrogen Hub research and development is expected to contribute to decarbonising multiple construction industries and supporting nuclear-generated hydrogen from the next generation of reactors.
Bay Hydrogen Hub's Government funding was awarded through the Government's £1bn Net Zero Innovation Portfolio, under the Industrial Hydrogen Accelerator Programme. The competition supports projects generating evidence on end-to-end industrial fuel switching to hydrogen.
Patrick Dupeyrat, Director of Research & Development at EDF UK, said: "This award is an enormous vote of confidence in our project. Decarbonising UK industry is one of the biggest challenges the nation faces in the push for net zero – using nuclear power to produce hydrogen which can power the carbon heavy asphalt industry is a logical thing to do."
"Doing so will help create the nation's new nuclear future with new innovative technology and could help safeguard jobs."
Other project partners in the consortium include: Hanson UK, National Nuclear Laboratory, Hynamics, CERES Power, EDF R&D, and EDF Generation.
A newly-signed collaboration will see energy major Shell and NuScale Power work with other industry partners on a two-phase project to develop and assess a concept for an economically optimised integrated energy system (IES) for hydrogen production using electricity and process heat from nuclear power.
NuScale says its small modular reactor (SMR) technology has the potential to balance and stabilise power grids dominated by renewable energies through hydrogen production. When energy demand is high and renewables production is low, hydrogen could act as an end product or a stored energy source to be processed through a reversible solid oxide fuel cell (RSOFC) for electricity generation.
The work will use NuScale's VOYGR SMR technology which incorporates the components for steam generation and heat exchange into a single integrated unit called the NuScale Power Module (NPM). Each NPM operates independently within a multi-module configuration, and up to 12 modules can be monitored and operated from a single control room.
The project will involve modifying a NuScale control room simulator to evaluate the dynamics of IES. The simulator will include models for the SOEC system for hydrogen production, as well as RSOFC for electricity production. Research will also consider the number of NPMs needed for SOEC hydrogen production and the quantity of hydrogen stored for subsequent electricity production.
Partners will also assess local economic factors from the US' Utah Associated Municipal Power System Carbon Free Power Project, such as the impact in the Western Energy Imbalance Market, resource adequacy programs, and other local market factors.
Additional research participants include: Idaho National Laboratory, UAMPS, Fuel Cell Energy, FPoliSolutions, and GSE Solutions.