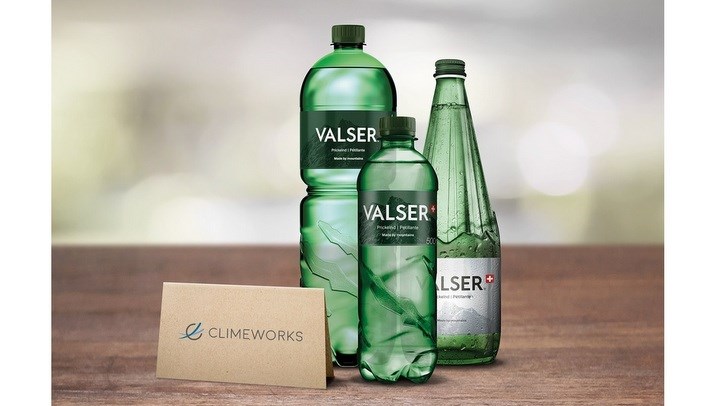 Coca-Cola HBC Switzerland
COCA-COLA HBC Switzerland has teamed up with Climeworks to pioneer the use of air-captured carbon dioxide (CO2) use in the beverage industry.
Climeworks is a Swiss direct air capture (DAC) company. DAC removes CO2 from the atmosphere through chemical binding. In Climeworks plants, air is drawn in from the atmosphere and the CO2 from the air becomes chemically bound to a filter. Once the filter is saturated it is heated to around 100°C. The CO2 is then released and collected as concentrated CO2 gas to be sent to suppliers or used for negative emissions technologies. The CO2-free air is released back into the environment.
HBC Switzerland is the largest bottler of non-alcoholic beverages in Switzerland and will be using Climeworks' captured CO2 to provide sustainably-sourced CO2 for drinks carbonation.
The first brand in the world to use Climeworks' technology will be Valser water, which in 2017 was certified by Swiss Climate for its good carbon footprint. HBC Switzerland aims to make Valser the first CO2-neutral water in Switzerland.
The partnership provides Climeworks with a market to further develop its "breakthrough" technology which is important in achieving UN climate goals.  
The beverage industry is one of the largest users of CO2 feedstocks in the world. It uses 10m t/y of CO2. The industry is therefore an attractive pioneer market, and drinks carbonation could provide the commercial platform needed for industrial-scale deployment of Climeworks' technology.
Further development could make the process cheaper; it currently costs US$600 for every ton of CO2. Climeworks aims to reduce this to US$100 by 2025 or 2030. Climeworks also aims to capture 1% of global emissions by 2025, which BusinessGreen referred to as "ambitious".
Jan Wurzbacher, director of Climeworks, said: "By entering the beverage market with Coca-Cola HBC as a global key player, we are continuing our path of commercialising our DAC technology, which began with the world's first commercial plant, in May 2017."
Climeworks followed the opening of that plant in Hinwil, Switzerland with the opening of another in Hellisheidi, Iceland. Climeworks said that the CarbFix2 project was the first in the world to combine DAC technology with geological storage.
Christoph Gebald, CEO of Climeworks, said: "We are very happy to be entering the beverage market together with Coca-Cola HBC. During the last years, Coca-Cola HBC has been an exceptionally supportive partner and invaluable in moving the application of DAC in the beverage industry forward – something we are very thankful for."
Nigel Davis, general manager of HBC Switzerland, said: "Sustainability is part of our strategic business priorities. We are constantly looking for ways to further reduce our environmental footprint in everything we do. We are all the more pleased that we can now support a local Swiss company."
Climeworks works with Pentair Union Engineering to ensure that their captured CO2 is pure enough to use in drinks.
On this project Climeworks is also receiving support from the Stadtwerk Winterthur's climate fund and the Environmental Technology Promotion of the Swiss Federal Office for the Environment FOEN.
Coca-Cola HBC Switzerland is a subsidiary of Coca-Cola Hellenic Bottling Company, one of the largest bottlers of The Coca-Cola Company.