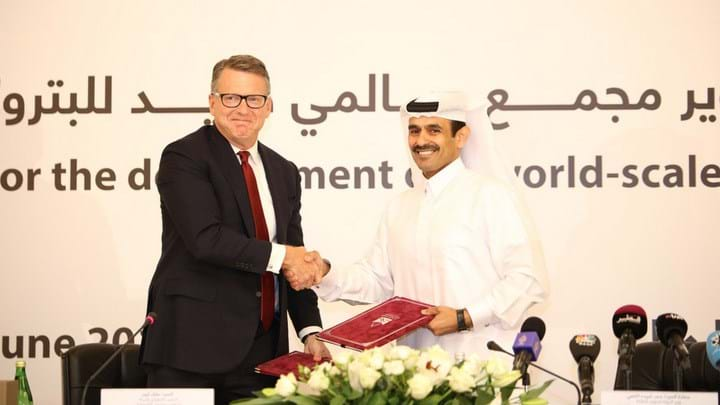 Qatar Petrochemical and Chevron Phillips Chemical have signed agreements to jointly develop petrochemicals projects in the US and in the Middle East, which will include building the world's largest ethane cracker in the US.
In the US the companies are to develop a new world-scale petrochemicals project to be located in the US Gulf Coast region – US Gulf Coast II Petrochemical Project (USGC II). Its location will give it access to significant quantities of ethane produced by US shale basins, including the prolific Permian Basin.
In addition to the world's largest ethane cracker – with an expected capacity of 2m t/y - the project will also include two high-density polyethylene (HDPE) units, each with a capacity of 1m t/y.
Chevron Phillips will own a 51% share of USGC II, and Qatar Petroleum will own the remaining 49%. Chevron Phillips will provide project management and oversight, and it will be responsible for operation and management of the facility.
At its peak, construction is expected to support an estimated 9,000 jobs, and once operational the facility is expected to provide 600 full-time jobs.
The project is expected to cost an estimated US$8bn. A final investment decision is expected no later than 2021, followed by full funding and the award of engineering, procurement, and construction contracts, with award planned for 2021. The facility is to be operational by 2024.
Prior to the US project, state-owned oil and gas company Qatar Petroleum and petrochemicals company Chevron Phillips signed an agreement to develop, construct, and operate a petrochemicals complex to produce ethylene and HDPE. It is to be developed and constructed in Ras Laffan Industrial City, an industrial hub located 80 km north of Doha, Qatar, which is administrated by Qatar Petroleum.
The Middle Eastern project will include a 1.9m t/y ethane cracker, the largest in the Middle East and one of the largest in the world. The complex will also include two HDPE derivative units which will have a combined capacity of 1.68m t/y. The project will increase Qatar's current polyethylene production by 82%.
Qatar Petroleum and Chevron Phillips will own and develop the project under a joint venture (JV) company, owning a 70% and 30% share respectively.
Chevron will provide the JV with exclusive licencing of its MarTECH loop slurry process for HPDE production, as well as project management, engineering, and construction services.
As part of the development phase the companies will study how efficiency might be achieved by harnessing the existing capabilities of Qatar Chemical Company (Q-Chem) JVs to provide overall operational management of the facility once it is complete. Q-Chem I and Q-Chem II are JVs of Mesaieed Petrochemical Holding Company (49%), Chevon Phillips Chemical International Qatar Holdings (49%), and Qatar Petroleum (2%).
The engineering design phase of the project is to commence "shortly", with startup expected in 2025. 
His Excellency Saad Sherida Al-Kaabi spoke at a press conference held on the sidelines of the signing ceremony for the Middle East project. Al-Kaabi is Qatar's Minister of State for Energy Affairs and President and CEO of Qatar Petroleum.
He said: "The project will optimise the utilisation of ethane produced from the North Field LNG expansion project as well as from existing ethane producing projects. It will also consolidate Qatar's position among the world's leading petrochemicals producers and complement our efforts to further expand our footprint in the global petrochemicals markets.
Mark Lashier, President and CEO of Chevron Phillips, said: "Developing this project is a tremendous opportunity for our company to expand on our highly-successful JVs with the State of Qatar to meet the growing global demand for petrochemical products that enrich lives around the world."
"This project fits perfectly with our global strategy to build petrochemical assets in regions of the world where feedstock options are abundant and competitively priced."
Of the US project, Al-Kaabi said: "This is the second agreement in as many weeks with our trusted partner, Chevron Phillips Chemical, to further cement the strong partnership between our two companies and to complement Qatar Petroleum's internal portfolio in the US, which is the core growth area for us as we believe it has great prospects and growth opportunities."