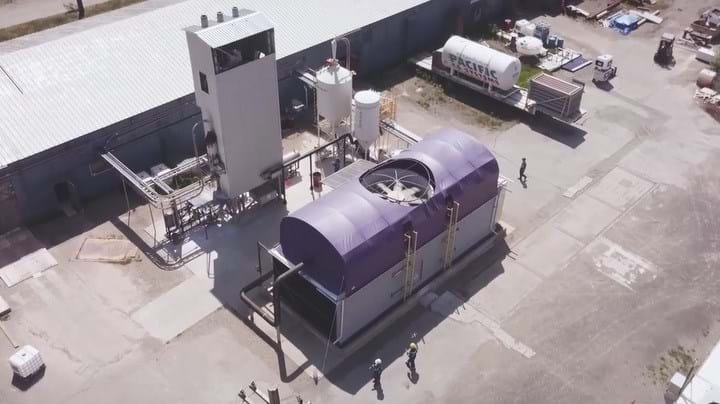 Carbon Engineering
CHEVRON and Occidental Petroleum have invested in Canadian direct air capture (DAC) company Carbon Engineering, to help commercialise Carbon Engineering's DAC and Air to Fuels technology.
Carbon Engineering has been capturing 1 t/d of CO2 from the air at a pilot plant in Squamish, British Columbia since 2015. Its Air to Fuels technology produces synthetic fuel by combining the captured CO2 with hydrogen generated from electrolysis using renewable energy. The pilot plant produces 1 bbl/d of fuel and the fuels are compatible with existing vehicles.
DAC plants are not location dependent, so could be sited close to oil field operations to enable the CO2 to be used for enhanced oil recovery (EOR). Recovering oil using CO2 captured from the air reduces the net emissions of CO2 as it can permanently sequester CO2 underground. "Carbon Engineering's direct air capture technology has the unique capability to capture and provide large volumes of atmospheric CO2," said Richard Jackson, Occidental Petroleum's Senior Vice President, Operations Support. "This capability complements Occidental's enhanced oil recovery business and provides further synergies by enabling large-scale CO2 utilisation and sequestration."
Steve Oldham, CEO of Carbon Engineering, said: "It is a very important time for the air capture field right now. We're seeing leading jurisdictions, like California and British Columbia, creating markets for low carbon fuels and technologies like DAC, through effective climate policy. These efficient market-based regulations, and action from energy industry leaders like Occidental and Chevron, show the power of policy in driving innovation and achieving emissions reductions while delivering reliable and affordable energy."
Barbara Burger, President of Chevron Technology Ventures, said: "Novel pathways such as through CE's Air to Fuels technology represent a prime target area for our investment efforts that look to cut greenhouse gases through new low carbon value chains."
This is the first significant collaboration between an energy company and a DAC company. The investments will help to accelerate the commercialisation of Carbon Engineering's technology. Carbon Engineering is currently building a larger plant with a synthetic fuel capacity of 200 bbl/d, and is also planning a commercial facility that can produce 2,000 bbl/d.