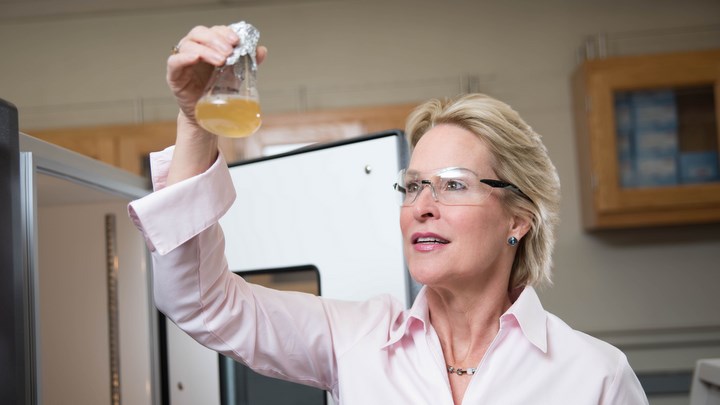 Caltech
TWO chemical engineers – Frances Arnold and Paula Hammond – will advise US President Joe Biden as part of an independent panel of science and technology advisors.
They are among 30 scientists and engineers who have joined the President's Council of Advisors on Science and Technology (PCAST), which makes science, technology, and innovation policy recommendations to the President.
Arnold, a biochemical engineering professor at Caltech who won the 2018 Nobel Prize in Chemistry, joins geophysicist Maria Zuber as the first female to co-chair PCAST. The group is a direct descendant of the one set up by President Eisenhower in the wake of the launch of the Sputnik satellite by the USSR in 1957.
Speaking at the event where the 30 members of the group were announced, Arnold discussed the struggles against climate change and the pandemic. "As an engineer by training, there is a certain temptation to see the work ahead of us as a series of difficult problems to be solved. But the truth is that is not what drew me to this room. Like the rest of this extraordinary team, I'm here today because of love. A love of science, yes, but also a deeper love of our planet and of our people without whom science has no purpose or meaning."
She added: "Science is not about cold solving of problems. It's a warm and beautiful exploration of the unknown, an expression of human curiosity that propels us forward and allows us to fulfil our most important responsibilities. The moment we fail to nurture it we resign ourselves to living in the past and lose the chance to guide the future."
Arnold gained her PhD in chemical engineering at University of California Berkeley in 1985. In 1993, she conducted the first so-called "directed evolution" of enzymes. This involves mimicking natural selection to create new proteins that work as biological catalysts. Arnold has since refined the methods which are now routinely used in academia and industry. They have enabled cleaner and cheaper industrial processes for the manufacture of a wide range of products including drugs, detergents and fuels made from biomass.
The group's second chemical engineer, Hammond, is Head of MIT's Department of Chemical Engineering. Her work includes designing tiny particles that target chemotherapy drugs directly to tumour cells, and nanostructured dressings that rapidly stop bleeding to save the lives of soldiers wounded on the battlefield.