THROUGHOUT history, industries have either fought change or embraced it. Now, with the global threat posed by current unsustainable practices it is important that industry takes action. The Bloomberg Sustainable Business Summit brought together global business experts to discuss how they are embracing change towards a more sustainable future.
Bloomberg, the global news company, hosted the summit, which took place in London on 7–8 November. The two-day event was just one in a series which Bloomberg has hosted annually for the past four years.
The summits bring together top executives, investors, and innovators to explore critical issues, risks, and opportunities associated  with sustainability.
Founder, owner, and CEO Michael Bloomberg said: "We're hosting events like this in cities around the world to highlight ways that we can all work together to build a stronger, more resilient, and sustainable economy."
Investing in change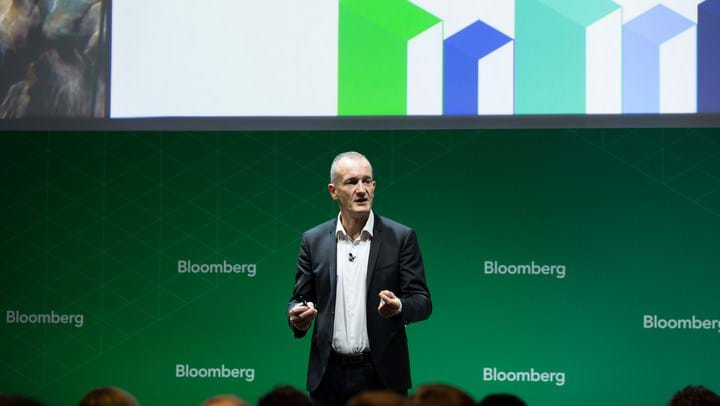 Bloomberg
Steve Howard, co-founder and co-chair of the We Mean Business coalition, took to the stage to discuss sustainability, attitudes to change, and lessons learned as chief sustainability officer at IKEA.
We Mean Business is a global non-profit coalition which works with some of the world's most recognised businesses in order to catalyse business action towards the United Nations (UN) Sustainable Development Goals (SDGs). It currently has over 1,340 commitments to act, from 827 companies which represent a market cap of US$16.9trn.
"Sustainability has gone from being optional and local to absolutely about our future – a defining megatrend," said Howard. "It's the most predictable and consequential trend that will shape the working environment for the rest of our lives."
And change in the direction of sustainability is occurring, "but much of industry is still organised against it," Howard added. So, it is important for well-led business that can "see the future" to increase efforts towards achieving sustainable change. Howard added that in order to successfully achieve change, businesses have to go all-in. "It's a powerful thing to do," he said.
Howard discussed the example of IKEA, US going "100% LED". In 2015 the company became the first major retailer to only sell LED bulbs and lighting. Howard said that "when you set a 100% target you create absolute clarity about what the future looks like." By pushing all efforts and innovation towards LED lighting, IKEA not only made a change towards sustainability, but it also made its lighting business higher performing.
"Doing what you've done last year and doing it slightly better, is what we tend to do in larger businesses," Howard said. Because "real change is hard." And, this is something Ingvar Kamprad, the now deceased founder of IKEA, understood. Kamprad once encouraged IKEA management to achieve more "failures" and fiascos" because he understood that "if you're going to create change, you have to be prepared to risk failure", Howard said. Kamprad even offered a kr1m (US$110,160) prize for the best failure.
Change towards more sustainable choices in areas such as lighting, energy, and mobility, is occurring. The timescales may vary, but ultimately "these big, deep, disruptive changes are happening," Howard said. And, despite the possibility of failure posed by innovation, businesses need to "lean-in to the future, and lead change"
Innovating towards sustainability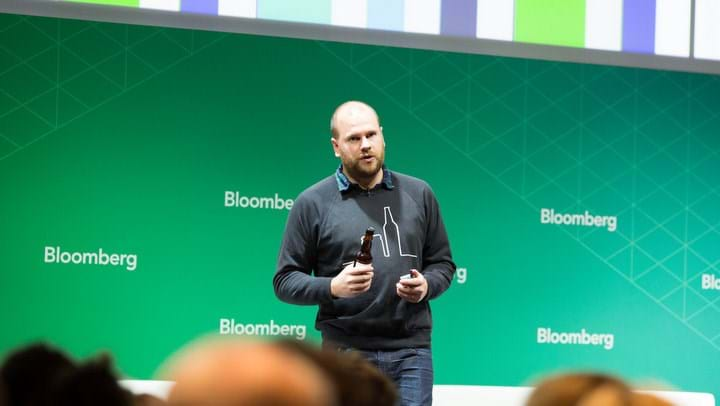 Bloomberg
Rob Wilson, "chief toaster" at brewing newcomer Toast, discussed his company's innovative solution to food waste. Globally, one third of food gets wasted – food waste accounts for 3.3 Gt of CO2 emissions, has a blue water footprint of 250 km3, and a land use footprint of 1.4bn ha, 28% of the world's agricultural land use. In the UK alone 15m t/y of food goes to waste, with bread being a major contributor to this problem; 44% of bread is thrown away every year.
To tackle this problem, Tristram Stuart, founder and "toastmaster" at Toast, decided to start a business that brews beer using surplus bread. The idea was inspired by his meeting with the people behind the Brussels Beer Project, whose Babylone beer is based on a 7,000-year-old recipe for beer brewed with bread. Whilst not a completely novel idea, having seen how beer was brewed for thousands of years, brewing with bread is something that Toast is attempting to bring back into the mainstream.
Toast has four founding principles: to produce a high-quality premium product; eliminate bread waste; raise awareness about food waste in an accessible way; and donate 100% of the profits to charity.
Toast partnered with sandwich manufacturer Adelie foods, which donates and delivers surplus bread it would otherwise pay to dispose of. The bread is then used to replace one third of the barley that would typically be used in the brewing process.
In addition to tackling food waste directly, Toast also increases awareness in a "fun, accessible way" with its beer providing a conversational lubricant that gets people talking. Toast donates money to Feedback and other food waste organisations. Feedback, a charity started by Toast's Tristram Stuart, works with civil society, businesses, and governments in order to catalyse change and social attitudes, and demonstrate innovative solutions to tackle food waste. The global movement aims to halve food waste by 2025.
Toast also encourages others to take on its idea, from homebrewers to others in the industry, and has open sourced its brewing recipe, which has been downloaded more than 40,000 times. Toast collaborates with other brewers around the world to encourage them to brew with bread and plans to launch a platform to connect brewers with bakers in order to tackle the issue of food waste at a regional level.
"There are commercial business solutions that are sustainable," said Wilson. "We are facing catastrophic climate catastrophe and we can address this issue, but we must act now."
The importance of collaboration and partnership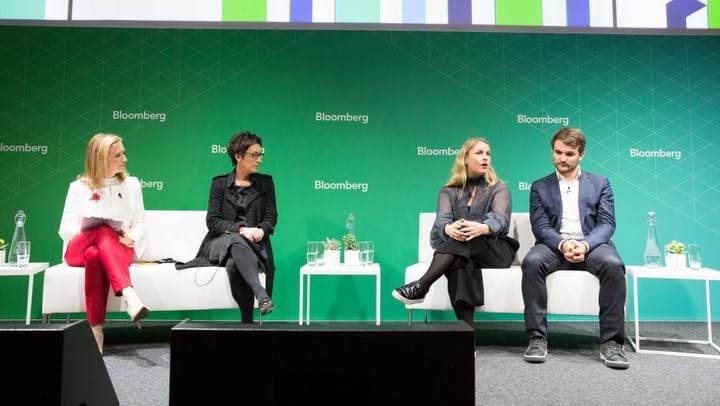 Bloomberg
Anna Edwards, co-anchor for Bloomberg Daybreak Europe, moderated a panel that highlighted the importance of collaboration and partnerships in order to achieve sustainability. Edwards sat with parties involved in the Make Fashion Circular (MFC) initiative.
The textiles industry results in an estimated 1.6bn t/y of greenhouse gases. That's more than international flights and maritime shipping combined. The industry also results in massive amounts of waste. "Every second there's the equivalent of a truckload of clothes that is going to landfill or for incineration," said Francois Souchet, leader of MFC. More than US$500bn of value is lost each year due to clothing underutilisation and lack of recycling.
MFC was launched by the Ellen MacArthur Foundation in 2017. Originally named Circular Fibres Initiative, MFC brings together leaders from across the fashion industry to collaborate and innovate in order to move towards a more circular economy. This will ensure that in the future the fashion industry thrives and doesn't just survive.
Core partners and participants of MFC are united behind three key principles created to help deliver benefits for citizens, the environment, and business. The principles are design out waste and pollution; keep products and materials in use; and regenerate natural systems.
Together, those involved in MFC set goals in order to achieve the shared vision of a more circular economy in the fashion industry. Partners of the initiative include Burberry and H&M.
Cecilia Brännsten, environmental sustainability manager at H&M, said: "Setting a common agenda to get there, in this initiative towards a common vision, and also setting milestones together so we can take action jointly, that will create a better impact for the industry."
Pam Batty, vice president of corporate responsibility at Burberry, said: "This is not a challenge that one brand or company can solve on their own. It has to be an industry effort to create real system change."
Burberry recently came under fire for burning unsold clothes, accessories and perfume. According to Reuters, the company destroyed US$40m worth of merchandise last year. The company has since announced that it would stop these practices.
H&M has also faced scrutiny over the sustainability of its operations. Last year, Danish documentary Operation X accused H&M of destroying unsold, but usable clothes. And, earlier this year the New York Times reported that H&M was hoarding US$4.3bn worth of unsold inventory.
Award-winning building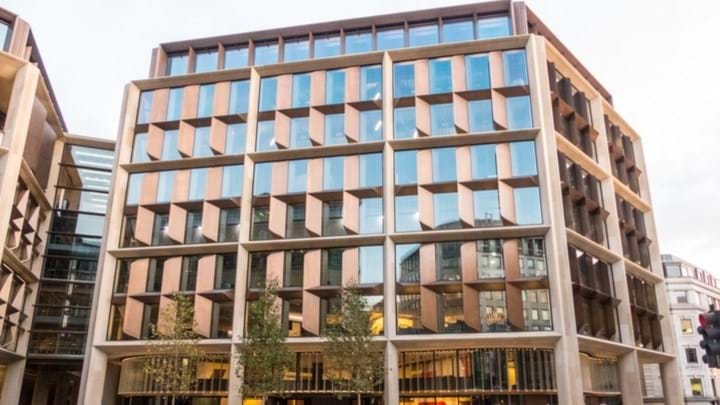 Chrispictures / Shutterstock.com
The summit was hosted at Bloomberg's European headquarters in London. Lee Ballin, event host and lead of sustainable business programmes at Bloomberg, called it "the world's most sustainably-designed office building".
The 1.1m ft2 building has a range of unique and innovative features that help make it "greener". Its façade features distinctive bronze blades which allow the building to "breathe". The blades open and close, allowing the building to take advantage of the "temperate" London climate. The natural ventilation system reduces dependency on mechanical ventilation and cooling equipment, enabling savings in energy consumption.
Unique ceiling panels with an innovative petal-leaf design combine heating, cooling, lighting and acoustic function. The system incorporates 500,000 LED lights and uses 40% less energy than a typical fluorescent office lighting system.
The building conserves water through use of rainwater from the roof, cooling tower blow-off and grey water sources, which are captured and then treated for use in vacuum flush toilets. In total, the systems allow net zero use of water for flushing. It's estimated that the conservation systems will allow for 25m L/y of water.
These features alongside others enable the Bloomberg building to save 73% in water consumption, and 35% in energy consumption and associated CO2 emissions, compared to conventional office buildings of the same size.
The building was awarded the Royal Institute of British Architects' 2018 Stirling Award, one of the world's most prestigious architectural prizes.
Bloomberg understands that sustainability is worth investing in.
Michael Bloomberg said: "We've seen how investing in sustainability helps our business, by saving us money, by cleaning the air our employees and clients breathe, and by helping us retain people that care about the environment and climate change."
And that might provide even more reason to embrace change and, as Howard said, "go for the million-krona prize".