BASF has announced that it is taking additional cost cutting measures in Europe, primarily at its Ludwigshafen integrated chemical complex, which will lead to a net loss of 2,600 jobs.
This comes on top of previous plans BASF outlined in October to "permanently" cut costs in Europe to protect the company from weakening chemical market conditions in the region.
The company expects high levels of uncertainty that arose last year to continue due to factors including high raw materials and energy prices and the conflict in Ukraine. It also expects that the impacts of Covid-19 will continue to have an effect. To counteract the resulting negative impact on global demand it said it must make "concrete cost savings measures".
Cost-cutting programme
Overall, the company plans to save €500m/y (US$528.8m/y) through a cost-saving programme in Europe – particularly in Germany – that it will implement from 2023 to 2024. In 2022 the continent accounted for 84% of a €3.2bn increase in energy costs, most of which was due to the vast integrated Ludwigshafen chemicals site. Higher natural gas costs accounted for 69% of the overall increase in energy costs, again primarily due to Europe and Ludwigshafen.
Changes include bundling services into hubs to simplify structures in divisional management, reducing business services, and increasing efficiency of research and development. The expected net loss of 2,600 jobs includes the creation of new positions in "particular hubs", BASF said.
Changes at Ludwigshafen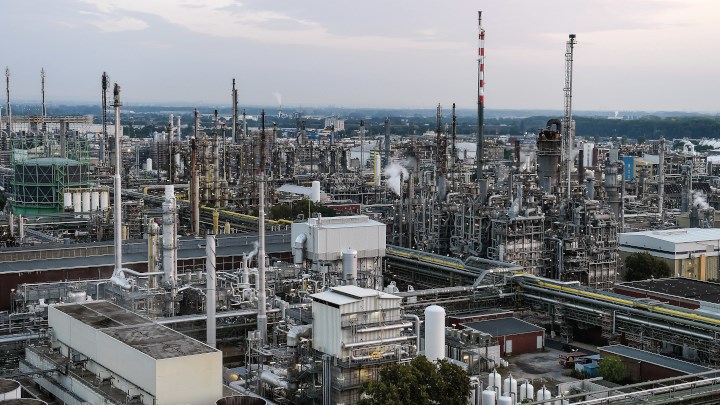 BASF
BASF expects to save €200m/y in fixed costs at its Ludwigshafen site, the world's largest integrated chemical complex and the oldest and largest of six such sites belonging to BASF. Steps BASF will take at the site to better equip it for intensifying competition include closing its caprolactam plant, one of two ammonia plants, and associated fertiliser facilities. Caprolactam is primarily used in nylon 6 (or PA6) production. The company expects capacity at its caprolactam plant in Antwerp, Belgium will be sufficient to serve future market demand in Europe.
BASF declined to disclose the capacity of its Antwerp site, but did say that following the planned measures, global caprolactam capacity will by 600,000 t/y.
At Ludwigshafen, the company will also reduce adipic acid production capacity, and close plants for cyclohexanol, cyclohexanone, and soda ash. A joint-venture adipic acid plant in France is expected to meet demand in Europe. The company's global adipic acid capacity will be 625,000 t/y after the changes are made.
BASF said that it will continue to operate Ludwigshafen polyamide 6.6 (PA6.6) plants, which rely on an adipic acid precursor.
A spokesperson said that Europe remains a core market for BASF's caprolactam and PA6 businesses, as well as its adipic acid and PA6.6 businesses.
The company will also close Ludwigshafen's toluene diisocyanate (TDI) plant, and precursor plants for (dinitrotoluene) DNT and toluylendiamine (TDA). BASF said that market demand for TDI has developed weakly and below expectations and, as a result, the TDI plant has remained underused and is economically underperforming. This situation has been further worsened by sharply increased energy and utility bills. Following closure, BASF intends to meet European TDI demand using plants in the US, South Korea, and China.
Changes at Ludwigshafen will be implemented stepwise up to the end of 2026. They will impact 700 jobs, though BASF said it expects it can offer most affected employees roles at other plants. BASF CEO Martin Brudermüller said retaining the staff's "wide-ranging experience" would be in the company's interest.
The changes at Ludwigshafen are also expected to lower power and natural gas demand, and as a result reduce its emissions by around 0.9m t/y BASF has announced that it is taking additional cost cutting measures in Europe, primarily at its Ludwigshafen integrated chemical complex, which will lead to a net loss of 2,600 jobs.
https://www.thechemicalengineer.com/news/basf-announces-2-600-jobs-losses-as-it-cuts-costs-in-europe/.
A future low emissions leader
Despite the coming changes at Ludwigshafen, Brudermüller said that the company remains committed to the site and will further develop it.
As part of it ambition to develop Ludwigshafen into a leading low emission chemical production site in Europe, BASF aims to secure greater supplies of renewable energy at the site. It plans to make use of heat pumps and cleaner ways of producing steam. It will also implement new CO2-free technologies such as water electrolysis to produce hydrogen.