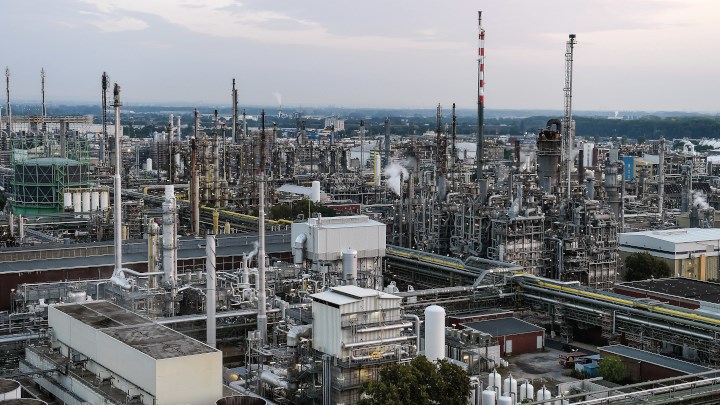 BASF
BASF has said it must "permanently" cut costs at its European sites to protect the company from weakening chemical market conditions in the region. The blow follows warnings from the European chemicals trade group Cefic that the energy crisis has pushed the sector to "breaking point".
While announcing BASF's third quarter results, CEO Martin Brudermüller said: "First, the European chemical market has been growing only weakly for about a decade. Second, the significant increase in natural gas and power prices over the course of this year is putting pressure on chemical value chains."
In the first nine months of this year, BASF's European gas costs have risen €2.2bn (US$2.19bn) compared with the same period in 2021. The chemicals major relies on natural gas as a fuel and a feedstock for its products, which range from basic chemicals to refined products including paints and pesticides.
Brudermüller said that uncertainties around the regulations planned by the EU were also a cause of concern for the chemicals industry.
"These challenging framework conditions in Europe endanger the international competitiveness of European producers and force us to adapt our cost structures as quickly as possible and also permanently," he said.
Higher prices for its products resulted in sales income growing 12% to €21.9bn in Q3 compared to the same period last year, but profit before tax was down 28% to €1.3bn due in part to lower earnings from its chemicals division.
The company is reducing costs in non-production areas, including cutting jobs, which it says will save €1bn before the end of 2024. More than half the savings will be made at its huge Ludwigshafen chemicals complex in Germany and early next year the company will announce further measures to cut costs in Europe.
Cefic predicts that chemical sales from the EU will fall from 14.4% in 2020 to 10.5% in 2030, while China will increase four percentage points to 48.6%.
BASF has committed to large-scale investment in China. In July, BASF approved the construction of the core of its €10bn (US$10bn) integrated chemicals site in Zhanjiang. BASF has set targets to be net zero globally by 2050 and aims to power the Zhanjiang site with 100% renewable electricity from 2025.
Reaching breaking point
Cefic warned earlier this month that the current energy crisis has reached an unsustainable level for European industry, noting that for the first time the EU is now importing more chemicals both in volume and value, than it exports resulting in a trade deficit of €5.6bn for the first half of 2022.
"We are approaching the point of no-return. If no emergency solution to the energy prices is provided to our sector, we are not far off the breaking point. Hundreds of businesses in the chemical sector are already in survival mode and we have started seeing the first closures. We need action now." said Cefic Director General Marco Mensink.
Cefic said unless authorities can help limit the impact of the region's higher energy prices, failures in the chemicals sector will ripple downstream endangering the food, healthcare, construction and transport sectors.
The trade group has published a position paper urging action from the EU and its Member States. Among its recommendations are for greater investments in decarbonisation and renewables but in the short-term to resume power generation from idle, low-cost coal-fired plants to help reduce the use of gas, the price of which has soared following Russia's invasion of Ukraine.
It says the bloc should actively study and apply the lessons from the US Inflation Reduction Act, which is using tax breaks to incentivise investments in emission reduction measures.
It also recommended that the EU establish an EU-wide industrial crisis group made up of leading industry CEOs from the across energy-intensive sectors to provide fast and direct feedback to EU policymakers and national government leaders.