Investment comes as new party pledges to make Australia a renewables superpower
THE Australian Government has announced funding to support the rollout of eight hydrogen hubs as part of an ambition to position the nation as a major global player in the industry by 2030.
This is part of a commitment made under the previous Australian Liberal-National coalition Government, which was voted out in a federal election in May.
In 2019, Australia released its National Hydrogen Strategy which sets out a vision for a national industry with global ambitions. A key element of its approach is creating hydrogen hubs, clusters of large-scale demand, to springboard the industry to scale. Australia committed A$464m (US$328.1m) through its Clean Hydrogen Industrial Hubs program, which will help fund the construction of eight hubs, and provide a smaller pot of funding for nine feasibility and design studies.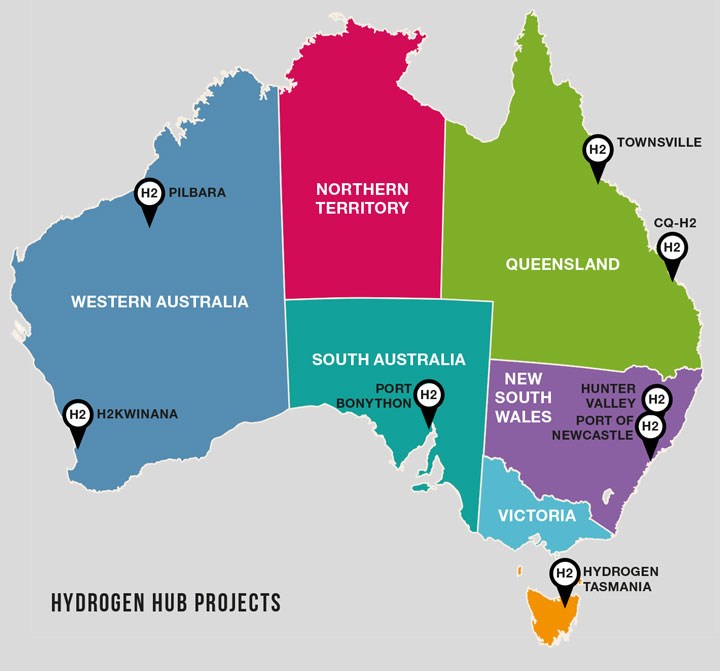 Eight hydrogen hubs
Rollout funding will support two hubs each in New South Wales, Western Australia, and Queensland, one hub in Tasmania, and another in South Australia. Previously, the Government identified just seven prospective hub locations. However, it announced in late April that it will invest A$70m towards creating a clean hydrogen hub in Townsville, North Queensland.
At the same time, Government announced up to A$69.2m to establish the Stanwell Corporation's Central Queensland Hydrogen Hub (CQ-H2 Hub). It is expected to produce about 100 t/d of renewable hydrogen by 2026, scaling up to 800 t/d in 2031, using up to 3 GW of electrolyser capacity. One of the aims of the CQ-H2 project is to establish a first-of-its-kind integrated hydrogen supply chain between Central Queensland and Japan.
The Government also committed to supporting BP's H2Kwinana project in Western Australia with up to A$70m. The hub will rely on a 75 MW electrolyser and will support domestic and export demand. The feasibility study is expected to be complete in Q2 2022.
Origin Energy's Hunter Valley project in New South Wales is receiving up to A$41m for a hub that will include a 55 MW electrolyser. Also receiving A$41m is the Port of Newcastle hub in New South Wales. A feasibility study is investigating a 40 MW electrolyser concept, as well as the potential to scale up to 1 GW and produce up to 150,000 t/y of hydrogen.
Government allocated up to A$430m for the hydrogen hub rollout, with further recipients including hydrogen hubs in Pilbara, Western Australia (A$70m); Port Bonython, South Australia (A$70m); and Tasmania (A$70m).
Discussing the hubs, Fiona Simon, CEO of the Australian Hydrogen Council, said that co-locating hydrogen users and producers in areas with access to port, road, and rail infrastructure and potential pipeline easement is an important step for the industry.
"These are the hubs we have to have if Australia is to become a global player in hydrogen production and exports by 2030"
She added: "These are the hubs we have to have if Australia is to become a global player in hydrogen production and exports by 2030. They will drive the creation of regional jobs and build our export prosperity.
"It is a race and we're at the starting gates with the flag raised. It's now up to governments to work with stakeholders and local communities to ensure the hydrogen hub sites quickly move into planning and development phases."
Early-stage projects
The Government is also investing up to A$23m to advance nine projects at the concept stage to investment-ready proposals, including three in Queensland. Recipients for Queensland-based projects are Ark Energy (A$2.42m), Origin Energy and Eneos (A$1.25m) and Vena Energy (A$3m). Origin and Eneos are collaborating to study a potential CO2-free hydrogen supply chain between Japan and Australia.