Erin Johnson, Ashok Kumar Fellow, talks to IChemE's Rachael Fraser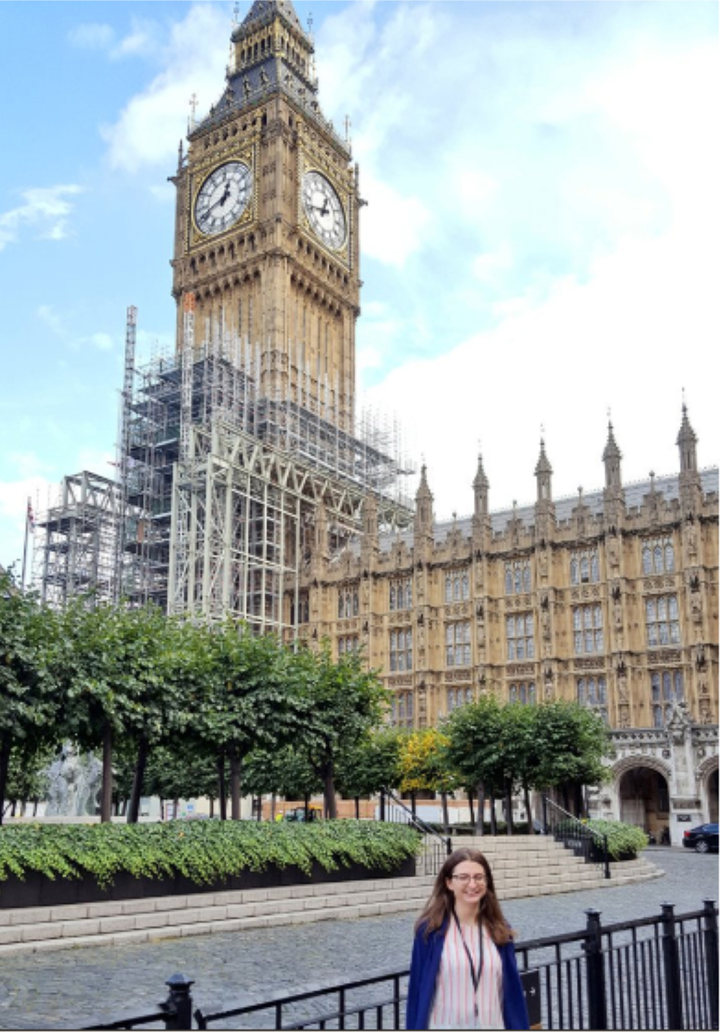 IN JANUARY 2017, we announced that Imperial College London chemical engineering postgraduate student Erin Johnson had been awarded that year's Ashok Kumar Fellowship.
The annual Fellowship, which is jointly supported by IChemE and the North-East England Process Industry Cluster (NEPIC), provides one chemical engineer with the opportunity to work at the UK Parliamentary Office for Science and Technology (POST) for three months.
During Johnson's time at POST she researched and spoke to experts from academia, industry, government and the third sector, about the fire safety of building materials. Her research culminated in a briefing note (known as a POSTnote) to support MPs and peers in making evidence-based policy decisions on the subject.
Johnson's POSTnote, The Fire Safety of Construction Products, was published last month. Since then, she has gone on to discuss her findings with Dame Judith Hackitt during a special meeting in London, organised by IChemE. Hackitt led the independent review of the UK's building regulations and fire safety, following London's Grenfell tower fire in June 2017. Her report was also published last month. It's been a busy few months for Johnson, but we were able to catch up with her earlier this month to ask her about her experience of being a chemical engineer working in parliament.
In less than 25 words, what is your POSTnote about?
It explains how the fire safety of construction products are regulated and how products are tested and classified for use in residential buildings.
What is it like working with Parliamentarians, as an early-career chemical engineer?
I had the opportunity to understand some of the challenges parliamentarians face. They are overloaded with information about every kind of topic. The real challenge in POST is to convey complex, technical issues in a way that is accurate and engaging.
How did you apply your experience in chemical engineering to this research?
Previous experience writing engineering, procurement and construction (EPC) contracts at National Grid allowed me to see the similarities in the roles and responsibilities for residential building contracts between the client, contractor and other parties. Working on the design, construction and operation of process plant at National Grid Grain LNG (liquefied natural gas) importation terminal in Rochester, Kent, I learned how to assess and manage risk. As chemical engineers, we are used to managing major hazards in a very analytical and systematic way, from HAZOPs at design stage to risk assessments before executing a permit onsite. I think that the building industries could be improved by embedding risk-based approaches, particularly regarding the operating life of the building.
What are your top three takeaways from the Ashok Kumar Fellowship?
1 – I had the pleasure of interviewing experts across academia and industry, who generously gave their time to explain the key concepts and issues outlined in the briefing. There are many knowledgeable and passionate people who are making strides to improve regulations, industry practice and technology.
2 – I have definitely developed my editing skills.  As I mentioned, parliamentarians suffer permanent information
overload, so it is critical to convey information clearly and briefly, covering only the most salient points accurately and in a balanced way. This was a real challenge for me but has made me a better writer.
3 – I've learned that the way fire safety of buildings and building products are regulated is complex. There are endless combinations of products and building designs; the quality of installation and maintenance can vary widely in practice; and it can be difficult for installers to understand if the product they are using is the right specification. I think there are many different challenges that need to be addressed to improve safety across the board, but there probably aren't any easy fixes.