Shining a light on the valuable work of IChemE volunteers
Qua, you volunteer as a member of IChemE's Palm Oil Processing SIG, its Malaysian Board, and its Learned Society Committee. Tell us a little about yourself.
My first job was Refinery Manager in Lever Brothers Malaysia. In 1980 I was its first Production Manager for its oleochemical factory built on a greenfield site. I was seconded to The Netherlands for two years before my appointment as General Manager in 1989. ICI bought the chemicals business from Unilever in 1997. I continued as General Manager until I retired in 2003 and I went to run the KLK Standard Soap Co in the UK for two years as Executive Chairman. On returning to Malaysia I took on a part-time advisor role to the AOMG (ASEAN Oleochemical Manufacturers Group) from 2007 till early 2019. I have now retired.
What subjects did you study, and why?
I gained BSc (Hons) First Class in Applied Chemistry from the University of Singapore in 1974.
Though I loved chemistry too, my heart was set on operating large plants. As soon as I graduated I contacted IChemE on how to become a Chartered Chemical Engineer. IChemE accepted my final-year design project and asked me to sit for two papers of the then Council of Engineering Institutions. Working and studying are difficult to do simultaneously but I was determined. I am the only one in my class to become a Chartered Chemical Engineer.
How long have you been volunteering for IChemE, and why do you do it?
It's taken 14 years to arrive at what I am doing today. It started when I became the inaugural Honorary Treasurer for IChemE in Malaysia in 2006. Most of the members then came from the oil and gas industry and I aspired to get chemical engineers in the palm oil industry to join IChemE. Since the 1980s, palm oil has become a vital component of Malaysia's economy. It is the fourth-largest export revenue earner with petroleum products in third place and LNG fifth. I am also a member IChemE's Malaysia Board (2018–2021).
I volunteer because at this phase of my life it is about giving back to society and my homeland. In the beginning I did it to help chemical engineers in the palm oil industry join IChemE to have access to CPD and networking as well as get them chartered. It was satisfying when they joined IChemE and more so when they became chartered.
Later it became apparent that in the palm oil industry, chemical engineers were concentrated in downstream such as oleochemicals and refining, and upstream milling and crushing were not benefitting from the contributions of chemical engineers in process, sustainability and process safety. Undergraduates looked to work mainly in oil and gas, and millers and crushers chose their single engineer to be mechanical.
By 2015 there were enough chemical engineers interested to start the Palm Oil Processing Special Interest Group (POPSIG), which I launched with a small team, as a platform to enable knowledge transfer, exchange of best practices and sharing experience. There were developments in our favour, such as the huge drop in crude oil prices which meant undergraduates started to look at the palm oil industry as a career, and the advent of biogas generation from palm oil mill effluent needed chemical engineers.
Now I continue to volunteer as there is an increasing need for chemical engineers to help the palm oil industry in Malaysia become more efficient, safer and sustainable. The issues extend further upstream into the plantation, beyond just processing. Outside Malaysia we have members from 14 countries.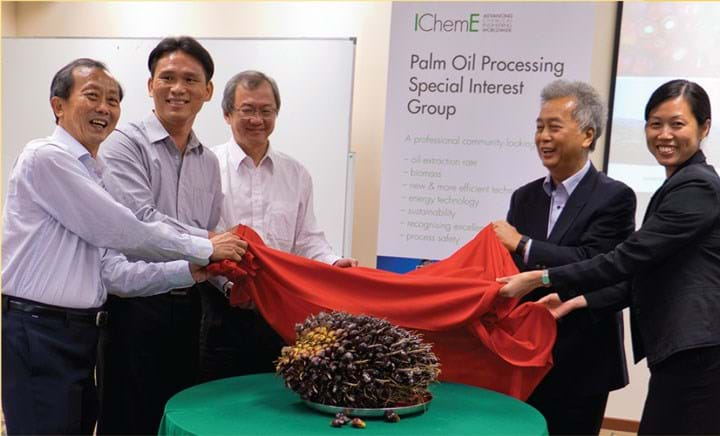 What skills or qualities are required for your volunteering role?
The network of contacts that I have built up continues to serve me in arranging POPSIG activities, which include talks and webinars, seminars, newsletters, awards and bursaries, field visits and the planned all-universities roadshow. This is not limited to the palm oil industry. In recent presentations to promote Industry Revolution 4.0 to the palm oil industry I have tapped on process management specialists, data analysts and aerospace engineers.
I have a genuine belief in the capability of young chemical engineers and also encouraging more females to the palm oil industry. The original POPSIG committee comprised senior chemical engineers but half of the current committee are now undergraduates. It is headed by someone in their late 30s. More than half of the committee members are women. I keep a look out for new developments. And also people. For example I get excited when I encounter the rare female chemical engineer who is a mill manager!
Finally there is a need to keep calm, due to the controversies surrounding palm oil. It is important to separate out the emotions and the politics, get the facts and engage rather than ignore. On the POPSIG website under Resources, Get to know palm oil, we present the facts.
What has been the most rewarding part of your volunteering experience?
To see more chemical engineers and women entering the palm oil industry. It is moving, albeit slowly, as the palm oil industry looks to universities to include palm oil in curricula. When I brought a group of chemical engineering undergraduates to visit a palm oil mill it was music to my ears when a female undergraduate told the mill manager: "I want to work for you." Research and development in the universities led by chemical engineers who are members of POPSIG is now resulting in more commercial-scale work. For example a scaled-up palm fruit kernel-flesh separating and pressing process is being built at one of the largest plantations in Malaysia. The process increases the oil extraction rate, and therefore avoids the need to plant more palm trees.
What is your proudest achievement in your professional life to-date?
I believe it is important to continuously set new professional targets. I like to write, and I challenged myself to write articles for business publications rather than technical. At the end of March my first such article "Make MY Palm Oil a Great Brand" was published in The Edge Malaysia, Malaysia's best-selling business and investment weekly.
What is your proudest achievement to date in your personal life?
I am working towards it! At the moment I am editing a compilation of spiritual discourses – a book which I hope will be published before the end of this year.
What would we find you doing outside of work on the weekend?
Having retired, weekends do not have the same meaning as when I was working. They can be an opportunity to catch up with those who are working, including my family members. I like to travel, and make about six trips – two to see family members overseas, two to go on "normal" holidays, and two which I love best, for travel photography. I was in Kashmir in December last year in the deep of winter, and Bhutan or Urumqi is coming up in October.
What is your advice for others who might be considering volunteering for IChemE?
Volunteering will enrich as well as balance your life and if you set aside a little bit of time in your busy schedule it will happen. It can be fulfilling. On the professional side I volunteered for the Institution of Engineers Malaysia until IChemE was set up in Malaysia. On reflection, I should have volunteered more whilst I was working full time.
---
This is the ninth article in a series that highlights the variety of work done by IChemE member volunteers. To read more, visit the series hub at https://www.thechemicalengineer.com/tags/volunteer-spotlight