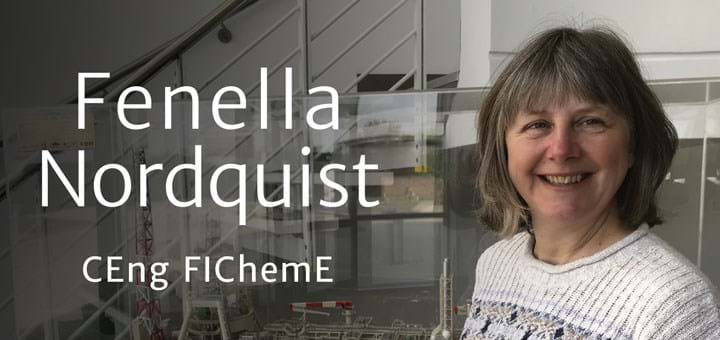 Shining a light on the valuable work of IChemE volunteers
FENELLA, you're a member of IChemE's Education and Accreditation Forum (EAF) but before we discuss your volunteering, tell us a little about yourself.
I work at KBR in the UK as Chief Technical Advisor.
What did you study at university?
I studied chemical engineering at Bradford University from 1984–1988.
And why did you pick this degree?
When I was 14 years old, I spoke to my friend's father, an employee of an oil refinery in Essex, about careers. He told me about his role as a chemical engineer at the refinery and it sounded fascinating and diverse. I decided then to become a chemical engineer.
Give us a potted insight to your career so far
I have worked for 31 years in many diverse roles with Foster Wheeler Energy and KBR. My most memorable experience was a placement at the same oil refinery in Essex that helped inspire me to become a chemical engineer. I have also designed many different processes and plants for onshore and offshore facilities throughout the world.
How long have you been volunteering for IChemE as a member of the Education and Accreditation Forum?
I joined the EAF committee in 1995, and I've been told that I am the longest-serving member.
And why do you volunteer?
I have benefitted from IChemE progammes in education and employment and have endeavoured to put some of that benefit back into the system so that others may have similar positive experiences. IChemE does a great job ensuring that degrees offered by universities are of a good standard and relevant to industry. I joined the EAF to be part of that process to maintain high standards. One side-benefit has been to meet the many wonderful people that also volunteer on the committee.
What has been the most rewarding part of your volunteering experience?
I have enjoyed seeing how the process of accrediting chemical engineering degrees has evolved over the years. It has been great to see how IChemE accreditation has become such a sought-after accolade, as seen by the addition of many non-UK universities.
What is your proudest achievement in your professional life?
Designing a dehexaniser distillation column for a UK refinery. This was before today's computer packages were available, so I designed the column and internals using books, pencil and paper. The startup went smoothly; operation was exactly as designed; and the client was extremely pleased.
What is your proudest achievement in your personal life?
In 2017, I qualified for the Sunshine Tour Dressage Championship on my pony, which I had personally trained. This offered me the chance to compete on the hallowed turf of England's most famous showground at Hickstead. I couldn't believe it when they announced I had won the bronze medal!
What would we find you doing outside of work on the weekend?
It would definitely involve horses. Fortunately, both of my daughters also ride so I get great family time as well.
And what is your advice for others who might be considering volunteering for IChemE?
Give it a go. You will meet lovely people, make new friends and provide a good foundation for the next generation of chemical engineers.
---
This is the first article in a series that highlights the variety of work done by IChemE member volunteers.
To read more, visit the series hub .