Process safety engineer Martin Wardrope looks closely at how virtual reality is being used to develop process safety practice and awareness
Engineers are constantly reminded to put safety first, but how do we effectively fortify this for a workforce that deals with hazards every day?
The normalisation of risk is a key concern in high-hazard environments. Virtual reality (VR) and augmented reality (AR) are increasingly being used to understand and mitigate risks within process industries. Harbour Energy, the largest London-listed independent oil and gas company, has used VR to emphasise the importance of major accident hazard (MAH) awareness – not just to those working directly with major accident hazards, but also to supporting functions whose decisions have the potential to influence process safety.
Harbour Energy's VR journey
Many organisations use VR and AR to train personnel, recognising it is often a safer and more cost-effective alternative to physical on-site training. VR is a computer-generated, three-dimensional (3D) environment that allows users to interact in a way that feels real. The technology utilises a gaming headset and controllers to enable the user to see, hear, feel, and move in the simulated environment.
For over four years, Harbour Energy has used VR technology developed by DNV to improve MAH awareness. The software showcases video footage from DNV's research and testing facility at RAF Spadeadam, in Cumbria. Alongside 360° video footage, hypothetical scenarios highlight how multiple failures to intervene during routine process operations could lead to a major incident. Scenarios have various built-in failures, ranging from cultural and communication issues to design and human factor failings, and include jet fires, diesel pool fires, and natural gas explosions. Additional material is continually developed by the user group, which is a collaboration between DNV experts and end-users.
How the training works
Like many other MAH operators, Harbour Energy uses in-person training at DNV's research and testing facility to help operations personnel gain a practical understanding of the hazards associated with high pressure hydrocarbons. The Covid-19 pandemic significantly reduced availability of these practical sessions, but also presented an opportunity to widen the reach of the VR programme.
The programme has been rolled out as a voluntary awareness initiative, highlighting MAH potential whilst focusing on the positive impact people can make in their role. Sessions involve approximately seven people, with attendees being given the opportunity to wear the VR headset. The view from the headset is projected onto a screen, allowing the whole group to actively participate in each simulated scenario. The group is encouraged to interact and share their thoughts, experiences, and concerns – even when not directly using the VR headset. During each task, one or more errors or safety violations take place, ultimately leading to a major accident. Following this, the group is debriefed to evaluate the job and highlight potential errors, allowing a discussion of the incident and comparison against the basic risk assessment that the group undertook before the simulation. This often results in a broad conversation about causal factors that are as diverse as the range of disciplines attending the session.
The training mentors will then further delve into the scenario to detail the event's root cause, hypothesising potential weak signals which might have led to the simulated catastrophe. By relating these weak signals to those in the room, participants gain valuable understanding of how they can make a real difference in the organisation's safety performance and culture, based on their line of work. Everyone can play their part, from the board room to the control room.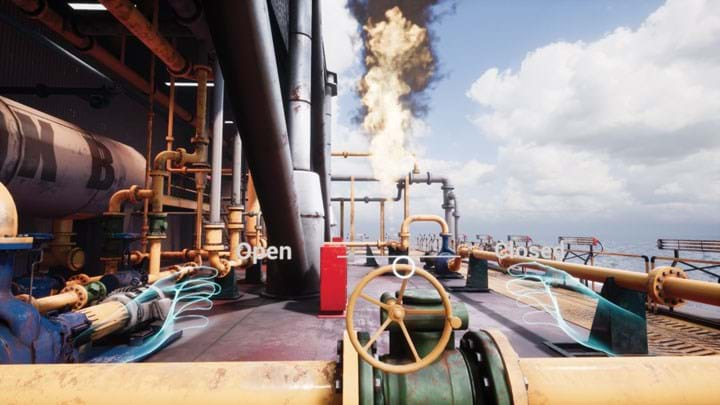 DNV