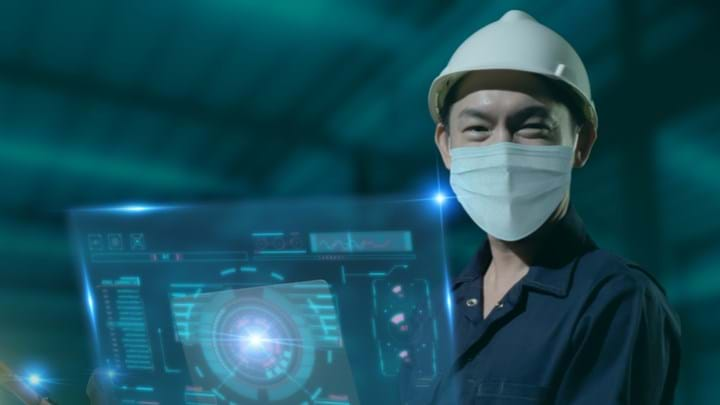 THE CURRENT pandemic has presented chemical producers over the world with a raft of complex challenges. Across the industry, companies are being tested for their agility in learning how to navigate huge shifts in demand, supply, workforce and economics, as well as for their operational resilience and how they plan to emerge from the crisis in a stronger position.
The effectiveness of chemical producers in keeping up with these challenges while ensuring plants reliably perform to safety and performance standards is often tied to their ability to take advantage of capabilities enabled by digitalisation.
Challenged with rapidly shifting most of their workforces to remote and work-from-home environments, chemical businesses are re-examining their digital capabilities, and increasing their focus on digitalisation as an essential long-term strategy.
There is a growing understanding among chemical producers that now is the time to do this. For the chemical industry, the current conditions are a unique opportunity to optimise business processes and get closer to customers. Digital technologies provide insight on operations and capabilities of production systems, enabling greater visibility on status and integration, as well as deep exploration of alternatives to aid decision-making.
In line with this we have identified six digital technologies that can be implemented now to achieve greater visibility and insights for decision making including digital twin, multivariate data analysis and AI-enabled prescriptive maintenance.
1. Adapt the process to meet variable market needs
Using digital twin technology, you can create simulations of existing assets to define new production boundaries and potential alternate sites — while integrating safety limits and cost concerns. Digital twins can also be used to bring plants online faster and train operators for unexpected operating upsets.
2. Optimise production with APC technology
Today's advanced process control (APC) stabilises operations within a new target range as demand varies, integrating capabilities of assets to find optimal operating conditions. For many units, this optimisation can be done dynamically to ensure operational efficiency, even at low rates.
3. Improve product quality with insights from existing data
Multivariate analysis identifies causes of process variability and targets the optimum conditions to improve product quality, yield and throughput. This analysis can be particularly valuable when market volatility shifts operations to new and unexpected regimes, helping to define the "new optimum" conditions.
4. Develop agile production planning
Leverage new tools to increase supply chain alignment and collaboration between teams in remote locations, even as market expectations rapidly change. Enable quick reviews of alternate operating and supply scenarios to help staff make more informed decisions about operations and alternative economic options for better business outcomes. Also, enhanced collaboration tools help to boost individual and team productivity across supply chains and operations.
5. Maintain plant equipment reliability
Reliability concerns increase as maintenance activities are delayed and non-routine operations create equipment stresses. Prescriptive maintenance solutions employ artificial intelligence (AI) to analyse operational and equipment data to provide critical insights on potential breakdowns, and guidance to operators to reduce equipment stress and maximise uptime.
6. Increase visibility of operations across the enterprise
During uncertain times, it's important to have insight into activities across units, sites and regions. Integrated analysis tools can help to identify and diagnose issues while handling large numbers of remote users at fast speeds over virtual private networks (VPNs). These tools can also help engage operators to identify and troubleshoot process issues and build custom dashboards which keep management up-to-speed and focused on critical issues.
The path to recovery
Several chemical companies have effectively taken advantage of existing digital investments during these challenging times, and many others are expanding their digital efforts to maintain safety, operations and productivity.
Agility will clearly be an important capability for businesses moving forward, as markets recover unevenly and the path to return to pre-Covid work environments remains uncertain. Digital twins are especially valuable in this volatile environment, whether for asset flexibility or supply chain options, to assess multiple scenarios to make more informed decisions. Additionally, their value as training tools for operators cannot be underestimated, especially as plants may experience more slowdowns, shutdowns and startups over the next several months.
As companies address immediate challenges, the focus on the long-term needs of the industry has not been forgotten. Sustainability targets remain in view — but the supporting digital strategies outlined above will be a part of recovery efforts, helping to improve environmental impact, safety, reliability and future innovation.