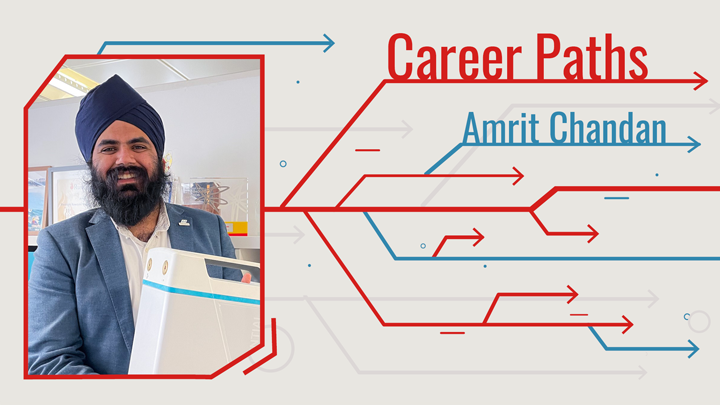 Amrit Chandan talks about his focus on growing and scaling his company's advanced lithium battery tech
IN THIS series, we speak to chemical engineers working outside of the fossil fuel sectors to highlight the breadth of opportunities open to those just starting their careers or seeking to change sectors.
Amrit Chandan is the CEO and a co-founder of Aceleron, a UK-based advanced lithium battery developer. It aims to accelerate a global shift to cleaner energy by creating more accessible, sustainable storage technology. In June 2021, five years after its founding, the company launched a first-of-its-kind, reusable, repairable, and fully recyclable lithium-ion battery. Through patented compression technology, the battery core can be taken out and swapped with an upgraded version or serviced for renewal. As CEO, Amrit focuses on growing and scaling the young company.
Amrit's work in clean energy started as far back as his studies. After graduating from the University of Birmingham with a Bachelor's in chemistry, he enrolled there once more and obtained a PhD in chemical engineering, his research focusing on hydrogen fuel cells and their applications.
After graduating, between 2015 and 2016, Amrit provided technical support for low carbon automotive technologies, markets, and fuelling projects at Cenex (the Low Carbon and Fuel Cells Centre of Excellence). During his postgraduate studies, and until 2018, he worked for a marketing research company. As a Director and Marketing Consultant he worked with clients in a range of industries, including automotive and renewable energies.
What aspects of chemical engineering do you apply in your everyday role?
"I do very little traditional engineering, but the mindset is the key piece for me. Generally, I find that it's never about the right answer, but about the thought process being logical and process driven and, critically, knowing how to find out the answer. This is where my background and what I learned at university has been of particular value."
What skills have you developed since leaving university that have been key in helping you achieve your career aims?
"Communication skills and introspective thinking.
"It sounds clichéd but being able to communicate well through both written and verbal forms is so important. As human beings, we are drawn in by stories, and so being able to tell that story, and effectively communicate the core messages has directly led to Aceleron raising its financing, attracting an awesome team and building great partnerships.
"Developing my introspective thinking skill has helped me to learn and grow at a quick rate, and to deal with many of the challenges I face.
"Throughout my career so far, I have faced many steep learning curves, often as a result of undertaking roles for which I have had very little prior experience."
How do you add value as a chemical engineer in your industry?
"The storage of energy through a chemical method will always necessitate chemical and process engineers – from the 'first-life' production of batteries from their raw materials to the decommissioning and reuse of materials at the end of their life – all of these are processes which are in high demand.
"My contribution as a chemical engineer has been in helping to design the battery so that it is significantly easier to reuse and decommission, especially in low-tech environments, for example sub-Saharan Africa."
What are the key challenges in your sector that chemical and process engineers are well equipped to help address?
"Implementing circular economy with respect to batteries and other renewable technology is critical if we are to make a meaningful impact in the world. This is a place where chemical engineers can make a big difference.
"Lithium batteries in particular, are made up of many different chemical compounds, which are put together using standard techniques – however we haven't yet figured out how to reuse, repurpose or recycle them efficiently. It takes an engineering mindset to switch from the status quo of the linear model (produce, use, throw away) to one where we nurture the scarce resources of the planet for future generations to enjoy.
"Aceleron is increasing the efficiency of resource usage through the application of circular economy thinking to lithium batteries.
"My role in leading Aceleron contributes directly to many of the UN's SDGs. Specifically, we are addressing the goals related to affordable and clean energy, responsible consumption and production, and climate action."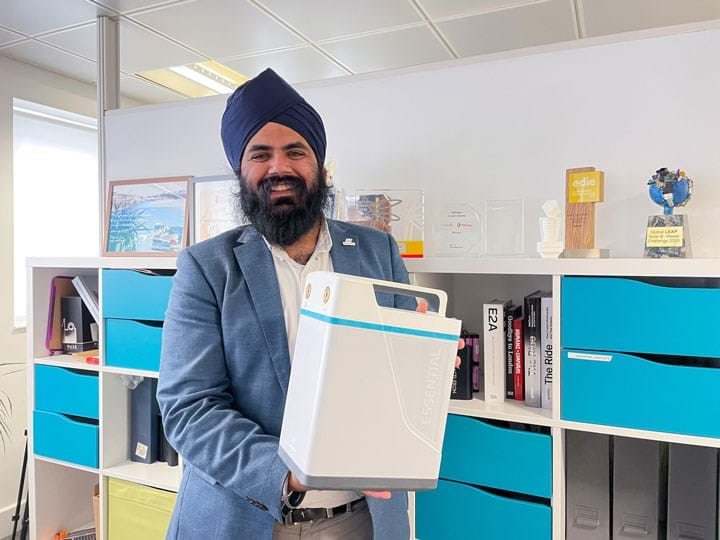 Do you expect the need will grow in your sector for people with chemical engineering skills?
"The need for chemical engineers will absolutely grow – the sector is growing at a phenomenal rate, from 350 GWh of annual first-life production in 2020 to more than 1 TWh by 2026. This is just the lithium battery sector.
"In clean tech more generally, there are so many different technologies which are being developed, all of which will need a good engineering mindset to overcome the challenges faced, from fuel cells, to flow batteries, to large scale hydro plants, the demand is only growing with the global goal to be net zero as soon as possible."
What advice would you give to a recent graduate or early careers chemical engineer who wants to work in your sector/role?
"I would recommend spending some time really thinking about what you want to achieve in your life.
"Build your career in a direction which you will enjoy. Practically speaking, I would highly recommend getting experience in as many different roles as possible before settling on a particular career path. Don't be afraid of reaching out to early-stage or small companies – you can get just as much vital experience – and sometimes even more experience in a wider range of roles – in a small company as you can in a large one."
What advice would you give to an engineer considering moving into your sector from a different sector?
"Similar to my advice for early career engineers, what I found most powerful working in this space is that it aligns well with my purpose on this planet. If you find in your current sector that there is an incongruence between your purpose and what you are currently working on, I'd highly recommend switching if this purpose aligns better.
"Part of the mission at Aceleron is to ensure that energy storage is being used to create strong positive social impact. As part of this, we are doing work in sub-Saharan Africa to repurpose lithium batteries locally and to create useful products from what would essentially be waste.
"We were fortunate, through partnership with Shell and the Shell Foundation, to actually go out to Kenya and see the fruits of our labour. To actually talk to the people using the technology – who would otherwise be using kerosene lamps to provide enough light for their children to do homework whilst also negatively impacting their health – was one of the best highlights of my career so far.
"This is part of my purpose for existing in the world – to leave it in some small way better than when I came into being. Being able to serve others in such a way that will not only be felt today, but for generations to come as we help people to get out of energy poverty through the efficient use of technology fills me with gratitude.
"If you can figure out your purpose and connect your day-to-day work with your purpose, you will set yourself up for success in not just your career, but in life."
---
To read more articles in this series visit https://www.thechemicalengineer.com/tags/career-paths/