Malcolm Staves explains the importance of applying the highest safety standards regardless of regional rules
WITHIN L'Oréal we don't talk much about engineering ethics. We do not need to; trading responsibly and ensuring our activities have minimum harmful impacts to the environment and health and safety are principles embedded so deeply in our culture that we rarely reflect on it, other than to plan improvements. But the outside, perception of our ethical stance is borne out in our placing in sustainable business rankings, such as our triple A rating by the CDP (formerly the Carbon Disclosure Project) or awards from the Royal Society for the Prevention of Accidents for our health and safety system.
We are not perfect, and we know this is a never-ending journey. So we aim to put people in the centre of everything we do, while ensuring that we apply the same (highest) standards across different countries, regardless of whether some regions may have less rigorous regulations.
For the past 14 years I have headed up L'Oréal's global Health and Safety (H&S) function, constructing a health and safety regime that reflects the value we place on our employees.
L'Oréal is the world's largest beauty products group; manufacturing, distributing and retailing thousands of products. To manufacture these products, we use a wide range of raw materials – including flammables – that are transformed using processes including mixing, heating in batch processes, sometimes under pressure or vacuum. Any manufacturing and distribution operation involves hazards, whether it is operating process machinery or moving bulk loads around a warehouse.
As a chemical engineer by training – I began my career as a process engineer in the fuel additives industry - I have only too clear an idea of the risks involved in dealing with raw materials which may be toxic or flammable in large quantities, though harmless in the tiny fractions they form in our final blends.
To protect a workforce of more than 85,000 employees in 140 countries from these and other hazards we need to decide what safety levels to mandate. We could rely on national regulation wherever we operate. These vary widely. Minimum safety standards are set by governments in each country according to a mix of political inclination (the degree to which they believe it is right to constrain business in its pursuit of profit) and regulatory maturity (regulators in long-industrialised countries have built up detailed codes over decades; others may have only recently installed a basic framework of safety law).
But as a multinational corporation, for us to work only to these local standards would mean accepting implicitly that a human life is worth more in one jurisdiction – where the standards are set higher – than another.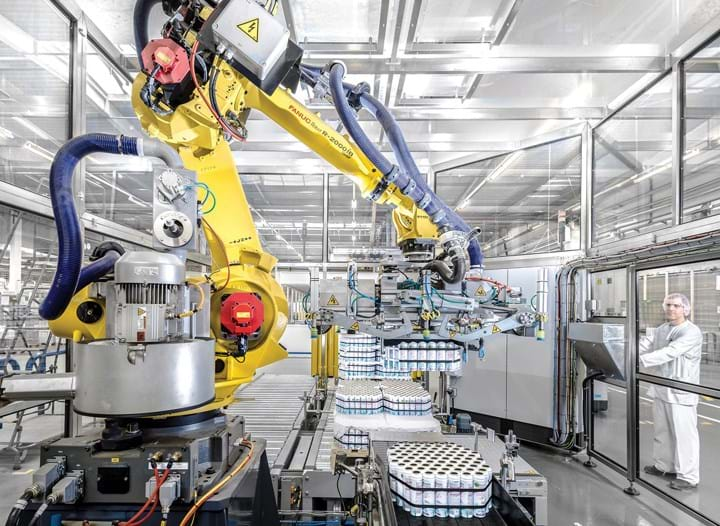 To protect a workforce of more than 85,000 employees in 140 countries we need to decide what safety levels to mandate...for us to work only to local standards would mean accepting implicitly that a human life is worth more in one jurisdiction – where the standards are set higher – than another
Global standards
Instead, our ethically-driven approach is to apply the most robust standard we find in any country or region for a particular risk to all our operations across the globe. For explosive atmospheres, which could be caused by vapour from volatile materials, we mirror the regime mandated in the European Union by the ATEX directives. For fire safety, we apply the US National Fire Protection Association (NFPA) codes. There are more than 300 of these, setting high standards for everything from fire extinguishers to building compartmentalisation. We take a safety-by-design approach, ensuring that compliance with these minima is built into our facilities before work starts anywhere in the globe. The technical standards form part of our LIFE (Life Incident or Fatality Event) rules, which cover all of the most hazardous activities, from work at height, to electrical systems maintenance and are absolute mandates worldwide. Each site is audited regularly against these and other requirements.
Let's look at how these standards work in practice. Until recently, Thiago Ramos was the EHS Manager for our Brazilian operation; now he is part of the global corporate H&S team, based in Paris. He gives an insight into what safety design to a universal standard means on the ground. When we amalgamated our three manufacturing plants into a single production facility in Sao Paolo, the latter plant doubled in size.
"We had to update the permits and liaise with the authorities a lot," says Ramos. "To meet [local] fire safety regulations, we only had to have a sprinkler system in the plant. They didn't demand that we had a bunker, an isolated room with its own automated fire suppression system, where flammable substances, such as ethanol used in sun-protection products, are handled. We built a bunker to meet NFPA standards."
Before the expanded plant reopened, we contracted experts to carry out a hazard and operability (HAZOP) study on the processes, to evaluate the process safety risks of the enlarged operation. HAZOP was developed to identify and control process hazards in chemicals manufacturing and is recognised as best practice in the industry, though it goes beyond regulatory requirements in many countries. "[The HAZOP study] was six months of work because it was such a big site," says Ramos. "From their work we drew up an action plan that included sequencing the addition of raw materials into a process so that those with any elevated hazard level, such as flammables, were incorporated as late as possible to reduce the risk."
Various programmes encourage employees at all levels to become engaged in risk awareness and understanding, through involvement in risk assessment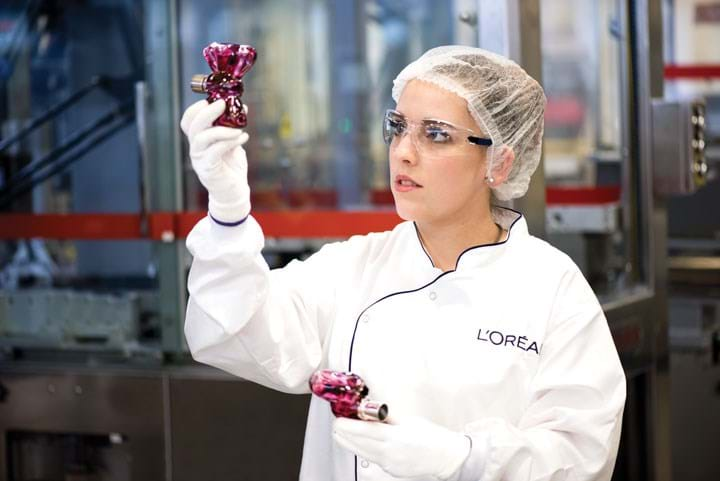 L'Oréal's safety system
L'Oréal's safety-by-design approach and LIFE programmes are part of an overarching, layered health and safety system which is headed "Risk assessment, Excellence and Beyond".
The risk assessment part is based on the Global Hazard Assessment Procedure (GHAP) for the identification of the most severe risks, and the Safety Hazard Assessment Procedure (SHAP) for all hazards related to equipment, tasks and workflows. Assessments are updated at least three-yearly. Excellence comes from the controls to manage these hazards, including ergonomic issues as well as stress and wellbeing, down to the lowest practicable levels.
Each manufacturing site, research facility or administrative centre is supported in its progress through different stages of safety cultural development, with behavioural safety and risk awareness programmes towards the goal of generative health and safety – the "beyond" stage - in which everyone assumes responsibility for protecting themselves and their colleagues. This means introducing health and safety techniques and programmes only when the site is ready for it, ensuring that in health and safety terms the company is mature enough for the programme, which increases its probability of success. We summarise this approach as "the right tool at the right time".
Everyone is important
Another example is in the distribution centre in Rio de Janeiro where large quantities of aerosols, mainly deodorants, are stored. To control any potential explosion and fire risk, we built another containment bunker to NFPA standards – including two layers of non-combustible material in the walls and automatically-sealing doors in the event of fire, and fitted sprinkler heads at each level of the storage racking. The forklifts operating in the bunker were ATEX certified – fitted with non-sparking bronze instead of steel for the lifting tines – beyond local requirements.
This example is significant not just because the safety designs we mandated and funded went well beyond those required for warehousing in Brazil, but because the distribution hub was not operated by L'Oréal but by a third-party provider, DHL. Our emphasis on the primacy of protection goes beyond our own employees to embrace those of the businesses whose employees might be exposed to risk by our operations. We contract international H&S consultants to carry out external EHS audits of our sites and those of our contractors, even down to the waste and recycling facilities that deal with our aerosol containers at the end of their lives. If the audit findings show that improvement is needed, we will work with the contractor to raise safety standards.
Of our ATEX-based standards for explosive atmospheres, the Managing Partner of our auditing consultancy says: "These are the most detailed and stringent standards I know - and not just in the cosmetic industry – given the level of risk."
All involved
Responsibility for safety does not rest with the EHS department but with operational management. In our machinery validation programme, for example, another global standard (based on the EU CE marking regime, which goes beyond requirements in many countries in which we operate), all machinery on a site must be risk assessed before use. All equipment, from boilers to packaging lines are given a red, amber or green rating, according to what is needed to control the risks they pose. Red means the equipment cannot be used. This evaluation is carried out by site leadership, with the help of equipment users and maintenance staff, with EHS in an advisory role.
Various programmes encourage employees at all levels to become engaged in risk awareness and understanding, through involvement in risk assessment. These include MESUR (Measuring Effectively Safety Using Recognition and Readjustment) for line managers, which prompts them to hold regular structured conversations with shopfloor employees about the risks involved in their tasks, and Safety Improvement Opportunities (SIO) – using employees' eyes and brains to identify overlooked risks or opportunities for improvement via an online suggestion scheme.
Our Safe@Work – Safe@Home initiative, which promotes safety consciousness away from the workplace at home and in leisure activities, helps develop this risk-searching culture among employees, so that they learn to manage their own and each other's health, safety and wellbeing rather than just following rules. It also extends the reach of our care to workers in the rest of their lives and to their loved ones.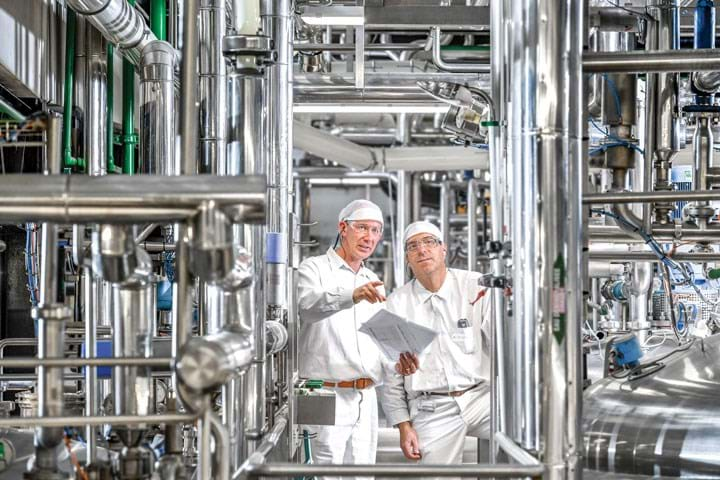 For and against
There are pros and cons to our adoption of the highest available protective standards for all sites, even if local regulations are less strict. The main disadvantage is obvious: it can be extremely expensive. But it is also very challenging to execute the level of provision in countries where procuring systems for, say, fire suppression, or materials for blast proofing – and the people with the expertise to fit them – is hard because there is almost no demand for them from other businesses.
But the advantages are many. It causes fewer administrative headaches being able to apply a single set of standards to our operations in 140 countries. For the same reason it results in consistency of auditing, which means we can use our internal H&S professionals and engineers as part of the audit teams.
Perhaps the biggest benefit is in the quality of our workforce. In his recent presidential address, IChemE's new president David Bogle talked about the need to continue to attract talent into the profession to address the challenges of climate change. L'Oréal, similarly, depends on securing talent to maintain market position and to keep adjusting in volatile and uncertain trading conditions. Employees often tell us during our culture audits that they feel we take care of their health and safety. You cannot put a price on this.
So, there are plenty of good business reasons for our safety-by-design approach, and globally-applied high standards of health and safety. But fundamentally we do it because it is the right thing to do. We do not compromise with lower standards in different countries, because there is no room for relativity in ethics. It is the fundamental human right of our employees all over the world to leave work healthy and safe every day, and that is what our system, from the LIFE rules to Safe@Work - Safe@Home, is there to ensure.
---
This article is part of a series on engineering ethics. For more articles, visit the series hub at: https://www.thechemicalengineer.com/tags/Ethics-and-the-Chemical-Engineer