An argument for using insulation rather than fixed firewater deluge to protect bulk LPG storage tanks against the risk of BLEVEs
LPG and BLEVE. These two acronyms together strike fear into process engineers and firefighters alike. Massive fireballs 100 m in diameter and bits of ruptured vessels travelling long distances cause great damage, spread the fire and kill people, often firefighters and emergency workers.
Liquefied petroleum gas (LPG) is highly flammable and stored as a liquid at ~700 kPa depending on the ambient temperature.
A boiling liquid expanding vapour explosion (BLEVE) occurs when the metal shell of a pressure vessel is locally heated (eg during a fire) above its design temperature. The metal softens and splits, virtually instantaneously releasing all the contents. The contents flash and the fire ignites the released LPG, and produces a fireball. These fireballs have killed people, often firefighters, due to the very high heat radiation and the size of the fireball. Fragments from the ruptured tanks have impacted on nearby people, equipment and storage tanks escalating the incident. When a rupture has occurred at one end of a horizontal tank, the other end is often propelled with great force, which has caused loss of containment of other nearby LPG systems, escalating the fire.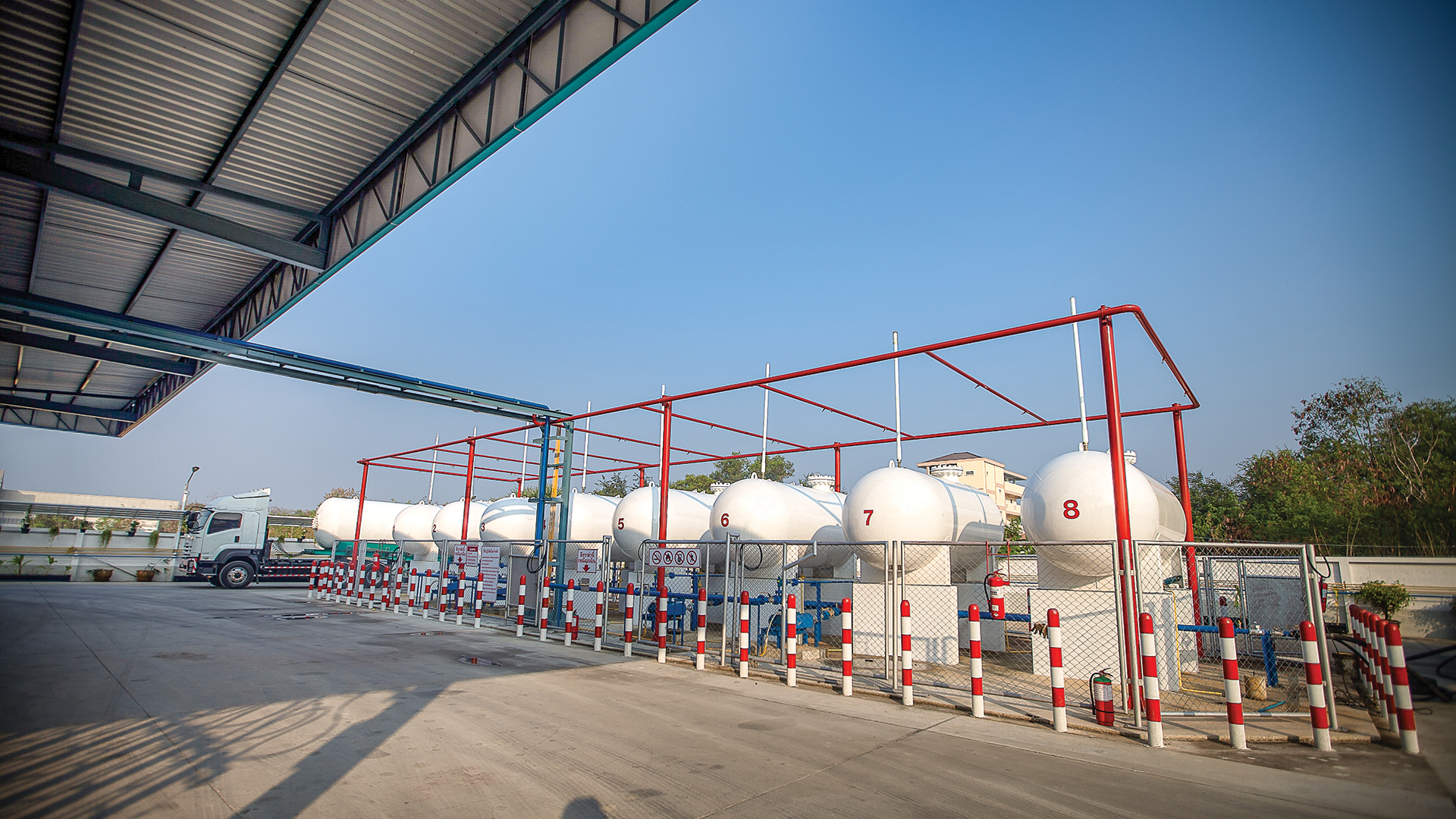 Preventing BLEVEs
To prevent BLEVEs of LPG bulk storage tanks, a number of strategies are used, including:
separation of storage tanks from public places, vulnerable locations, etc;
construction codes for the design of LPG facilities;
hazardous area classification to eliminate ignition sources;
elimination of combustible materials in the vicinity; and
barriers to protect against vehicle impact, etc.
Nevertheless, when these barriers are allowed to degrade – as they have in the past, fires are still possible and we need to be able to stop the fire from overheating the metal shell of the vessel.
Traditionally, bulk LPG storage tanks have been protected using water (deluge) to cool their surface and prevent the metal temperature reaching the softening point at which a BLEVE can occur.
More recently, burying, mounding or passive fire protection (PFP) of the vessels have been used to slow the flow of heat from a fire into the tank shell. PFP is insulation that is applied to the outside of tanks and is not damaged by an external fire. All three of these techniques prevent the tank metal temperature rising too high during a fire by enabling the LPG inside the tank to conduct heat to other parts of the tank. I am not discussing burying or mounding of bulk LPG storage vessels but just the options of fixed water-deluge vs PFP.