IChemE's annual Hazards conference was held from 22–24 May in Birmingham, UK. More than 350 people attended Hazards29 to discuss everything from risk analysis to case studies. A key point of this year's event was the importance of those discussions and why people should share their stories.
It's about the and
Tracy Whipple, Upstream Technical Authority for Process Safety Engineering at BP, gave a plenary talk about the importance of using the word 'and' to open up a conversation. "Almost every leader I've heard speak about process safety will say something like 'I really got process safety when…' and then they will go on to talk about a very serious process safety event. I know they mean great, but what's missing for me here is the 'and' conversation. What I mean is 'and what are we going to do to make sure that those of you who have not had the horrific experience of dealing with a process safety incident never have to'".
She asked for a show of hands from the audience of those working in industry at the time of various major incidents from the 1970s to mid-2000s, and also from those who started their careers after these events. "It's these folks who have not had the opportunity to learn specifically from these incidents. We need to make sure that these incidents have a place in our learning but also that we can learn before we have other incidents like this."
She gave another example of an 'and' conversation by asking 'and now what?'. "Quite often in our line of work we're asked to do a risk assessment or some sort of safety review because the schedule tells us that it's time to do so. That's all fine and good but the question for me is always 'and now what?'. What are we going to do with that information? There needs to be a connectivity between those studies and how that information is used to inform your safety critical equipment list or your critical procedures list."
She finished her talk by encouraging people to use her expression "maybe this is an 'and' conversation" and emphasised the importance of learning before incidents. "I'm proud to say that we have fewer and fewer major accidents, but with those fewer accidents we have fewer learning opportunities so we need to get better at learning before an incident occurs."
Learning from something other than major incidents was also discussed in a parallel session by Paul Amyotte, Professor of Chemical Engineering at Dalhousie University, Canada. He discussed the lessons that can be learned when things go right in process safety. He considered positives such as the life's work of Trevor Kletz, the formation of the US Chemical Safety Board (CSB), and resources such as IChemE's Loss Prevention Bulletin. He spoke of specific incidents that could have been a lot worse if certain measures like blast shields and dust collectors weren't in place.
He highlighted an example given in the Center for Chemical Process Safety's (CCPS) monthly newsletter The Process Safety Beacon, which described how an engineer noticed an accumulation of dust near equipment containing combustible solids and electrical equipment that could provide an ignition source. When this was reported, the equipment was shut down, the room was cleaned, and corrective actions were taken to contain the dust. Amyotte suggested that in these examples a strong reporting culture might have played a part in averting a potential problem.
Unconventional risk
This year's Trevor Kletz lecture was given by Mike Bell, Manager of Safety Services at Disney, who spoke of how safety is managed at Disney's resorts around the world.
"There are over 1bn rides per year. For me, from a safety perspective, you hear things talked about all the time such as something has a one in a million chance of happening. When you start to put it in this perspective you realise that's not remotely acceptable for anything we do. You can't have that occur whatsoever."
He described how Disney's staff – or "cast" as they are called – are taught to feel empowered to make safety decisions and stop a ride if they feel it is necessary. He also spoke of how managing unconventional risk is a challenge for a safety professionals, and described how stunts are performed safely during shows and how the risks associated with fireworks and laser projection shows are managed.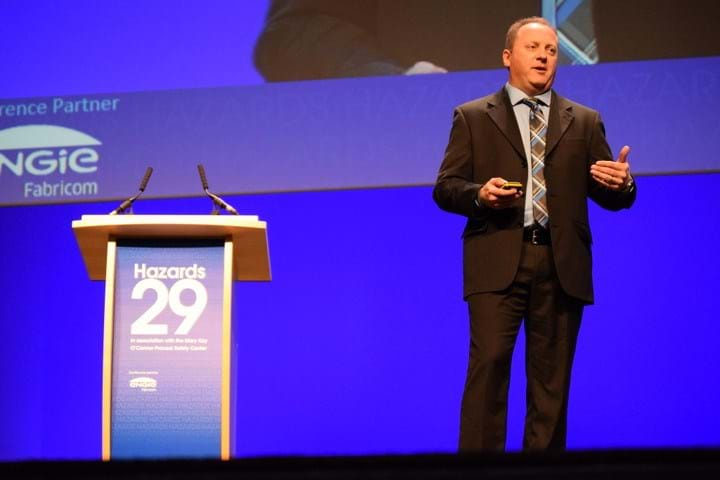 Raising awareness
Dame Judith Hackitt, Chair of EEF and former Chair of the UK HSE, spoke in a plenary lecture of her review of buildings regulations in the aftermath of the Grenfell tower fire and how she discovered a broken system. She found that the construction industry was completely unfamiliar with systems thinking and process safety, and encouraged the people in the room to share their knowledge with other industries. She also suggested that process safety should be mandatory and be taught to all engineering disciplines at university.
Brenda Madden and Sinead Keohane from PM Group won the Sam Mannan poster prize with their poster "Is it time to revise process safety legislation to include evolving manufacturing processes in the biotechnology sector?" The poster highlighted that the risks to the public and the environment currently aren't featured in risk management legislation, even though the hazards faced in bioprocessing facilities are comparable to those faced in chemicals plants.
Ian Herbert from MMI Thornton Tomasetti described how 360o imaging can be used to improve safety by allowing people to see the bigger picture. "If a picture is worth 1,000 words, why isn't it used more often?", asked Herbert. Pictures are typically used after a process safety incident occurs, but 360o images have the potential to improve safety by providing a virtual tour of a plant that doesn't have view restrictions like 2D images. MMI Thornton Tomasetti takes 360o pictures to create a "Google street view for process plants" using laser scanning which allows for accurate measurements. The images have multiple uses such as confirming site information for difficult-to-access sites and remotely familiarising staff with a facility.
Euan Munro from SLR Consulting spoke about the risks associated with anaerobic digestion plants and how a renewable technology can actually lead to environmental harm. AD plants generate biogas which can be injected into the gas grid or used to power electricity and heat. The sector has grown rapidly in the UK in the last ten years and Munro highlighted several accidents that have occurred in the sector. Hazards include the risk of explosion from methane, the presence of toxic gases such as hydrogen sulfide and ammonia, asphyxiation from biogas, loss of containment, and biological pathogens. There are no specific health and safety statistics for the AD sector, and he suggested that a voluntary system needs to be introduced where these statistics can be analysed to allow lessons to be learned from incidents.
Competency in process safety
A panel discussion took place on the topic of "How do we achieve, maintain and demonstrate competencies for process safety?" It was chaired by Laurence Cusco, Head of Major Hazards Group, HSE and Chair of the Hazards technical committee. The panel comprised Dame Judith Hackitt; Ken Rivers, IChemE President and Chair of the COMAH Strategic Forum; Trish Kerin, IChemE Safety Centre (ISC) Director; Chris Tighe, Lecturer in the Department of Chemical Engineering at Imperial College London; Matt Powell-Howard, Qualification Development Manager at NEBOSH; and Ken Patterson, Consultant and IChemE Trainer on various process safety courses.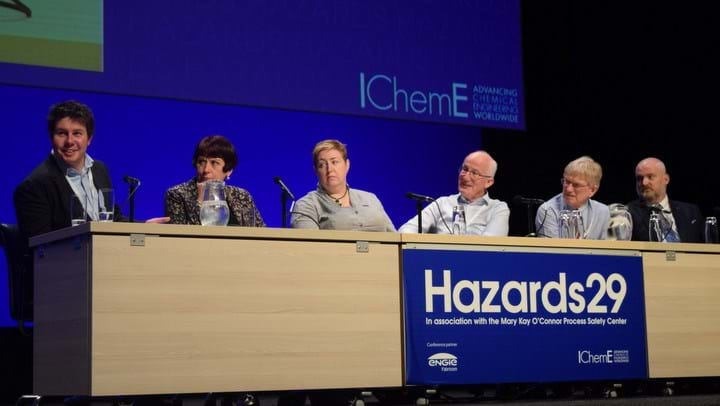 The discussion raised the issue of the levels of competency required in an organisation. Process safety competency should be applied across the whole organisation as everyone, including support staff functions such as finance, human resources, or procurement that are involved in decision making related to process safety. "For any different topic of competency you will have different people in the organisation that have to have the competency of those different levels," said Kerin. "Not everybody needs to be competent in everything, but pretty much everybody needs to be competent in something." Kerin talked about the ISC's competence guidance document and how they defined competency requirements for different roles.
Dame Judith described competency as knowing what's important and why. "You can't define competence as simply knowing what's important, it has to be about knowing it's important and why it's important and in some respects that means 'so if I don't do this right, what will the consequences be?'"
There was also a discussion on the importance of role models and how people should share their stories as they might help to inspire others. "I think you all have stories to tell and you shouldn't be afraid of telling them," said Rivers. "One of the things that strikes me in terms of a paradigm shift in process safety is we are all qualified to participate in the debate and we all have a unique contribution to make."
"As a chemical process operator, you envy the competencies of some of those experienced and seasoned front line managers," said Powell-Howard. "I don't think they necessarily realise how important they are in terms of developing individuals." 
"I think role models are incredibly important because there's a saying that 'you can't be what you can't see'," said Kerin. "For years I resisted being a role model when people kept saying that I was until I realised that it wasn't about me. It was about the people I could inspire and I needed to share my experience and stories to help inspire them on their journey. So it's not about you, it's about the people you inspire."