Claudia Flavell-While charts the rise of business giant (and chemical engineer) Jack Welch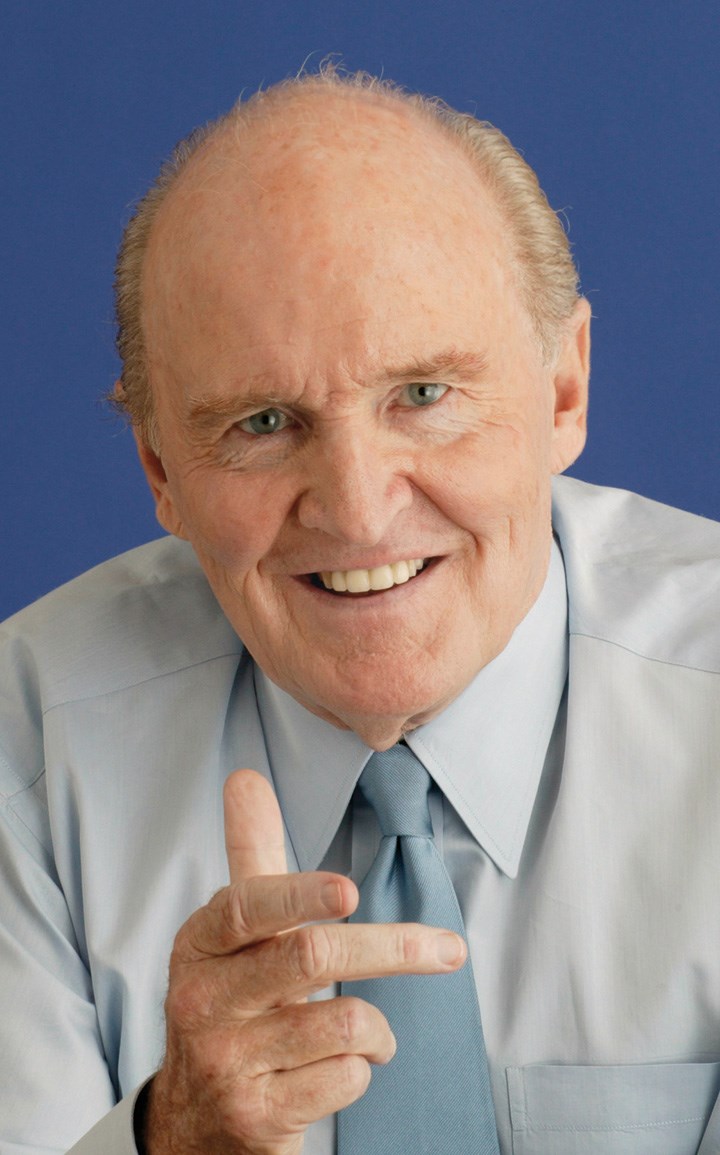 "MANAGER of the century." "One of the most influential CEOs in business." "Jack's Rules are by now the business equivalent of holy writ." There are few superlatives that have not been applied to Jack Welch, the former CEO of General Electric (GE). His management tenets were so widely admired and copied that they came to dominate the world of business for decades.
The corporate leader
Over the 20 years he headed GE, Welch transformed the company from a lumbering, over-bureaucratic giant into a leaner, meaner and far more flexible corporation. Revenue increased from US$26.8bn in 1980 – the year before Welch took the helm – to US$130bn in 2000. Market value rose almost 30-fold from US$14bn to over US$410bn, making GE the most valuable company in the world at the time.
Over the same period, the company shed over 100,000 employees, earning Welch the nickname 'Neutron Jack' (which he detested) because he would eliminate people but leave the buildings intact. Along the way he ushered in the age of 'shareholder value' and introduced the relentless focus on market share, earnings growth, and share price that shaped the world of business throughout the 90s and beyond.
Around the world other businesses tried to emulate him. Fortune magazine wrote in 2006: "Just try to find an executive who hasn't been influenced by his teachings. What came to be known as 'Jack's Rules' are by now the business equivalent of holy writ, bedrock wisdom that has been open to interpretation, perhaps, but not dispute."
A little detail that's not quite as well known: Jack Welch is a chemical engineer.
Small beginnings
Born in 1935 into a family of Irish immigrants – his father a railroad conductor and his mother a straight-talking no-nonsense housewife – the young Welch soaked up his mother's competitive spirit and bluntness, and his father's diligence and hard-working nature.
Neither of his parents had been to university, and the closest to a role model was an uncle who worked as an 'engineer' at a power station. Welch's choice of degree was more based on gut feeling than diligent research, as he writes in his autobiography Straight from the Gut: "Being an engineer sounded good to me. I found out early that I liked chemistry, so I took up chemical engineering."
While he didn't make it into the Ivy League colleges of Dartmouth or Columbia, he won a place at the (comparatively cheap) University of Massachusetts at Amherst. It was a blessing in disguise: "Getting into a less competitive school […] would in the end give me a tremendous advantage. The calibre of the competition I faced at UMass in those days made it easier to shine."
Despite many nights spent drinking beer, playing poker and partying with his fraternity, Welch graduated in 1957 as one of the top two chemical engineers at UMass that year. He turned down several job offers and took a fellowship at University of Illinois at Champaign, where he first completed his Master's and then – prompted by a weak job market – his PhD.
While Welch only spent a very short time doing 'proper' chemical engineering on a process plant before he began his meteoric rise into management, he never regretted his choice of degree. He wrote: "I have always felt that chemical engineering was one of the best backgrounds for a business career, because both the classwork and the required thesis teach you one very important lesson: there are no finite answers to many questions. What really counted was your thought process."
A rocky start
Welch joined GE in 1960 straight out of university, enticed by the prospect of working on a brand-new project to develop the production of polypropylene oxide thermoplastics.
But within a year, his initial enthusiasm had evaporated, thanks to penny-pinching managers and layers of bureaucracy. The offer of a merely standard raise proved to be the final straw: Welch handed in his notice. It took a full evening's worth of persuasion by his boss' boss, Reuben Gutoff, tripling the raise, and the promise of greater flexibility and autonomy to talk him out of walking out of his job right there and then.
His career took a second blow (quite literally) two years later, when a PPO pilot plant under Welch's charge exploded – the result of an unfortunate spark when the team was bubbling oxygen through a highly volatile solution. Fortunately, no one was injured. Even more fortunately, Welch's boss – another chemical engineer, Charlie Reed – was more concerned with learning lessons than making examples.
Stepping into management
In 1964, with PPO ready for commercial production, a vacancy came up for the general manager of polymer products operation, who would be in charge of introducing the new product to market. Welch had no experience in marketing and barely more in sales, but he was bloody-minded and determined, and he wanted the job.
"I wouldn't take no for an answer," Welch wrote. "I stayed in Gutoff's car for well over an hour, pounding him with my qualifications for the job – thin as they might be."
For the following week, he kept on lobbying. Eventually, Gutoff relented and took the gamble. Fortunately for both, it paid off. Welch overcame some initial performance problems with the polymer, oversaw the construction of the production plant, and successfully introduced it to the market under the trade name Noryl. Jack Welch's rise as a manager had begun.
The greasy pole
Further promotions were fast to follow. The appointment as general manager of the US$32m plastics business in 1968 made him GE's youngest-ever general manager, at the age of 32. He was named head of the chemical and metallurgical division in 1971, a vice president in 1972, sector executive for consumer products in 1977, and in 1979, following a gruelling internal competition against other GE high-flyers, he was confirmed as vice chairman and heir apparent to Reg Jones as chairman and CEO.
"The essence of competitiveness is liberated when we make people believe that what they think and do is important – and then get out of their way while they do it."
Sharing the vision
Having worked for GE at all levels for 20 years already, Welch knew the company inside out, and he took on the top job with a clear idea of how he wanted to change not just the business, but also the way GE did business.
He shared his vision with Wall Street in a seminal meeting in 1981, where he identified slowing growth as the key challenge. "The winners in this slow-growth environment will be those who search out and participate in the real growth industries and insist upon being number one or number two in every business they are in – the number one or number two leanest, lowest-cost, worldwide producers of quality goods and services or those who have a clear technological edge, a clear advantage in a market niche. This is more than an objective – it's a requirement."
Coupled with this, Welch was looking for a culture change where employees at all levels were stretched, encouraged to try new things, making the company more adaptable, innovative and agile.
Today, the speech is regarded as a turning point in corporate management and strategic thinking and – even though it's never mentioned directly – the birth of the obsession with shareholder value. Surprisingly, Welch regarded it as a flop at the time. The analysts attending had been expecting detailed financial reports with lots of figures, not a grand vision. "About halfway through I had the impression I would have gotten as much interest if I'd talked about my PhD thesis on drop-wise condensation," Welch said.
Fix, sell or close
In line with Welch's strategy, over the following years GE would fix, sell or close any business that wasn't on track for being one of the top two in its niche. Air conditioning, coal, and household goods were the first of over  400 businesses that fell by the wayside under his tenure. GE used the cash to pay for restructuring the businesses on the 'fix' list. Staff numbers took a hit, falling from 411,000 at the end of 1980 to 299,000 in 1985. Those who stayed were expected to do more; Welch's philosophy was to pay well, create great working conditions, and attract the high flyers.
Nevertheless, morale plummeted. Welch not only acquired the 'Neutron Jack' moniker, he also topped the list of the toughest bosses in America. Welch's almost brutal candour and impatience were not always a virtue, with some former employees likening working at GE to working in a warzone, with those who didn't get shot up in the first battle being left to limp on to the next one.   
Control your own destiny or someone else will
People management
Another one of Welch's maxims was that every business had to make a positive contribution to the bottom line. If it didn't, or couldn't, it had to go. Welch would stretch his managers and give them the freedom to choose their path – as long as they got results, that is. Every year, the top 20% would be rewarded with stock options and bonuses. The bottom 10% would get the sack.
He demolished GE's rigorous formality and layers of bureaucracy. Known to all as 'Jack' (his response to being called 'Dr Welch' was "I don't do house calls, so call me Jack"), he would take a keen interest in the smallest details of the business. He habitually violated the chain of command, arranging surprise meetings with managers from all parts and levels of the business at which he'd quiz them on all aspects of their work and challenge and test their strategies. GE staff from the shop floor to the boardroom would sometimes receive handwritten notes, sometimes congratulating, at other times cajoling them. "We're pebbles in the ocean, but he knows about us," one manager told Businessweek for a 1998 interview.
Six sigma
Another feather in Welch's cap is the popularisation of 'Six Sigma'. The quality management strategy, developed by Motorola in 1986 to identify and remove the cause of defects and variability in manufacturing and business processes, has been widely adopted across the corporate world over the past two decades. Much of that is Welch's doing.
When Welch's longstanding friend Larry Bossidy (at the time the CEO of chemicals producer Allied Signal) sang the praises of Six Sigma to GE's top management in 1995 he got an enthusiastic reception. The company calculated that implementing the technique and driving down defects to the lowest level could save billions of dollars – an opportunity it could not pass up.
Welch, who until then had been sceptical about quality programmes, put his weight behind the initiative and ensured it was implemented across the organisation. If you didn't have at least a green belt in Six Sigma, you would not be considered for a GE management job. Bonuses were determined to 60% on financial and 40% on Six Sigma results. Within three years, Six Sigma saved GE an estimated US$750m.
Today, Six Sigma and associated variations have gained enthusiastic support and have been applied at countless companies around the world; GE's early and successful adoption was a key factor in this.
Shareholder value?
The other aspect in which GE led the way – the focus on shareholder value – is a little more controversial. From the mid-80s onwards, practically every blue-chip company chanted the mantra of maximising shareholder value. This doesn't just mean maximising income and operating margins, it's also about maintaining a competitive advantage and various other drivers. The ultimate goal is consistent earnings growth to maximise the shareprice, and thus the return to investors.
The philosophy is that companies that are the most efficient, have the best margins, and the best product would not just provide shareholders with the best returns, they would also be best placed to survive long term.
However, particularly since the financial crash of 2007/8, many have identified the obsession with shareholder value as one of the contributors to the problem, particularly when companies have neglected long-term development while concentrating on the financials for the next quarter.
In a series of interviews in 2009, Welch lambasted those companies for putting  the cart before the horse. "Shareholder value is a result, not a strategy," he told the Financial Times. "Your main constituencies are your employees, your customers and your products." The job of the manager is to balance short-term profit with long-term profitability. "You can't grow long-term if you can't eat short-term" is a favourite quote of his.
Willingness to change is a strength, even if it means plunging part of the company into total confusion for a while
Rewarding the best
Another area in which Welch was hugely influential, but is starting to look out of step with current opinion, is on executive pay. Throughout his career, Welch saw to it that GE's best executives were richly rewarded with bonuses, stock options and more. The idea was to pay the best wages while having the lowest wage cost, by hiring and retaining only the most talented and productive people.
The philosophy undoubtedly works, at least for a while. But it has also been accused of driving the ever-widening gap between the pay received at the top and the bottom of the career ladder, and of resulting in golden handshakes, golden parachutes, extravagant retirement packages and many more aspects of boardroom excess which have come under increasing criticism lately.
A lasting legacy
Jack Welch retired in 2001, handing the reins of GE to Jeff Immelt, but his legacy will be remembered for years. No one can argue that the growth he delivered was staggering – and that, in a conglomerate, thought to be a completely outdated company model. Michael Useem, professor of management at the University of Pennsylvania, names three factors as pillars of Welch's success:
• building leadership through the ranks, using GE's own management training centre at Crotonville;
• communicating with clarity and sharing ideas across internal boundaries; and
• reinventing the company before it becomes essential.
Engineers are fond of complaining that they are underrepresented in the boardroom – and statistics confirm that this is true. But we can still take a fair bit of solace from the fact that one of the boardroom's biggest superstars is not just any engineer, but a chemical engineer.
---
Originally published in  July 2012