Andy Brazier, David Edwards, Fiona Macleod,  Craig Skinner, Ivan Vince; ISBN: 9780128194478; Elsevier; 2021; £78.15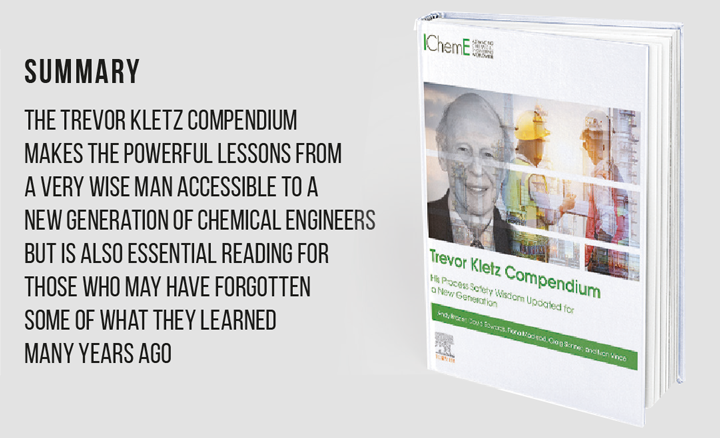 The intention behind Trevor Kletz Compendium: His Process Safety Wisdom Updated for a New Generation reminds me of a time some years ago when I handed my daughter a copy of The Rolling Stones' Hot Rocks album. I knew how good the band was and how its music changed my world in my formative years; my daughter knew some of their songs but didn't really appreciate just how good they were until she listened to the album.
The recent compendium sets out to provide tantalising snippets of what Kletz taught all of us of a certain age, and which now underpins everything that we do in process safety. It does a marvellous job of capturing not only the technical principles but his unique ways of expressing it, including by revisiting his many quotable quotes such as:
"HAZOP can be a lantern on the bow" – as opposed to the stern. This is now familiar to us as a determinant of leading indicators; and
"For a long time, people were saying that most accidents were due to human error and this is true in a sense but it's not very helpful. It's a bit like saying that falls are due to gravity." This led to our much deeper understanding of human factors.
The book is formatted to provide well-organised text boxes from Kletz, which the writers then put into the broader context of what we've learned from accidents and major events that later occurred.
I like the style a lot. I smiled as I remembered hearing Kletz' words from the man himself a long time ago. For those to whom Kletz is just a name from the past, this structure will succeed in giving them the appetite to dig further and, hopefully, to go back to his original books – just like my daughter and The Rolling Stones!
But I believe that the book has a wider appeal and is not just for the new generation. I thoroughly enjoyed reading it and being reminded of what has since become part of the DNA of our profession – and why. The lessons are just as valid today as they were then, and we all need to be reminded of them, irrespective of our generation.
In my case, I was reminded of important knowledge that I had forgotten about the Flixborough explosion and the lessons from the tragedy which Kletz highlighted. I was a student in my second year of university when the disaster occurred; on 1 June 1974, in Flixborough, North Lincolnshire, UK. On that Saturday afternoon, a chemical process plant exploded, killing 28 people and seriously injuring more than 36 others. It also caused widespread damage to houses in the neighbourhood.
The incident occurred during oxidation of cyclohexane to produce caprolactam, which is used in the production of nylon.
We learned in the aftermath of the incident that there had been six reactors in series but that one of them (the fifth) was taken out of service because of a crack, and replaced with a temporary bypass.
The bypass failed, causing the release of 50 t of highly flammable cyclohexane. The failure came about as the bypass was not properly engineered, a fact that altered forever our approach to management of change in the process industries.
Young engineers today will be shocked, as I was, to read that the only drawing of the bypass ever produced before the event was a chalk sketch on the floor of the maintenance workshop. I had also forgotten that the scale of the incident was a lesson in why inherent safety is so important – the high amount of cyclohexane present in the system was because the process was massively inefficient and relied on poor mixing, which resulted in most of the high inventory cyclohexane getting a free ride through the system many times over. Kletz suggests that a more efficient process would have enabled a much lower inventory of cyclohexane in the system, reducing potential consequences in the event of failure. "What you don't have can't leak," Kletz summarised.
The compendium authors state that Kletz was ahead of his time, and that is undoubtedly the case.
Part of the pleasure of reading this book is being reminded of how much Kletz' ideas have changed the way we practise our profession. But, reading what he wrote now in 2021, I can't deny that some of it shows its age. Environmental concerns and potential damage to the environment appear not to be afforded the same priority as safety. Security issues, and the potential for deliberate sabotage, are not really considered in any great detail. Additionally, the adventures of Joe Soap and John Doe (in the cartoon illustrations Kletz used to make his points about human factors) echo a time before diversity and inclusion became important.
In this regard, the target audience needs to be prepared to place some context around the timing of when this wisdom was offered. But that in no way detracts from the importance and currency of that wisdom.
However, I do think the authors have missed a trick in sticking with relating Kletz' wisdom to known events of the more recent past and, by and large, sticking with chemical engineering processes. What we now know is that the wisdom is much more broadly applicable in many other branches of engineering. Notwithstanding the examples used of Chernobyl, the Challenger space shuttle, and Boeing 737 Max, much more could have been made of how the knowledge which Kletz gave to chemical engineers is just as applicable to civil engineering for example, and complex systems more broadly.
Across all disciplines, including our own, the question is: How might the generation of engineers who are the target in the title apply this knowledge to new and emerging technologies which are so exciting and challenging but which still need to be subject to the wisdom of HAZOP, HAZAN, LOPA and the principles of inherent safety? I can't help feeling the book could have gone further in showing how these proven approaches can be adapted for new technologies and processes.
Nevertheless, one of the tests for any book reviewer is "would I buy this book for myself?" and I can honestly say "yes, I would". In fact, I will probably buy quite a few copies to share with people in my network, outside of the chemical engineering community.
Trevor Kletz's legacy is enormous and it deserves to be passed on. This book does a very good job of doing that and there is scope for a sequel targeted at an even wider audience. Kletz should most definitely "Not Fade Away", as Mick Jagger would say.