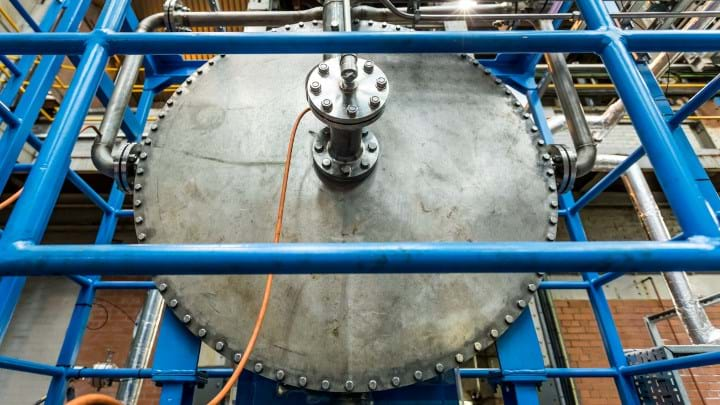 Carbon Clean
CARBON Clean, an industrial carbon capture company, has launched what it says is the world's smallest industrial capture technology, overcoming a key barrier to widespread CCUS adoption and industrial decarbonisation.
Carbon capture, use, and storage (CCUS) technology is considered vital to achieving global net zero targets. Earlier this month, a report from networker Decarb Connect in association with Carbon Clean found that space is a key barrier to widespread CCUS adoption in hard-to-abate sectors.
The newly-launched technology, CycloneCC, is a prefabricated, modular solution expected to make carbon capture simple, affordable, and scalable. It uses two proven technologies, Carbon Clean's proprietary amine-promoted buffer salt solvent APBS-CDRMax, and rotating packed beds (RPBs). Used together they offer increased efficiency compared to conventional carbon capture methods, reducing costs while matching performance. Using RPBs, as opposed to conventional large chimney stacks, improves adsorption of CO2 in the solvent, allowing a footprint 10 times smaller than conventional capture.
Each CycloneCC unit is built on an easy-to-transport skid mount allowing it to be delivered ready to install and fully operational in less than eight weeks.
The technology is also expected to reduce capex and opex by up to 50% driving down the cost of capture to an average cost of US$30/t. This is well below the current EU carbon price – about €60 (US$70) – and makes the economic case for CCUS "undeniable".
CycloneCC was successfully pilot tested at 1 t/d in the UK and US, and is commercialised with select partners – including Cemex and Veolia – at 10 t/d and 100 t/d.
The technology was developed in the UK with support from industry, government, and universities. Final rollout is expected in Q3 2022, with market rollout following in 2023.
Carbon Clean is currently demonstrating at a pilot plant at Doosan Babcock's Emission Reduction Test Facility (ERTF) in Renfrew, Scotland in collaboration with Newcastle University, the University of Sheffield, and with support from the UK Government.
In the US, the Department of Energy sponsored a project known as ROTA-CAP, which tested Carbon Clean's solvents and rotating packed bed (RBP) process on mobile development skid which has since moved to the National Carbon Capture Center.
Carbon Clean expects that with COP26 underway, CycloneCC will shift the conversation around decarbonisation. It expects the technology will drive down costs of capture to the point where all essential heavy industries, such as cement and steel, can play their part in mitigating climate change.
Greg Hands, UK Minister of State at the Department for Business, Energy & Industrial Strategy, said: "We want the UK to be a world leader in developing and deploying Carbon Capture, Usage and Storage technology, which will be a critical tool in decarbonising industry and ensuring our manufacturers remain internationally competitive.
"Backed by £5m of government funding, Carbon Clean's innovative new technology will help make the widespread industrial adoption of carbon capture a reality, supporting UK industries to decarbonise while attracting new investment as we work towards ending our contribution to climate change by 2050."