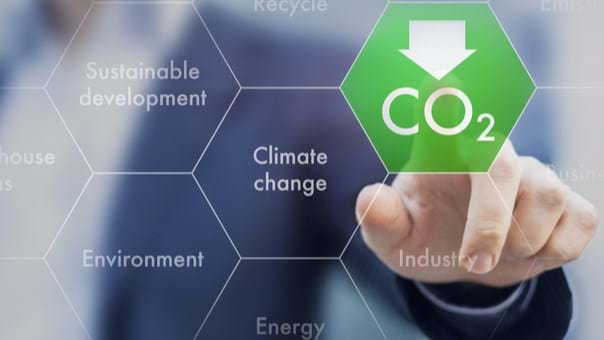 US PRESIDENT Joe Biden signed into law on Tuesday, the Inflation Reduction Act (IRA) of 2022, a bill that along with significant healthcare benefits, will inject more than US$370bn into climate and low-carbon programmes to kickstart a new era of affordable clean energy in America, while helping to reduce greenhouse gas (GHG) emissions.  
Seen as the biggest climate package in the country's history, the legislation, which was narrowly passed by a margin of 51 to 50, is a turning point for a country that is the world's second largest emitter of CO2.  
According to Statista, the US produced 4.87bn t of CO2 in 2021. While this is over a billion tonnes less than the peak of 2005, it is an increase of 6.5% from 2020 levels, which suggests a worrying return to rising climate pollutants at a time when the planet is experiencing year-on-year record global temperatures, uncontrollable wildfires, water shortages and deadly floods. 
As such the bill and its outcomes are likely to be watched closely by the rest of the world to see if the US makes good on its net zero pledges. The landmark package won't provide the investments needed to achieve a 50% reduction in GHG emissions by 2030 compared to 2005 levels as pledged by the Biden administration last year, but it will help the country drive them down to 32–42%, said Rhodium Group, a clean energy consultancy. 
Currently, the largest source of GHG emissions in the US is from the transport sector, as more than 90% of energy use comes from petroleum. The IRA however will seek to make electric cars more affordable, by lifting caps imposed on car dealers and making it easier for taxpayers to be eligible for a US$7,500 tax credit. Used electric cars will also qualify for a credit of up to US$4,000. 
The energy industry will also get a huge overhaul as the bill aims to spur on the domestic production of batteries, solar panels, wind turbines, and more, by investing in the refurbishment of old factories and building new ones. More than 9m new jobs over the next decade alone could be created from the 100+ climate, energy, and environmental programmes included in the Act, say researchers at the University of Massachusetts. Apprenticeships in clean energy are being pushed, so too are higher wages. 
For end users, around US$9bn has been set aside in consumer home energy rebate programmes to electrify home appliances and to make homes more energy efficient by incentivising heat pumps, solar panels, and electric water heaters, ventilation, and air conditioning systems. The bill also makes significant investments in clean energy development in rural and disadvantaged communities. 
To make the switch to electric, billions of dollars are being invested in technologies such as clean hydrogen production, as well as subsidies for ageing nuclear plants that currently provide around 20% of America's electricity. Meanwhile to help curb emissions from heavy industry and buildings, companies will be fined for methane emissions that exceed federal limits. The fee will rise from US$900/t of methane in 2024 to US$1,500/t by 2026. Conversely, to help decarbonise the economy, tax credits for removing CO2 from the atmosphere will increase to US$85/t. 
Despite the act being described as a game changer, not everyone is happy with it. A section of the IRA known as Ensuring Energy Security is causing controversy, as it requires that the government auctions off millions of onshore and offshore federal land in the next decade for oil and gas leases before it can auction acreage for wind and solar farms. 
These provisions are among those that were purportedly added to gain the support of Senator Joe Manchin III, Democrat of West Virginia, a state which is the nation's second-largest producer of coal, said the New York Times.