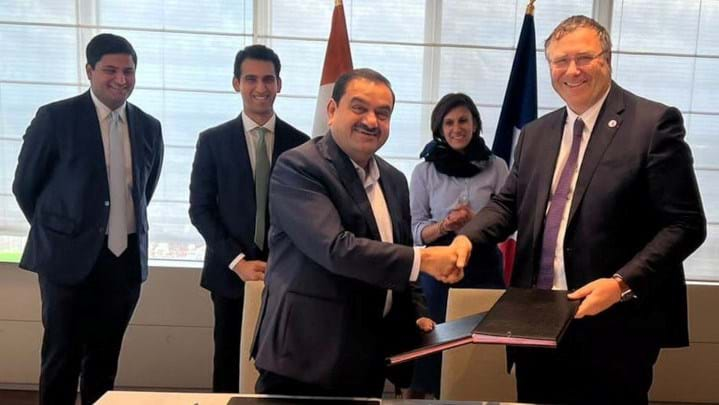 GLOBAL multi-energy company TotalEnergies, has signed a deal to acquire a 25% stake in Adani New Industries Limited (ANIL), a wholly-owned subsidiary of Adani Enterprises Limited (AEL), to fulfil its ambitions of becoming the world's largest renewable energy company by controlling green hydrogen production costs. 
Set up by entrepreneur Gautam Adani, ANIL plans to invest over US$$50bn over the next 10 years in green hydrogen and its associated ecosystem. This includes everything from manufacturing the equipment needed to generate renewable power, to the production of green hydrogen itself.  
The end to end market solution also involves the transformation of green hydrogen into derivatives such as nitrogenous fertilisers and methanol, both for the domestic market and export.  
"The strategic value of the Adani-TotalEnergies relationship is immense at both the business level and the ambition level," said Gautam Adani, Chairman, Adani Group. "In our journey to become the largest green hydrogen player in the world, the partnership with TotalEnergies adds several dimensions that include R&D, market reach and an understanding of the end consumer." 
Initially, ANIL intends to produce 1.3 m t/y of urea derived from green hydrogen for the Indian domestic market, to ease reliance on current urea imports. The firm will also invest around US$$5bn in a 2 GW electrolyser fed by renewable power. 
ANIL then plans to produce 1m t/y of green hydrogen by 2030, a target that could help India combat CO2 emissions.  
With a rapidly growing population and an economy heavily dependent on coal and oil to sustain its increasing use of electricity, India is the world's third-biggest emitter of CO2.  
Switching to green hydrogen could help the nation become a net-zero carbon emitter by 2070, a target set by Prime Minister Narendra Modi at the COP26 climate summit. 
TotalEnergies' investment in ANIL is the latest in a string of important alliances with AEL. The two energy giants have already partnered on a number of projects in India including the construction of liquefied natural gas terminals, gas utilities and solar power production.