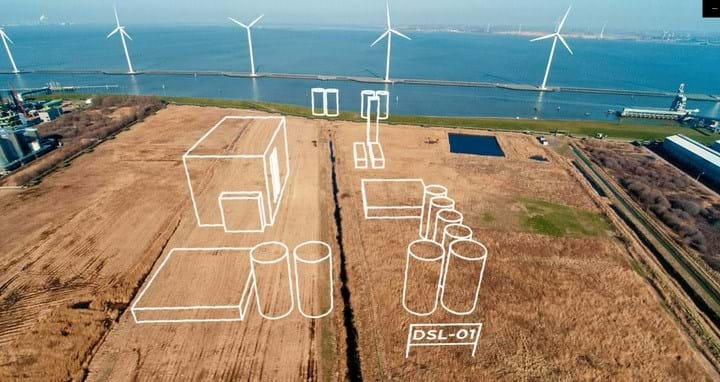 SkyNRG
SUSTAINABLE aviation fuel supplier (SAF) SkyNRG will develop Europe's first dedicated waste-to-fuel plant in Delfzijl, the Netherlands, capable of producing 100,000 t/y of SAF. A separate planned demonstration plant at Rotterdam The Hague Airport aims to use direct air capture to produce 1,000 L/d of fuel.
SkyNRG's project in Delfzijl, known as DSL-01, will use waste and residue streams such as cooking oil as a feedstock. It will also use "green" hydrogen produced by water electrolysis powered by wind power. The hydrogen unit will be provided by Nouryon and Gasunie. A 20 MW electrolyser at DSK-01 will produce 3,000 t/y of hydrogen, and a feasibility study is already underway to scale this up to 60 MW which would produce 9,000 t/y of hydrogen. However, this will not increase the production of SAF due to the availability of the waste feedstock.
DSL-01 will also produce 20,000 t/y of naphtha and 15,000 t/y of bioLPG as byproducts. The bioLPG will be used by SHV Energy – the first European distributor of bioLPG – which already uses bioLPG produced by Neste at its facility in Rotterdam. Bram Gräber, CEO of SHV Energy, said: "As pioneers in the field of bioLPG, we are pleased that this project will add 15,000 t of bioLPG to our annual supply. This amounts to more than 35,000 t of CO2 reduction."
Using the SAF will result in an 85% reduction in CO2 emissions compared to using fossil fuels. The sustainable fuel will also have lower levels of ultra-fine particles and reduced sulfur emissions. Of the 100,000 t/y that will be produced at the facility, airline KLM has committed to purchasing 75,000 t/y, which will reduce its CO2 emissions by 200,000 t/y. Pieter Elbers, President and CEO of KLM, said: "The advent of aviation has had a major impact on the world, offering a new means of bringing people closer together. This privilege goes hand in hand with huge responsibility towards our planet. KLM takes this very seriously and has therefore invested in sustainability for many years. By joining hands with other parties, we can build a plant that will accelerate the development of sustainable aviation fuel."
Maarten van Dijk, Executive Director of SkyNRG, said: "For us and our partners, this project is an important milestone in further upscaling the market for sustainable aviation fuel. We are the first to take a step on this scale and we hope it will serve as an example to the rest of the industry in the transition towards a sustainable future for commercial aviation."
The facility is scheduled to open in 2022.
Direct air capture
Separately, Rotterdam The Hague Airport announced that it has signed an agreement with a consortium led by EDL Anlagenbau for a study which aims to develop a demonstration plant for renewable jet fuel produced using direct air capture. SkyNRG is responsible for the commercialisation strategy of the project.
The demonstration plant would be the first in the world to produce renewable jet fuel from direct air capture. The study will define the concept and basic engineering for the on-site production of the renewable jet fuel at the airport. It will include a cost estimate for the construction of the plant and for the fuel, which will influence further project development. The aim is for the demonstration plant to be capable of producing 1,000 L/d of fuel, which would exceed the current limits of laboratory scale, which only produces a few litres per day.
The CO2 will be captured using Climeworks' direct air capture technology and then converted into syngas using Sunfire's electrolyser cells. A Fischer-Tropsch synthesis process developed by INERATEC will convert the syngas into synthetic hydrocarbons. EDL will then convert the synthetic hydrocarbons into the jet fuel and will be responsible for plant integration. The entire process will be powered by renewable energy generated by solar panels on-site. Dutch airline Transavia has announced its intentions to be the first potential customer for the jet fuel.
Large-scale production will require upscaling and would need to be integrated into existing refineries rather than being produced at the airport.