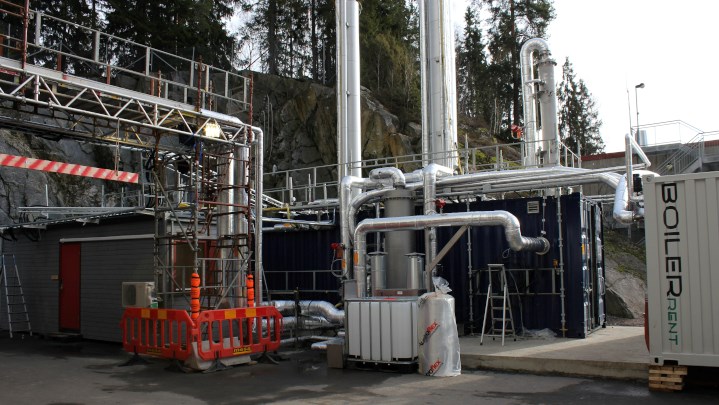 Fortum Oslo Varme
FORTUM Oslo Varme's Klemetsrud site in Oslo, Norway, has successfully validated carbon capture technology at its pilot plant, which is a significant step forward in Norway's planned full-scale carbon capture and storage project.
The Klemetsrud waste-to-energy plant, along with Norcem's cement factory in Brevik, are two sites being evaluated for carbon capture potential as part of Norway's plan for a full-scale, full-chain CCS project. The captured CO2 will be transported to an onshore storage area in western Norway before being injected via pipelines into a permanent storage reservoir offshore. The Northern Lights transport and storage project is part of the Norwegian full-scale project, and is managed by Equinor, Total, and Shell.
Most residual waste worldwide goes to landfill, and 5% of global CO2 emissions are from household waste alone. Jannicke Gerner Bjerkås, Director CCS at Fortum Oslo Varme, said: "There's a global waste problem, and growing awareness. We know that waste amounts are predicted to double from today to 2025–2030. Already today the problems are almost too much to handle for parts of the world. At the same time we need to reduce our CO2 emissions from waste handling."
Fortum Oslo Varme aims to capture 400,000 t/y of CO2 at Klemetsrud when it is operating at full scale, equivalent to around 90% of total CO2 emissions. Stockholm Exergi, which is co-owned by Fortum, is also currently running a bio-CCS pilot at its Värtaverket power plant in Stockholm. The plant recently shut down its last coal-fired boiler – the last coal power plant in Sweden – and is now using biomass.
The Klemetsrud pilot operated for nine months and captured 3.5 t/d of CO2, however the CO2 was released, as transport and storage were not available for the pilot phase. The pilot started a 2,000 hour test on 1 March 2019 which was completed on 31 May, and then ran an extended phase until 1 December.
It used the Shell/Cansolv post-combustion capture technology, which has already been proven at two facilities: the SaskPower Boundary Dam Capture Project in Canada and Lanxess CISA CO2 capture plant in South Africa. The CO2 capture efficiency was demonstrated at these two projects. The Klemetsrud pilot needed to test on flue gas from waste incineration, and also test the capture efficiency, energy requirements, solvent degradation, and solvent emissions.
An amine solvent was selected as the project required a mature technology, however amine solvents can produce emissions in the form of nitrosamines and nitramines, which can be harmful. Based on dispersion and deposition modelling, a maximum of 0.4 ppm of total amine emissions was set as a target, to make sure the acceptable emissions were under public health guidelines. The emissions were kept well below 0.4 ppm for the pilot test.
The amine degradation rate was lower than expected. Amines can degrade when they react with NO2, O2 (CO2-rich inventory only) or heavy metals, and too much heat will also cause degradation. The technology has been proven at the target capture rate of around 90%. It can technically capture 99% of emissions but the energy requirements for this are too high.
The pilot plant at Klemetsrud has completed its test run, and is now available to other companies to rent in order to test the technology on their flue gases, and Fortum Oslo Varme will offer support to anyone renting the pilot plant. KANFA, a subsidiary of TechnipFMC that designed and constructed the pilot plant, can also build compact process modules for capture at scales between 10,000 t/y to 200,000 t/y of CO2.
"This is the starting point for the waste-to-energy business," said Bjerkås. "We need to see a lot of new capture plants built and operating and the learning and experiences from this project will drive the cost cuts as we have seen with electrical cars, batteries, and solar power and so on. We now need to move from studies to actual full scale."
The partners at Northern Lights have just made a final investment decision, following a study phase along with state enterprise Gassnova. The Ministry of Petroleum and Energy has now started assessing the development plan and the Norwegian Government is due to make a final investment decision this year on the entire project, with full scale operation expected in 2024.