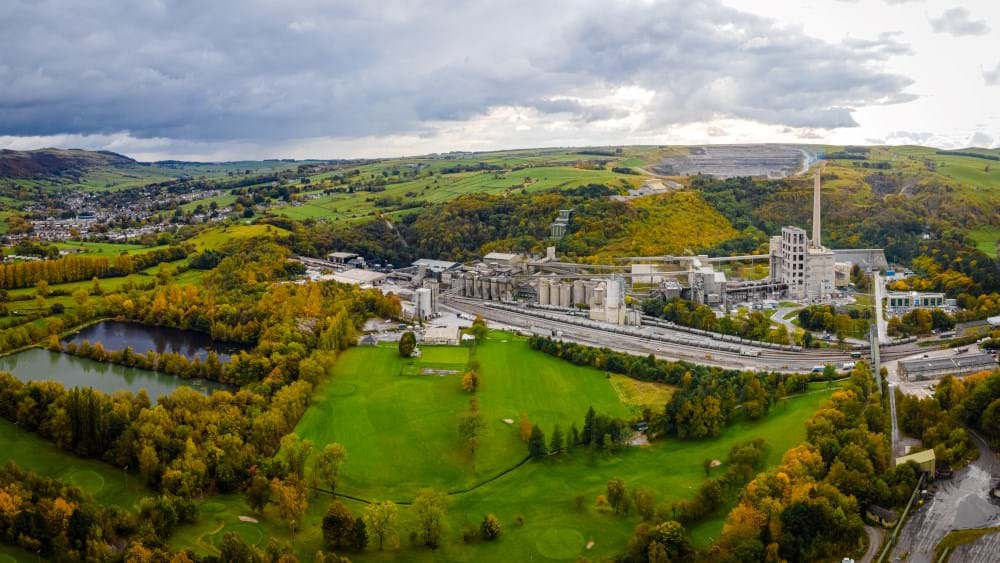 CEMENT and lime producers in the UK have formed a carbon capture and storage cluster – the Peak Cluster – to reduce the sector's emissions by 40%.
The cluster involves five cement and lime plants in the Peak District and Staffordshire owned by Tarmac, Breedon, Lhoist and Aggregate Industries, plus the Lostock Sustainable Energy Plant in Cheshire. The partners say that the region is responsible for 40% of all cement and lime manufactured in the UK and they want to eliminate the emissions by capturing 3m t/y of CO2 and storing it offshore by 2030.  The project is being led by engineering consultancy Progressive Energy, which is spearheading the development of the HyNet CCS cluster around North West England and North Wales, which the UK government chose as one of its first two clusters to receive state support in order to start decarbonising industry from 2025.
John Egan, director of Progressive Energy and the Peak Cluster project director, said: "Peak Cluster will make a crucial contribution towards the UK's drive to net zero, making a serious impact on local, regional and national climate change targets. The project will help industry to continue to thrive into the future – safeguarding jobs, maintaining a booming supply chain and allowing current and future generations to continue to work in, and enjoy, this beautiful region."
The partners say the CO2 they capture could be stored beneath the Irish Sea via the Liverpool Bay CCS project or the Morecambe Net Zero cluster.
Earlier this month, Breedon and Lhoist were among eight companies awarded funding by the government to help reduce emissions from their operations. Breedon was awarded £230,000 for a feasibility study into how it could implement CCS at its plants. This includes appraising technology vendors, reviewing utilities integration, and preliminary capture plant design. Lhoist received £92,000 to gauge the feasibility of capturing carbon and connecting to the HyNet CCS cluster.
Meanwhile, the North Sea Transition Authority announced on 18 May that 20 carbon storage licenses for offshore sites including some near Aberdeen, Teesside, Liverpool and Lincolnshire had been awarded to 12 firms. There are no storage sites in operation in the UK today but the government has set a target for 30m t/y – or around 10% of current emissions – to be stored by 2030. Among those awarded a license was Spirit Energy which wants to store emissions in the depleted North and South Morecambe gas fields. These sit at the heart of plans for the Morecambe Net Zero cluster, which Spirit Energy estimates could initially store 5m t/y of CO2, scaling to 25m t/y with a total storage capacity of 1bn t.
The government says there may be enough storage capacity underneath UK water – including its old oil and gas fields – to store up to 78bn tonnes of CO2. On 9 May, the UK government said it plans to amend legislation so that companies licensed to drill beneath the North Sea must provide details of what they find to the NSTA in a bid to create what the government dubbed a 'treasure map' to help quantify the potential for CCS in a bid to attract further investment.
Grant Shapps, the government's energy and net zero secretary, said: "The UK is in prime position to become a world leader in carbon capture and storage – a whole new industry that could boost our energy security, help cut our own emissions and those of our European neighbours and create thousands of jobs for the future."